Welcome to Check Your Shelf. I know a lot of areas out east have been hit with some really nasty subzero temperatures, and all I have to say is I'm sorry. We had single digit temps all last week in Chicagoland, and now we seem to pushed it over to our East Coast friends. Meanwhile, it's finally above freezing here, and I'm just counting down the days until we visit California at the end of the month.
Collection Development Corner
Publishing News
HarperCollins is cutting 5% of its workforce in the middle of the workers strike.
Meanwhile, Hachette raised its starting salaries to $47,500.
Barnes & Noble saved itself by putting books first.
Publishing trends to watch for in 2023.
New & Upcoming Titles
Kerry Washington is publishing her first memoir in September.
Meghan Trainor is publishing a book about her experiences with pregnancy, which will come out in April.
Sneak peek of Melissa Broder's upcoming book, Death Valley.
Weekly book picks from Crime Reads, LitHub, The Millions, New York Times, USA Today.
January picks from Washington Post.
February book picks from Amazon, Barnes & Noble, Book Marks (SFF), Crime Reads, Gizmodo (SFF, horror), Kirkus, LA Times, New York Times, The Root, Shondaland, Town & Country.

Most anticipated for 2023 from Buzzfeed (thrillers), Elle.
What Your Patrons Are Hearing About
Victory City – Salman Rushdie (Atlantic, Guardian, LA Times, New York Times, Washington Post)
Love, Pamela – Pamela Anderson (LA Times, Washington Post)
Hell Bent – Leigh Bardugo (New York Times, Tor.com)
RA/Genre Resources
Women SFF writers of the 1980s: Dalkey to Devenport. (You can find links to previous installments in this article for even more recommendations.)
The enduring appeal of the teen detective.
On the Riot
The state of diversity in the publishing industry.
11 speculative short story collections to look forward to in 2023.
New SFF duologies coming out this year.
The best new weekly releases to TBR.
25 romance novels for people who don't like romance novels.
All Things Comics
We're getting two new Sailor Moon films this year that will adapt the final arc of the manga.
HBO Max has canceled Pennyworth after three seasons.
On the Riot
New YA comics and graphic novels being published January – March, 2023.
Audiophilia
Penguin Random House Audio has acquired Playaway Products.
Audiobooks for Black History Month.
Book Lists, Book Lists, Book Lists
Children/Teens
Exciting hockey books for kids.
Adults
What to read when you're expecting.
25 books by Black authors you should read in your lifetime.
Black booksellers recommend 25 books to read during Black History Month and beyond.
Locus' 2022 Recommended Reading List.
15 of the best Black romance books.
7 novels about women fighting against racism and classism.
7 stories about goblins and tricksters.
22 lighthearted cozy mysteries to settle down with.
10 fictional tales of historical icons.
On the Riot
8 books like Reminders of Him by Colleen Hoover.
8 unsettling mysteries where mothers go missing.
8 books about African mythology from around the continent.
9 books inspired by Phantom of the Opera.
8 mixed media horror and thriller novels.
8 books about the history and digital legacy of the Oregon Trail.
8 books about country music.
Level Up (Library Reads)
Do you take part in Library Reads, the monthly list of best books selected by librarians only? We've made it easy for you to find eligible diverse titles to nominate. Kelly Jensen has a guide to discovering upcoming diverse books, and Nora Rawlins of Early Word has created a database of upcoming diverse titles to nominate, as well as including information about series, vendors, and publisher buzz.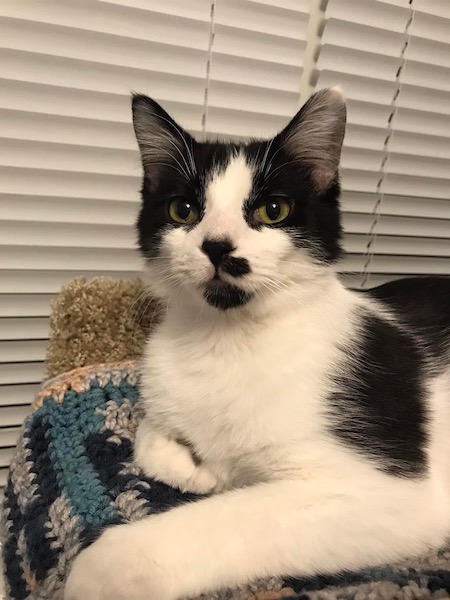 Okay, one more photo of Groucho because he's so stinking cute! According to my mom, his bad breath is clearing up, and although he still likes to hide under things, he also likes being brushed and snuggled, and apparently likes playing with the loudest toys in the room at 2 AM. Can't wait to meet this little doodle head!
That's all I've got for now. I'll pop back in on Friday.
—Katie McLain Horner, @kt_librarylady on Twitter. Currently listening to How to Sell a Haunted House by Grady Hendrix.