Welcome to Check Your Shelf. Lots of happy fun times at my library, where our HVAC has crapped out in the middle of single digit weather and has made our entire building smell like a gas leak. We BELIEVE the problem has been fixed, but we had to close for a day and a half, and I remembered exactly how much I hate working from home. (Almost as much as I hate our HVAC system.)
Libraries & Librarians
News Updates
The 2023 Andrew Carnegie Medal winners, RUSA Media Awards, and the Youth Media Award winners were announced at LibLearnX.
The New York Public Library has acquired the late Joan Didion's archive.
Worth Reading
Before the current book banning wave, the FBI spied on people's library activity.
Book Adaptations in the News
Nicole Kidman is starring in the HBO adaptation of Leila Slimani's novel, The Perfect Nanny.
Blake Lively and Justin Baldoni are starring in the upcoming film adaptation of Colleen Hoover's It Ends With Us.
Janice Hallet's book The Twyford Code is being adapted into a series.
Kindred has been canceled at FX.
Peacock has canceled Vampire Academy after just one season.
Author Isaac Marion has teased a possible TV adaptation of Warm Bodies.
A new adaptation of Children of the Corn is coming to Shudder.
Here's a first look at the adaptation of Naomi Alderman's The Power.
The first trailer for Daisy Jones and the Six.
Banned & Challenged Books
How right-wing online groups stoked a moral panic about school libraries.
How the ACLU tracks anti-LGBTQ bills, and how they're fighting back.
You've missed the plot: how book price increases contribute to ongoing censorship.
An open letter to Stephen King about his recent remarks regarding book banning.
A proposed Texas law would force school library books to carry content ratings.
Another Texas bill would ban book vendors from selling "obscene" materials to Texas schools.
The Arlington (TX) library board chair says that she was removed in order to please the anti-LGBTQ display policy "bullies."

Willis ISD (TX) votes to keep Red, White, and Royal Blue on school shelves.
The Florida Board of Education just gave DeSantis' "anti-woke" agenda a big boost with their vaguely worded training that critics worry will force educators to avoid books about race and LGBTQ people.
The Polk County (FL) School Board voted to purchase 37,000 books for new school libraries, which now puts into motion another 30 day period for the community to review and challenge books they deem unacceptable.
Pinellas (FL) schools have removed The Bluest Eye from the high school library. Chief academic officer Dan Evans told the school board, "We are erring on the side of caution, per the language of (new state) training." And that right there is the purpose of this training – to preemptively frighten administrators into removing the books themselves.
Manatee County (FL) teachers say they've had to physically cover up or block access to their classroom bookshelves, but the Florida Freedom to Read Project has advocated to have all of the classroom libraries opened back up!
Lee County (FL) School District is developing a form that would allow parents to determine what materials their child could have access to.
Volusia County School Board (FL) is planning a workshop to discuss how books are selected for the libraries.
The National Coalition Against Censorship has demanded that the Hernando School District (FL) return 13 books by Ellen Hopkins to school libraries.
A Virginia bill passed out of committee that would set policies about what books could be offered or banned in public libraries.
Catawba (NC) Freedom Readers are pushing back against efforts to remove 24 challenged books.
Columbia (SC) schools are debating a proposal that would create a public review of school curriculum and prohibit schools from teaching "certain concepts."
Horry County (SC) teachers, librarians, and parents are speaking out against Moms for Liberty, who are calling for an audit of every county school library, and have a list of 77 books that allegedly contain "vulgar" content.
The book review committee at Beaufort County (SC) schools voted to remove It Ends With Us.
Moms for Liberty is forming a new group in Boone County, Kentucky to remove "inappropriate" books, but don't worry…they're "not about banning books."
Moms in Sumner County (TN) are fighting to keep books on school library shelves.
Hoover City Schools (AL) cancel an author visit from Derrick Barnes for Black History Month after a parent complained.
Republican legislators introduce new laws to crack down on drag shows, including this one in Arkansas, which would classify all drag shows as "adult-oriented business."
Arkansas State Senator Dan Sullivan has filed a bill that would punish librarians with jail time or prison sentences for making "obscene materials" available to children. However, I have to give props to the article for including this sentence: "Dan Sullivan – always at the forefront of the far right's playbook and no friend of libraries, the First Amendment or anything spicier than saltines."
"Please trust the judgment of our educators:" the banned book debate continues in Forsyth (GA) schools.
The Brooklyn Public Library asked teens to write about how they've been impacted by book bans. Here's what they had to say.
Westport (CT) Board of Education held an open forum, which was dominated by discussion of displaying banned books.
The Lebanon (CT) library will allow a magazine rack with painted LGBTQ flags to remain, along with a painted magazine rack next to it that reads "Jesus Loves You."
A Rhode Island father is demanding an independent audit of the school district's entire library system after fighting to have Gender Queer removed for over a year.
The Massachusetts chapter of the ACLU, and other civil rights groups, are urging state and local education officials to push back against coordinated censorship efforts. And not surprisingly, parents are upset that the ACLU would dare suggest that banning books is bad.
Glen Ridge (NJ) residents unite to stop a conservative group from banning six books from the public library.
The Central Bucks (PA) school board has ties to the conservative Christian law firm, Independence Law Center, which is the legal arm of a state branch of the Family Research Council, a designated extremist hate group. The school board has asked the ILC to review recent changes to their controversial library book policy.
The crusade to ban books in Lee's Summit (MO) school libraries is as absurd as it is doomed.
How Rockwood (MO) parents mounted a campaign that ended three school diversity programs.
Multiple candidates for the Nixa (MO) school board are in favor of banning books.
Willard School District (MO) has banned Me and Earl and the Dying Girl.
Missouri legislators are considering new legislation to prohibit the teaching of CRT and require the state to develop a training program to teach American patriotism. I'm sorry…what the what?
Hamilton East Public Library (IN) received a challenge over Taye Diggs' book Why?: A Conversation About Race.
The Sheboygan South High School (WI) principal has removed three LGBTQ books after complaints over sexual content.
Kiel (WI) residents rebuke far-right school officials who gained board control last year.
Sartell St. Stephen School District removed Him by Sarina Bowen. The group behind the removal was Kids Over Politics 748, and I think my eyes have rolled to the back of my head.
A group of Brandywine Community School alumni (MI) are pushing back against recent proposed changes from the school board. The board has also proposed a number of new oversight committees, including Library Inventory, Sex Education Advisory Board, Parent/Community Involvement, and Parent/Guardian Curriculum Transparency.
Some Milan (MI) school board members have received rape and death threats for allowing certain books to remain accessible in the school library. The fact that these people are against inappropriate books, but not inappropriate physical threats is more cognitive dissonance than I can deal with at the moment.
The Sault Ste. Marie (MI) public libraries are hosting a banned book reading challenge in honor of Freedom to Read Week.
Sex is a Funny Word will remain in the Keene Memorial Library (NE).
Dickinson Area Public Library (ND) has implemented new parental controls that would require children to have parental permission to check out materials. `
Nearly 20 people spoke at a recent Hayden Library (ID) board meeting in favor of removing inappropriate books.
Utah residents gather for a Read-In at the capitol to protest banning books.
Two books in Fallbrook Union High School District libraries (CA) are being challenged: Fun Home and Beyond Magenta.
The Homer (AK) library board upheld the director's decision to keep 55 LGBTQ books in the children's section.
The Waterloo Region District School Board (ON) wrote a sweeping open letter refuting claims that the board is facilitating child abuse.
Books & Authors in the News
Novelist Paul La Farge has died at age 52.
After threatening to sue Simon & Schuster last week over a different book, Trump has actually filed a lawsuit against S&S over the audio version of Bob Woodward's The Trump Tapes.
Numbers & Trends
The best-selling books of the week, according to all the lists.
The TikTok generation has embraced Jane Austen.
Award News
The National Book Critics Circle announced their finalists for the best books of 2022.
The Swansea International Dylan Thomas Prize longlist has been announced.
Bookish Curiosities & Miscellaneous
A TikTok star who was functionally illiterate finds a community on BookTok.
On the Riot
How can libraries help you stick to your New Year's resolutions?
The joy of reading challenges is reading: all about the participation trophies.
5 ways to make your reading life greener.
What literature do we study from the '80s, '90s, and 2000s?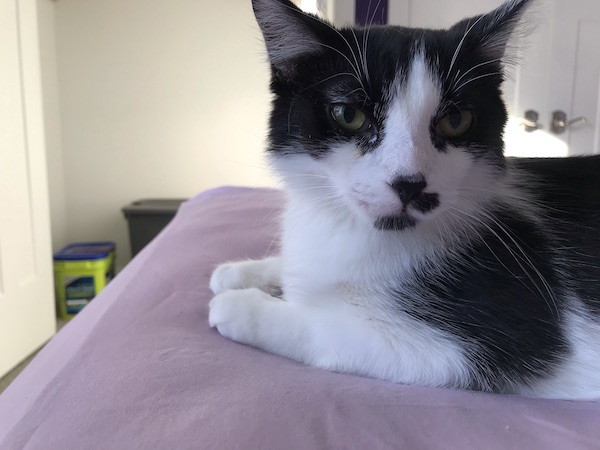 I have a new kitty to introduce! Meet Groucho, my parents' newest addition to their menagerie! He is 7 months old and has terrible breath, which is apparently due to a case of gingivitis. But look how adorable he is!! He's still pretty subdued, but we're confident he'll get his bearings soon, probably once his bad breath clears up.
That's all I've got for this week, friends. May your libraries' HVAC systems continue to function over the weekend.
—Katie McLain Horner, @kt_librarylady on Twitter.