Welcome to Read This Book, a newsletter where I recommend one book that I think you absolutely must read. The books will vary across genre and age category to include new releases, backlist titles, and classics. If you're ready to explode your TBR, buckle up!
Today's pick is the third book in a series (although you don't necessarily have to read them in order!) and the new book from one of my favorite crime and mystery writers! If you like atmospheric Australian settings and cold cases, this is for you.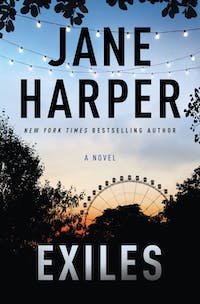 Exiles by Jane Harper
Aaron Falk is taking a vacation and heading to wine country for the baptism of his best friend's baby. The baptism is a year late because last year a disappearance in the family rocked the small Australian town and delayed the ceremony. Kim, a woman in her thirties with a new baby, vanished while at a food and wine festival, leaving her infant daughter in her stroller before presumably walking into a deep reservoir, although her body has never been found. The case is just as puzzling a year out as it was in the moment, and although Aaron is trained in financial crimes, he can't help but turn his investigator's eye to the case as Kim's surviving family struggle to find information and make sense of the disappearance. But the more Aaron pries into the case, the more confusing and discordant information he uncovers.
I'm a big fan of Jane Harper's Aaron Falk mysteries, The Dry (which was made into a great movie) and Force of Nature (also in production with Anna Torv co-starring), as well as her standalone mysteries The Lost Man and The Survivors. Her books always feature the rugged yet beautiful Australian countryside, and they offer up compelling mysteries that often dive into family secrets, preconceived notions, and the unreliable nature of memory. As an outsider, Falk has an advantage in how he perceives this case, which isn't hot by any means. A year later, Kim's family is desperately grasping at straws and trying to poke holes into the timeline of events from a year earlier to try and find some clue as to how she might have disappeared. Falk observes this all, and is always aware of his role as an outsider, but soon finds himself sucked into the mystery of all the close-knit friends in this town who have dark secrets and big tragedies in their pasts. The solving of this mystery isn't as explosive or dramatic as some of Harper's books, but the "twist" is deeply satisfying, and even more gratifying is seeing where this one last mystery takes Aaron Falk. I'm sad to say goodbye to this character, but overall this is a great final entry into his saga—and as I promised, no need to read the previous novels if you want to just dive in, but I highly recommend them anyway.
Definitely pick up this book if you love literary mysteries that have a strong sense of place, just like Tana French!
Gift Tailored Book Recommendations to your bookish boo this Valentine's. Gift TBR today!
Happy reading!
Tirzah
---
Find me on Book Riot, Hey YA, All the Books, and Twitter. If someone forwarded this newsletter to you, click here to subscribe.