Welcome to Check Your Shelf. I had a very Katie experience this weekend…I went to Half Price Books to sell a huge stack of books and bought six new ones. When I got home, I found a tote bag with a few books I had bought previously at Half Price Books…HALF of the books I had bought this weekend were duplicates. I swear…I need to start putting my books away ASAP, and I should probably catalog my books too.
Let's talk about books that I probably haven't already purchased.
Collection Development Corner
Publishing News
HarperCollins has agreed to enter mediation with the HC Union.
How BookTok influencers revamped Penguin Random House's TikTok strategy.
Inside Book Twitter's final (?) days.
Egyptian officials are offering loans to buy books as inflation soars.
New & Upcoming Titles
Arnold Schwarzenegger has signed a book deal with Penguin Press.
Jesmyn Ward is publishing a new book in October!!
Atlantic staff writer and 2022 Pulitzer Prize finalist Sophie Gilbert has sold rights to her upcoming book Girl on Girl: How Pop Culture Turned a Generation of Women Against Themselves. No publication date yet.
Paul McCartney's unseen photos from the height of Beatlemania are going to be published in a new book coming out in June.
Here's the cover reveal for Martha Wells' upcoming Murderbots novel System Collapse.
Weekly book picks from Crime Reads, LitHub, The Millions, New York Times, USA Today.
The best nonfiction crime books of January.
February picks from Barnes & Noble, Epic Reads.
Winter 2023 picks from USA Today.
2023 picks from Crime Reads (historical crime/horror, horror).
Here are a couple most-anticipated 2023 horror reading lists.
Dark academia novels for teens coming out in 2023.
What Your Patrons Are Hearing About
Love, Pamela – Pamela Anderson (Esquire, New York Times, NPR, USA Today)
This Other Eden – Paul Harding (LA Times, New York Times, NPR, Washington Post)
Call Me Anne – Anne Heche (AARP, People, USA Today)
Children of the State: Stories of Survival and Hope in the Juvenile Justice System – Jeff Hobbs (LA Times, New York Times, NPR)
After Sappho – Selby Wynn Schwartz (New York Times, NPR)
RA/Genre Resources
How do we define the "Great American Novel?"
On the Riot
When did YA paperbacks become $15.99?
What's up with special edition hardcovers?
The best new weekly releases to TBR.
2023 science books to add to your TBR right now.
Reading pathway for Daphne du Maurier.
A fun way to encourage readers to shop their shelves.
The best new book titles, according to Goodreads.
You don't need to outgrow fandom.
All Things Comics
Eve Ewing becomes the first Black woman to write a main Black Panther comic series. However, the initial headline did not include the word "main," and Nnedi Okorafor, the first Black woman to write a Black Panther (limited) series, called them out on Twitter.
On the Riot
The best new fantasy manga to start 2023.
Mythology in comics and the push for more diverse stories.
10 of the best romcom manga to fall in love with.
Audiophilia
On the Riot
11 of the best Audible originals.
Book Lists, Book Lists, Book Lists
Children/Teens
9 clever picture books for kids and their parents.
9 middle grade books to change your kids' worldview.
Celebrate Black History Month with these children's and YA picks.
10 essential books for teens by Indigenous authors.
Adults
8 brother's best friend romance novels.
11 books you can read in a weekend.
10 puzzling mysteries to make you feel like an ace detective.
6 quality books that were years in the making.
35 best books about time travel.
Murder, mystery, and midwestern noir.
5 mysteries and thrillers about returning to your hometown.
The 50 best horror books to read.
On the Riot
12 transitional chapter books.
9 swoony YA romances to start your year with love.
Welcome to Scare Street: a neighborhood of horror novels.
12 portal fantasy books like Forspoken.
15 of the best queer SFF romance books.
What are the most popular YA mystery books on TikTok right now?
8 of the best books for protecting yourself online.
8 doorstopper books written by authors of color.
11 of the best bodyguard romances.
8 poetic books like Time is a Mother.
10 thought-provoking art history books.
Must-read sapphic historical fiction.
Books with non-human main characters (who are often cats).
Level Up (Library Reads)
Do you take part in Library Reads, the monthly list of best books selected by librarians only? We've made it easy for you to find eligible diverse titles to nominate. Kelly Jensen has a guide to discovering upcoming diverse books, and Nora Rawlins of Early Word has created a database of upcoming diverse titles to nominate, as well as including information about series, vendors, and publisher buzz.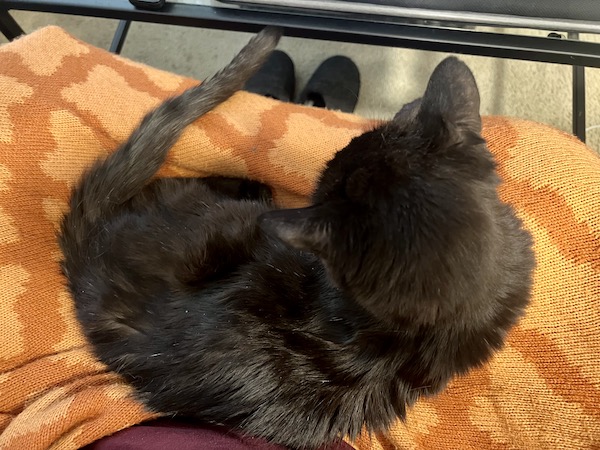 Even when you can't see his face, you can tell how adorable and happy Gilbert is chilling with his hoomans!
That's it for today, folks. I'll drop into your inboxes again on Friday!
—Katie McLain Horner, @kt_librarylady on Twitter.