Welcome to Check Your Shelf. It's playoff football season in my house, and by that I mean that there's always has a football game on, even though my husband doesn't have any emotional connection to the postseason teams, and I hate football in general. It's great. I'll just be sitting over here, counting down the days until baseball comes back.
Collection Development Corner
Publishing News
What you don't know about the HarperCollins strike.
This Chicago bookstore owner is asking customers NOT to pull a stunt like this one: please don't buy an enormous number of books with the intent of returning them all shortly after. That's a really big financial hit for small business owners.
New & Upcoming Titles
These are the big celebrity book club picks for January 2023.
The coloring book based on Colleen Hoover's It Ends With Us will not be moving forward.
Anne Heche's son gives a sneak peek of his mom's posthumous memoir, which will be released on January 24th.
2023 middle grade and YA novels starring QTBIPOC.
62 books by women of color to read in 2023.
Most anticipated picks for 2023 from AARP, Autostraddle, Crime Reads, Essence, Goodreads (mysteries/thrillers), HipLatina, LitHub, The Millions, Oprah Daily, Vogue, Washington Post.
Weekly book picks from Crime Reads, New York Times, USA Today.
January picks from Riveted, Tor.com (sci fi, fantasy)
What Your Patrons Are Hearing About
Spare – Prince Harry (Bustle, Good Morning America, Guardian, Hollywood Reporter, New York Times, Time, USA Today, Variety, Vulture, Washington Post)
The Deluge – Stephen Markley (Esquire, LA Times, New York Times)
How to Sell a Haunted House – Grady Hendrix (Washington Post)
Age of Vice – Deepti Kapoor (Shondaland)
The Bandit Queens – Parini Shroff (New York Times)
RA/Genre Resources
How to read Anne Rice's Mayfair Witches series in order.
On the Riot
It's Book Riot's Most Anticipated list for 2023!
23 great books to read in 2023.
2023 LGBTQ books to add to your TBR.
8 indie queer books coming out this winter.
Most-anticipated mystery novels for 2023.
The most anticipated SFF books of 2023, according to Goodreads.
Upcoming lifestyle books for Winter 2023.
The best new weekly releases to TBR.
Themes, tropes, and types of dark academia.
Why dark academia is perennially popular.
Dark academia and horror: a bloody perfect marriage.
Dark academia vs. chaotic academia – what's the difference?
Why you should start reading regional American literature.
Do self–help books actually help?
All Things Comics
Black Panther: Wakanda Forever will be streaming on Disney+ on February 1st.
On the Riot
8 new middle grade graphic novels coming out this winter.
8 dark academia manga and manhwa.
Tropes in capes: evil clowns.
8 of the best K-Dramas that are based off manhwa and webtoons.
Audiophilia
10 of the best audiobooks coming out in January.
Book Lists, Book Lists, Book Lists
Children/Teens
YA novels with college settings.
Adults
10 excellent reads for your book club.
8 romance novels about weddings.
8 romances about marriages where the sparks reignite.
5 thrillers about secrets between spouses.
7 thrillers that explore the dark side of motherhood.
The best celebrity memoirs of all time.
On the Riot
7 picture books for little horror lovers.
8 of the best self-help books for kids.
9 self-help books that actually help.
8 of the best sci fi books about robots.
Dark academia reading right here! Dark academia by authors of color, YA fantasy dark academia, SFF dark academia.
12 of the coolest jobs in romance novels.
The most unique jobs in cozy mysteries.
13 cozy fantasy books to cuddle up with this winter.
12 books that feature murders across genres.
10 space horror books like the Dead Space remake.
Level Up (Library Reads)
Do you take part in Library Reads, the monthly list of best books selected by librarians only? We've made it easy for you to find eligible diverse titles to nominate. Kelly Jensen has a guide to discovering upcoming diverse books, and Nora Rawlins of Early Word has created a database of upcoming diverse titles to nominate, as well as including information about series, vendors, and publisher buzz.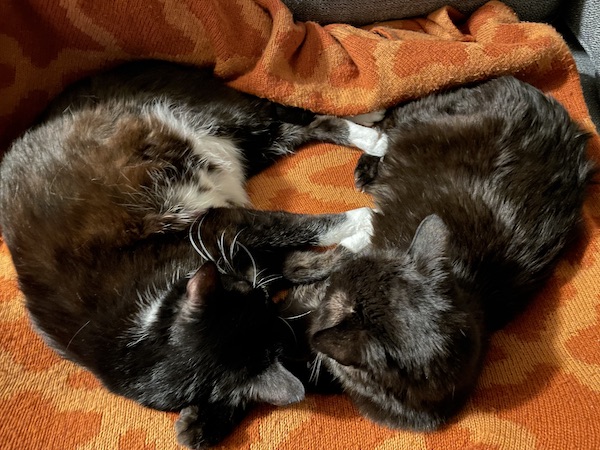 How it started: Gilbert pestering Dini to get him to vacate the blanket so that Gilbert could take over.
How it ended: See above.
Welp, I'm out. Check back here on Friday!
—Katie McLain Horner, @kt_librarylady on Twitter.