Hi Book Friends!
How has your January been going so far? Mine has been quite busy, but not necessarily in a bad way. I've already read some pretty amazing books, and I finally started watching Heartstopper on Netflix (I wanted to read the books first). But enough about me. Let's talk about the rest of the book world.
Book Deals and Reveals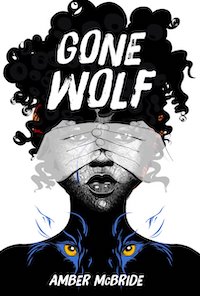 Here's the cover reveal for Gone Wolf by Amber McBride. Read all about Imogen and her watchful wolf Ira on October 3, 2023.
Here's a first look at the upcoming film adaptation of Are You There God? It's Me Margaret, the classic YA novel by Judy Blume.
Colby Wilkens has announced that her debut novel If I Stopped Hating You will be published by SMP Romance in Fall 2024. The novel follows two enemy Indigenous horror authors who attend the same writers retreat at a haunted Scottish castle. Together, they are forced to confront the castle's ghosts and their developing feelings.
Netflix is releasing a series adaptation of They Both Die at the End by Adam Silvera. Bridgerton creator Chris Van Dusen will serve as co-writer and executive producer.
Paramount+ has landed an eight-episode series based on the roleplaying game Dungeons & Dragons. Red Notice filmmaker Rawson Marshall Thurber wrote the pilot script and is set to direct the first episode.
Netflix has released the first official trailer for You season 4. Season 4: Part 1 will be released on February 9 and Part 2 will be out on March 9.
Apple TV+ has unveiled the trailer for the third season of Truth Be Told, a series based on Kathleen Barber's novel While You Were Sleeping.
Disney+ is set to greenlight an adaptation of CJ Sansom's bestselling Shardlake novels, which tell the story of an unlikely detective working under Henry VIII's reign.
Want to take part in a good readathon or reading challenge in 2023? Here are some excellent options, including short and long events.
We've got your 2023 bookish planners and reading trackers right here. Start the year off right with your planning and book journaling!
Book Riot Recommends
I'm a Contributing Editor at Book Riot, I write the Today in Books newsletter, and I'm a Bibliologist for Book Riot's Tailored Book Recommendations subscription service. I also have a PhD in English, so I'm basically a doctor of books. Books are my life, in other words, so in this section of the newsletter, let me share with you some upcoming books I'm super excited about. And I think you will be too!
Can't Wait for This One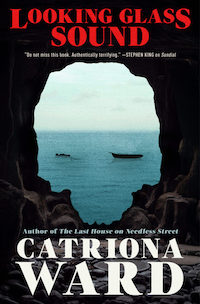 Looking Glass Sound by Catriona Ward (Tor Nightfire, August 22)
It's this simple: when Catriona Ward has a new book out, I must read it. Ward writes psychological horror that gets in your brain, rearranges it, and then leaves you thinking, "I don't know what just happened to me, but I think I loved it." Later this year, we'll all be blessed with a new Catriona Ward novel called Looking Glass Sound, and I seriously can't wait for this one.
Looking Glass Sound is a horror story about a writer trying to come to terms with the horrors of his past. Years ago when Wilder Harlow was young, there was a summer that changed everything. A killer stalked his small town in Maine, and a tragedy bonded Wilder to his friends Nat and Harper in ways that would forever change them.
Now, decades later, Wilder has returned to the town in the hopes of making sense of that summer's events as he writes his memoir. But the longer he spends in the town and the more he writes, the more Wilder feels like he's losing his grip on reality. And it feels as if the book is somehow writing itself.
Want to read books from this newsletter? You can, for free! Get three free audiobooks with a trial to Audiobooks.com. Claim your 3 free audiobooks now!
Words of Literary Wisdom
"Romance may be the world's oldest cult. It hooks you when you're vulnerable, scares the shit out of you, hold your deepest fears as collateral, renames you something like 'baby,' brainwashes you, then makes you think that your soul will wither and die if you let go of a person who loved you. So you better have a good goddamn reason for saying 'nah, not enough.' The love lobby is worse than the fun lobby. More misery, more addiction, more heads on spikes. And for what?"
— Cult Classic by Sloane Crosley
What I'm Watching This Weekend
I know I'm behind the times, but I'm fully leaning into this being my Heartstopper era. I read all of the graphic novels and I cried my eyes out because they were so sweet, and now I'm loving the show. I know I'm almost done, so I'm trying to make these last few episodes last. I can't wait for the new season!
And Here's A Cat Picture!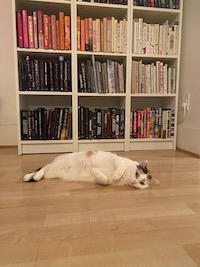 We're ending with a picture of Cersei posing in front of all of the books I'm planning on reading this weekend. Just kidding. I'm not going to read all of them. But maybe, like, five? I'll report back on Monday. In the meantime, I hope you have a wonderful weekend, and we'll talk again soon!