Happy almost Christmas, Book Friends!
We finally put our tree up last night, and it's snowing today, so the vibes are immaculate. It feels like holiday season is finally here for real, for real. How has your holiday season been going? I hope well. I hope you're finding time to rest. And on that note, let's talk book things, shall we?
Book Deals and Reveals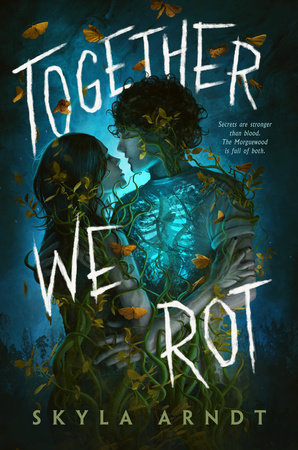 Okay, we have to start with this cover! Check out the cover reveal of Together We Rot by Skyla Arndt. The author describes this book as "what if Mothman was my boyfriend??" This one's out on August 29 from Viking Books for Young Readers and you can preorder it here.
Already thinking about what Christmas rom coms you're going to read next year? Get ready for One Christmas Morning by Rachel Greenlaw. What's the plot? Think Groundhog Day style Christmas with swapped identities AND a second chance with your soulmate. It's out from Avon on October 12.
And here's the cover reveal of The Quiet Stillness of Empty Houses by L.V. Russell. It's coming in May 2023 from Quill & Crow, and you can preorder it now!
I've got another cover reveal you're going to love, so sit tight. Because here's the super cute cover of Tinia Mountford's The Last Minute First Lady, illustrated by Leni Kauffman.
Oh, you want more cover reveals? Here's the cover of The End of August by Yu Muri, translated by Morgan Giles. This one's out from Riverhead Books on August 1. Preorder here.
One more? Alexis Hall has revealed the cover of his latest book Mortal Follies, which will be out on June 6, 2023 from Del Rey Books. The cover was designed by artist Radiante Mozzarelle. Preorder here.
Before wrapping up what was a very big year for Marvel Studios, Disney+ has announced one final surprise release for 2022. A brand new episode of Marvel Studios Assembled is set to release on the streaming service on Wednesday, December 28.
On December 17, the winners of this year's Black Book Awards were announced on Instagram, Twitter, and TikTok Live. All winners have been posted on the Black Book Awards Twitter account.
Peacock has ordered a horror thriller series from James Wan, inspired by Robert McCammon's 1988 novel Stinger.
Pantone's Color of the Year for 2023 is Viva Magenta, and we've got a roundup of books fit for celebrating the new color.
Every year, a new batch of books comes into the public domain as their copyright term expires. Here are some of the books entering the public domain in 2023.
From forthcoming blockbusters to new seasons of small screen series, check out the 2023 YA books to movies adaptations.
Book Riot Recommends
I'm a Contributing Editor at Book Riot, I write the Today in Books newsletter, and I'm a Bibliologist for Book Riot's Tailored Book Recommendations subscription service. I also have a PhD in English, so I'm basically a doctor of books. Books are my life, in other words, so in this section of the newsletter, let me share with you some upcoming books I'm super excited about. And I think you will be too!
Can't Wait for This One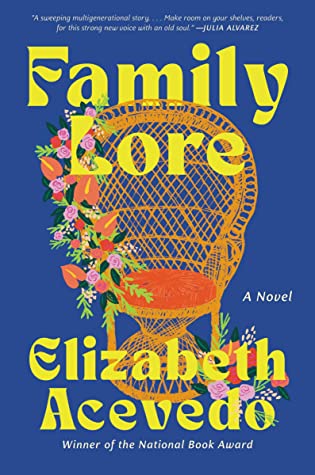 Family Lore by Elizabeth Acevedo (Ecco, August 1)
This is not a drill! Elizabeth Acevedo is releasing an adult fiction novel! I repeat: this is not a drill! Yes, bestselling, National Book Award–winning author Elizabeth Acevedo, author of The Poet X, With the Fire on High, and Clap When You Land, is pivoting to adult fiction fo her next book. And it sounds amazing. Are you excited for it? Well, you'll have to wait til August for this one, but let me tell you a little bit about it in the meantime.
Flor has a special gift. She can predict the exact time a person will die. So when Flor invites her family to her living wake, everyone is concerned. Has she forseen her own death? Or the death of someone else? Flor is hiding something, but she's not the only one with secrets. Her sisters, Matilde, Pastora, and Camila, also have things that they're hiding. And the next generation, cousins Ona and Yadi, have issues of their own. Spanning the three days prior to the wake, Family Lore tells the story of each of the women of Flor's family, examining their history and everything that's yet to come.
Want to read books from this newsletter? You can, for free! Get three free audiobooks with a trial to Audiobooks.com. Claim your 3 free audiobooks now!
Words of Literary Wisdom
"No matter how bleak or dire, end-of-the-world scenarios appeal to us because we take meaning from the end. Aside from the obvious and well-discussed idea that our narcissism is served when imagining we, out of all the billions who perish, might survive… there's also undeniable allure to witnessing the beginning of the end and perishing along with everyone and everything else."
— The Cabin at the End of the World by Paul Tremblay
What's Up in the Book Community?
My iPhone is constantly telling me I spend too much time staring at my screen, which is honestly so rude. But this means I spend a lot of time scrolling around the online book community: BookTube, Bookstagram, BookTok, BookLinkedIn (JK. That's not a thing…I don't think). You get the idea. Don't have the time, energy, or the will to do all of that yourself? No problem. I got you. In this weekly section of Book Radar, we'll take a look at something cool, interesting, and/or newsy that's going on in the book community.
If you've been reading Book Radar newsletters fairly regularly, I know you know that I am a huge White Lotus fan. So you know what I really enjoyed? Jack Edwards' YouTube video exploring the hidden meaning behind all of the books featured in White Lotus season 1 and 2. What a masterpiece! If you love books and you love White Lotus, I think you'll love Jack's take on the series through the lens of the books the characters read.
And Here's A Cat Picture!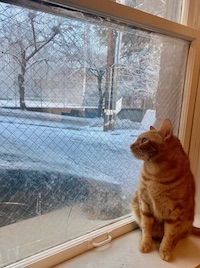 Ah yes, it is in fact snowing, and I have the photographic proof. Murray is so fascinated by the snow. As a Mississippi cat, he is totally baffled by all of this snowy weather. Same, kitty, same. But I love it. And I think he does too.
Alright, friends, and with that, I'm off to get my holiday weekend started. I hope you have a wonderful day, and I will see you a whole week from today, since Monday is a holiday! Until then!