It's new release day, woohoo! Or as I call it, 18 days until I can start a new reading spreadsheet, lol. I'M SO EXCITED. I'm thinking I might try a reading challenge again. Have you seen Book Riot's new Read Harder Challenge? The 24 tasks invite readers to expand their worldview through books! You can read one book per task, or do some multi-tasking by counting one book for multiple tasks. It's all good! For instance, I am totally counting the book I already read in order to write about it for the Read Harder 2023 newsletter. The point of the challenge is to push yourself to expand your horizons. To find the tasks and subscribe to our newsletter for tips and recommendations, visit Read Harder 2023. And thank you to Thriftbooks for sponsoring Read Harder 2023!
Now on to today's books, my friends: Because new releases are scarce today, I chose one book from today that I loved, and two from last week that I didn't get to discuss on the show. You can hear about more fabulous books on this week's episode of All the Books! Vanessa and I talked about our favorite novels of 2022 and more, including Unlikely Animals, The Book Eaters, and Sea of Tranquility.
And now, it's time for everyone's favorite game show: AHHH MY TBR! Here are today's contestants.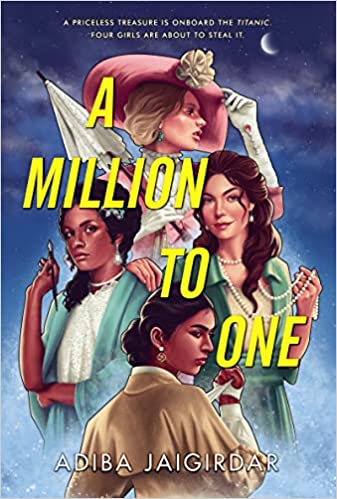 A queer Ocean's 8-like heist on the Titanic? YES PLEASE. Expert thief Josefa has gotten herself aboard the launch of the Titanic because she wants to steal the Rubiyat, a giant rare gem worth millions. She has assembled a team to help her pull off the huge heist before the ship reaches its destination. They each have special talents and they know how to push each other's buttons. But here's the thing—we all know the ship isn't going to reach its destination. How will thing tale of daring thievery play out? And who will survive?
Backlist bump: The Henna Wars by Adiba Jaigirdar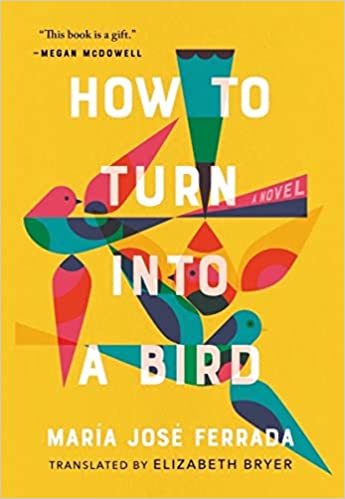 How to Turn Into a Bird by María José Ferrada, Elizabeth Bryer (translator)
And I am only at the beginning of this release from last week, but I really enjoyed her last novel, so I had to pick it up. It's about a young boy's love for his uncle, whose decision to live up on a billboard has made him outcast in their neighborhood. It's an examination of both the intelligence and naivety of children, as a local boy goes missing and tensions in the community erupt.
Backlist bump: How to Order the Universe by María José Ferrada, Elizabeth Bryer (translator)
I went comic crazy the last few months of this year. I read something like 200 graphic novels, from middle grade to YA to adult. This was one of my favorites. It's an adorable story of a kitchen witch named Planchette (like the Ouija board thingy) who buys a new house, which turns out to be haunted. When she is unable to convince the ghosts to leave, or force them to leave—she's not very good at witchcraft—she instead decides to befriend them. It's silly and adorbs, and I look forward to more from this world.
Backlist bump: Mooncakes by Suzanne Walker and Wendy Xu
Want to read books from this newsletter? You can, for free! Get three free audiobooks with a trial to Audiobooks.com. Claim your 3 free audiobooks now!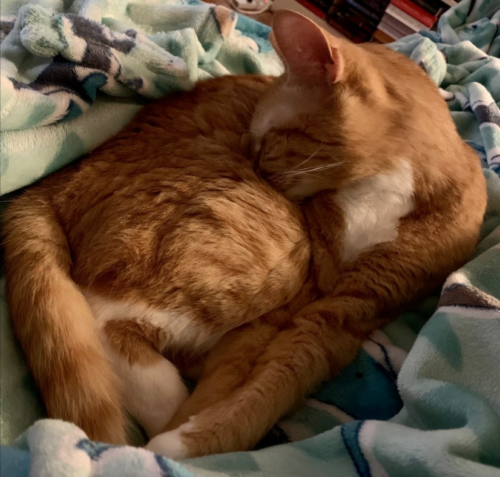 This week, I am reading The Undertaking of Hart and Mercy by Megan Bannen and Crook Manifesto by Colson Whitehead. Outside of books, I started watching Dead End: Paranormal Park, which reminds me a bit of a darker Gravity Falls. (But sadly, not as good.) And the song stuck in my head is "Team" by Lorde, because of that Marion Cotillard Chanel commercial. Recently, I got my Spotify end-of-year round-up playlist, which called me out for only listening to old music this year that I have heard a million times. So I started a new playlist, of songs that are new to me, and you can listen too! And here is your weekly cat picture: The other day, I woke up to find Zevon sleeping on my bed with his face tucked in his side like a ridiculous furry duck.
---
Thank you, as always, for joining me each week as I rave about books! I am wishing the best for all of you in whatever situation you find yourself in now. And yay, books! – XO, Liberty