Welcome to Check Your Shelf. We had our mini golf event on Saturday, and y'all, we had over FIVE HUNDRED people attend! For perspective, our town is a little over 5,000 people, so literally a tenth of the population stopped by on Saturday to play mini golf! We're pretty sure this is a record for attendance at an in-house event, and we basically tripled our attendance from our first mini golf event four years ago! We are gobsmacked, very pleased, and extremely exhausted. My knees may never be the same from all of the final crafting and mad dashing to set everything up.
Collection Development Corner
Publishing News
More than 150 literary agents have signed a letter to support the HarperCollins workers' strike. And Maine author Monica Wood has refused to work on her upcoming novel in support of the strike.
More US booksellers are expanding their Spanish-language offerings.
This teen has established their own brick-and-mortar bookstore in Los Angeles!
New & Upcoming Titles
Here's a preview of Chloe Gong's adult epic fantasy debut, Immortal Longings.
And here's a first look at RuPaul's Drag Race winner Sasha Velour's memoir, The Big Reveal.
Isabel Cañas is coming out with a new horror novel called Vampires of El Norte. And just look at that cover!!
Ron DeSantis is publishing a book amid heavy speculation about a 2024 presidential campaign.
Celebrate Indigenous literature with these 13 new books by Native writers.
All of the mysteries and thrillers that came out in 2022.
Best books of 2022 from Book Page, Esquire (horror), Kirkus (picture books), NYPL, New York Times (Top 10, Notable Books), NPR, Oprah Daily, and School Library Journal.
Weekly book picks from Crime Reads, LitHub, The Millions, and USA Today.
Best debut crime fiction of November, and the best international crime fiction of November and December.
December picks from AV Club, Book Marks (SFF), Crime Reads, Gizmodo (SFF), New York Times, Popsugar, and The Root.
30 must-read books for Winter 2023.
Most anticipated YA books of 2023.
What Your Patrons Are Hearing About
A Heart That Works – Rob Delaney (New York Times, Shondaland, USA Today, Washington Post)
Butts: A Backstory – Heather Radke (Time, Washington Post)
A Dangerous Business – Jane Smiley (Datebook, LA Times)
On the Riot
20 must-read picture books of 2022.
The best weekly new releases to TBR.
New York Times Bestseller List vs. the Best Books of 2022 – how do the two lists compare?
7 book review podcasts for discovering new books.
A new boom of horror from Latin America.
Why is Santa Claus erotica suddenly so popular?
Do main characters need to be likable?
The joy of seeing yourself in literature.
All Things Comics
Disney expands its partnership with Japan's Kodansha to release more anime originals.
13 of the best DC comics with great LGBTQ+ representation.
On the Riot
6 winter and Christmas manga to read this holiday season.
14 of the most influential superhero comics.
Comics and graphic novels to read when you're under the weather.
Audiophilia
AudioFile picks their best audiobooks of 2022.
15 audiobooks to listen to while driving.
Book Lists, Book Lists, Book Lists
Adults
222 of the best books of all time.
10 informative books to help you understand what's happening in Iran.
5 SFF books about crashed spaceships.
36 cozy and feel-good fantasy and sci-fi books.
15 great reads to honor Native American History Month.
7 books that will make you smarter.
7 genre-defying books by women of color.
Romances for crime fiction fans, and vice versa.
5 SF works about sitting out WWIII.
11 mysteries and thrillers that are just so. much. fun.
8 Hanukkah romance novels to light you up.
20 of the best cozy mysteries to curl up with right now.
11 fake relationship romance books.
On the Riot
10 charming holiday and Christmas books for toddlers.
8 excellent YA novels for fans of West Wing.
10 Little Red Riding Hood retellings for all ages.
Queer road trip novels to get you craving a vacation.
Unexpected and compelling Biblical retellings.
8 Christmas cozy mysteries for a bloody good holiday.
Holiday mystery books that are not about Christmas.
Grumpy/sunshine duo books for fans of Wednesday and Enid.
8 thoughtful books about monks and monastic life.
8 fantasy novels with word-based or book-based magic systems.
Full meta jacket: 10 nonfiction books about the stories behind books.
Get smarter with these 25 popular science books.
Level Up (Library Reads)
Do you take part in Library Reads, the monthly list of best books selected by librarians only? We've made it easy for you to find eligible diverse titles to nominate. Kelly Jensen has a guide to discovering upcoming diverse books, and Nora Rawlins of Early Word has created a database of upcoming diverse titles to nominate, as well as including information about series, vendors, and publisher buzz.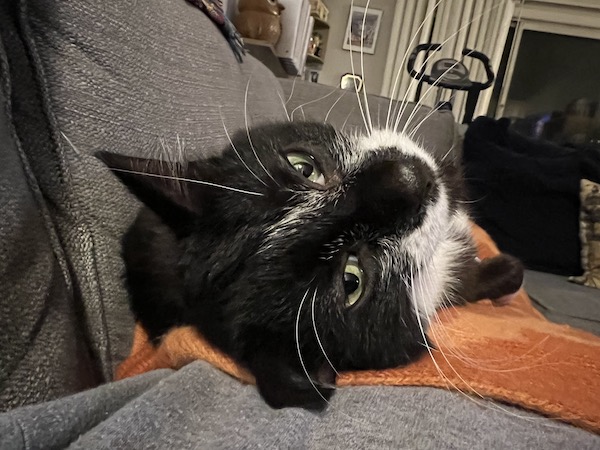 LOOK HOW CUTE DINI IS. BASK IN HIS ADORABLENESS.
Ahem. All right, that's all I've got for today. I'll be back on Friday.
—Katie McLain Horner, @kt_librarylady on Twitter.