Hello mystery fans! This week I've been making my way through Dead to Me's finale season, which is bittersweet because I love this show and it's great balance of dark themes and humor. In the land of crime and books, I've got new releases, cozies for dog lovers, something new to watch, and news.
Bookish Goods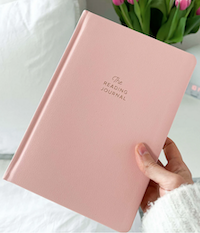 If you're looking for a new journal to keep track of your reading, I like the page layouts in this one. ($30)
New Releases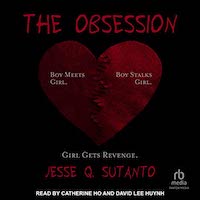 If you wait for the audiobook format of a book to release then happy day to you because The Obsession now has an audiobook with dual narrators: Catherine Ho and David Lee Huynh.
Delilah has been having a really hard time after her father's death and is now living with an abusive stepfather. Logan, her stalker classmate, witnesses something while secretly watching Delilah and uses it to blackmail her into dating him. The novel alternates between Logan and Delilah's perspectives until a cornered, and fed up, Delilah is ready to fight back. I really like that this started with You vibes but then went its own way. If you're a fan of dark YA, pick this one up!
(TW stalker/domestic abuse/past suicide attempt and suicide, detail/drugging without consent)
This is my current audiobook read, narrated by the author! The book uses a 30 year cold case, solved by Jim Scharf, a cold case investigator, and CeCe Moore, a genetic genealogist, to explore how far science has come with DNA. The case at the heart of the book is a young Canadian couple, Tanya Van Cuylenborg (18) and Jay Cook (20), who took a weekend trip to Seattle because Jay needed a part for a furnace. They disappeared and were later found violently murdered, Tanya raped. The murders, assumed to have been committed by a serial killer, went unsolved for 30 years until a team was sent to collect something with DNA on it from a truck driver who'd been assumed the killer and tested his DNA. The book goes into the case, and the lives of Tanya and Jay while equally exploring how much DNA technology has changed, including the ethics behind someone uploading their DNA to see their family lineage and that DNA being used by law enforcement in cold cases.
For a more comprehensive list of new releases, check out our New Books newsletter.
Riot Recommendations
Last time we did some meowing cozies, so it's only fair we do a couple mysteries that bark!
Watch Now
Bullet Train on Netflix (Dec 3): Based on the Japanese crime novel of the same name by Kōtarō Isaka, this dark comedy thriller takes place on a train where an assassin is trying to have one job go right for him, unlike his usual unlucky missions. But he's not the only criminal on this train and he's about to find out his new motto of not killing or carrying a weapon may have been the wrong decision when boarding this train. Cast includes Brad Pitt, Bad Bunny, Sandra Bullock, Joey King, Aaron Taylor-Johnson, Brian Tyree Henry, Andrew Koji, Logan Lerman, Hiroyuki Sanada, and Michael Shannon. Watch the trailer here.
News and roundups
10 of the Best Mystery and Horror Books for Scaredy Cats
Scarlett Johansson to star in Just Cause again, but this time she's an adult and also it's a TV show
The Guardian: The best recent crime and thriller writing
Carrying out executions took a secret toll on workers — then changed their politics
Weinstein drama She Said and the films taking on abusive men
Where Are All The Bloody Periods In Literature?
Giveaway: Win a pair of AirPods Pro!