Welcome to Check Your Shelf, where I am watching the Twitter meltdown with a mix of fascination and horror. As much as I hate seeing a workplace driven into the ground in real time, I have to say that reading about Elon Musk has done wonders for my own impostor syndrome.
Libraries & Librarians
News Updates
Concerns linger for libraries after mixed election results.
Arkansas voters have opted to cut the Craighead County/Jonesboro Public Library's millage in half. The article claims that this measure was added at the 11th hour in response to negative feedback over an LGBTQ pride display in January.
Helena Bonham Carter has been named the first female president of the London Library, the city's first established lending library.
Cool Library Updates
Worth Reading
Resources for helping unhoused patrons.
Libraries vs. the cost of living crisis.
Simple ways to be more inclusive of autistic families.
Creating accessibility in libraries.
How libraries are using TikTok for programming and outreach.
Book Adaptations in the News
Disney is adapting Roshani Chokshi's A Crown of Wishes into a live-action series.
A new Princess Diaries movie is in the works.
After optioning Maggie Haberman's Confidence Man months before its publication, Apple has decided not to pick up the adaptation for development.
Amanda Montell's book Cultish: The Language of Fanaticism is being adapted as a docuseries.
Ewan Morrison's thriller How to Survive Everything has been optioned for TV.
Shuggie Bain is getting a TV adaptation.
Netflix orders an adaptation of Judy Blume's Forever.
Universal Pictures has acquired film adaptation rights to Susanna Hoff's debut novel, This Bird Has Flown. (If you recognize that name, Susanna Hoff was one of the co-founders of The Bangles.)
Casting update for The Sympathizer.
Banned & Challenged Books
There aren't two sides to the Holocaust debate.
Texas Republicans against critical race theory win seats on the State Board of Education, strengthening the GOP majority. ​​
Keller ISD (TX) has banned books about trans and nonbinary people.
Abilene Public Library (TX) tables a request to move, reclassify, or remove 30 books.
Grapevine-Colleyville ISD (TX) parents held their own book fair after the district refused to work with Scholastic Books, saying that Scholastic wouldn't give them an inventory of every item being sold ahead of time.
Kerrville (TX) City Council is scheduled to hear a request about disputed library materials which allegedly violate Texas obscenity laws.
Why read a book when you can ban it instead? Inside Florida's Clay County school district.
The Perks of Being a Wallflower has been removed from the Escambia County (FL) School curriculum.
Over 20 books challenged at Thomas County Public Library (GA).
An anti-critical race theory supporter wins a seat on the Augusta County (VA) School Board.
Virginia governor shuts down a critical race theory complaint hotline because it didn't get enough complaints. Shocker.
Prince William School Board (VA) is considering parental consent for school-wide book readings.
Madison County (NC) school officials attempt to clear confusion, saying that All American Boys has not been banned from the district, even though a school board candidate said that she felt the book SHOULD be banned.
Wake County (NC) Library system is under scrutiny after adding multiple copies of the transphobic picture book Johnny the Walrus to their collections.
The first sentence of this article from Catawba County (NC) says it all: "Michelle Teague, the grandparent who challenged 24 public school library books this year while admitting she had not read them, is now on the board that sets policy for the system."
The Wilkes County School Board (NC) has given county school superintendents the authority to immediately remove a book or other educational materials from all schools after it is challenged by a parent, thereby completely bypassing their existing review policy.
Horry County (SC) school board adds committee positions to review possible "inappropriate materials" in the libraries.
Spruce Mountain (ME) school board votes to keep Gender Queer, despite parents appealing the initial decision.
Henrietta Public Library and other upstate New York libraries grapple with efforts to censor children's books.
Brooklyn Public Library president says "now is a time to act" in the fight against book bans.
A 10th grade lesson at Somers High School (NY) was halted after parents complained about the teacher using the book Me and White Supremacy to teach about racism.
Princeton Public Library (NJ) hosts a panel addressing book banning.
In a heated New Jersey school board race, things get physical.
Hollidaysburg Area School District (PA) discusses adding new language concerning gender identity and preferred pronouns to a school policy, which would prevent teachers from "prominently" displaying materials of a religious, sexual, or political nature in their classrooms, which includes teachers who previously had Pride flags up in their classroom.
The Public Library of Steubenville and Jefferson County (OH) issued a statement in response to patrons asking the library to remove LGBTQ book displays and materials.
Hilliard City School (OH) parents are pushing for school officials to remove multiple books from libraries.
Wood County Commission (WV) hears complaints about the book Julián is a Mermaid being read during storytime at the South Parkersburg Library.
Conservative politics drive the fight for control of Indiana's school boards. In Hamilton County, several anti-critical race theory candidates win seats on multiple school boards.
The Michigan Library Association defends the Patmos Library, which was defunded over LGBTQ books.
7 books have been removed from Elmbrook (WI) school libraries.
Carroll Community School District's (IA) material reconsideration committee recommends that Sold by Patricia McCormick should remain in libraries.
Nixa (MO) parents push for nine more books to be removed from the high school library. Six of the titles are by Sarah J. Maas.
The Daniel Boone Regional Library (MO) is preparing to discuss a proposed book challenge rule in the state, which would require libraries receiving state funds to determine what material is "age-appropriate" for children, and restrict minors from accessing some books.
Not book related, but it's all linked in a horrible circle. Republicans introduce a bill to make it a felony to perform drag shows in Tennessee.
Faulkner County Coalition for Social Justice (AR) held a student walkout at Conway High School over recent policy changes that negatively affect transgender students and critical race theory.
Rapid City Area Schools (SD) are planning to sell the books that were once earmarked to be destroyed.
Wyoming teachers are dismayed by the recent state-sponsored "sexualization of children in schools" event.
A Boise man who was arrested for aggravated assault had also assaulted a transgender employee at the Boise Downtown Public Library prior to his arrest.
Months after the Placentia-Yorba Linda Unified School District banned critical race theory from classrooms, Cal State Fullerton has told officials that it's pausing its student teacher placement in the district because the restriction conflicts with the university's goals of equity and inclusion.
Australian senator Alex Antic accuses the Australian Broadcast Corporation of "grooming" children after Australian drag queen Courtney Act appeared on the Play School program.
Republicans are using attacks on queer people and libraries to rally voters.
Why book bans and voter suppression go hand in hand.
Want to read books from this newsletter? You can, for free! Get three free audiobooks with a trial to Audiobooks.com. Claim your 3 free audiobooks now!
Books & Authors in the News
Hilary Duff slams Ballast Books for announcing plans to release Aaron Carter's unfinished memoir only 10 days after his death. Since then, the publisher has delayed the publication date indefinitely.
Numbers & Trends
Can BookTok be taken at face value?
The best-selling books of the week.
Award News
Barnes & Noble names Lessons in Chemistry as its best book of 2022.
Voting for the Goodreads Choice Awards has begun!
The Andrew Carnegie Medal shortlist has been announced.
On the Riot
Ideas for running a comic book club in your school library.
How and why this Rioter schedules their reading.
How many books does the average person read?
On bonding with damaged books.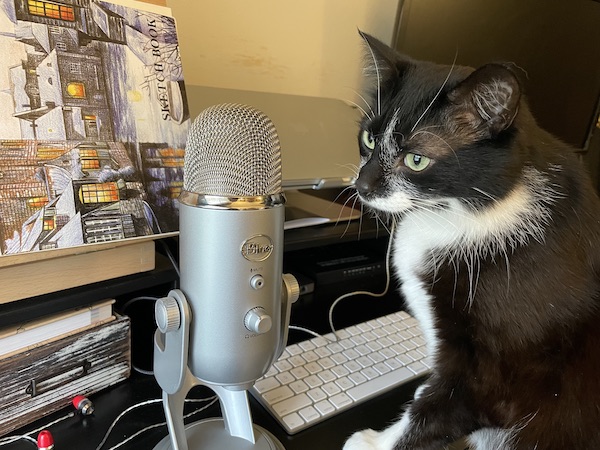 Okay, the cat photo for this issue is a no-brainer. I got set up to record a couple ad spots for the latest episode of Read or Dead, and Dini decided he was going to be the new co-host. I have informed all relevant parties of this change, so if you're a listener, be prepared for less mystery & suspense discussion, and more demands for treats and Fancy Feast.
All right friends. Please take time to recharge your batteries this weekend. I desperately need to, and my guess is a lot of you need to as well.
—Katie McLain Horner, @kt_librarylady on Twitter.