Regardless of how you feel about Goodreads (and I've had my fair share of complaints), it's worth scrolling through the Goodreads Choice Awards to get introduced to some new releases you might not have learned about otherwise. And, of course, I'm going to pull out some queer options you can vote for this year!
The charity I want to highlight this week is PFLAG's Read With Love program, which is attempting to get more diverse books into libraries. You can find out more at their website, including ways to donate.
Bookish Goods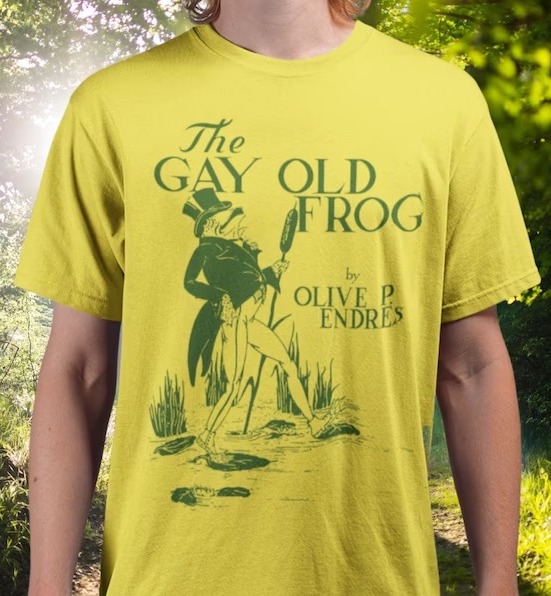 Let this shirt inspire you to be your best gay old frog self. $33
Riot Recommendations
It's the Goodreads Choice Awards, AKA the book popularity contest of the year! They usually end up with very boring results, let's be honest: just the books the most people have heard about, which are usually (white, cis/allo/het, neurotypical) bestsellers. But one can dream, so I thought I'd highlight some of the queer hopefuls in a few categories! This week: the fantasy category.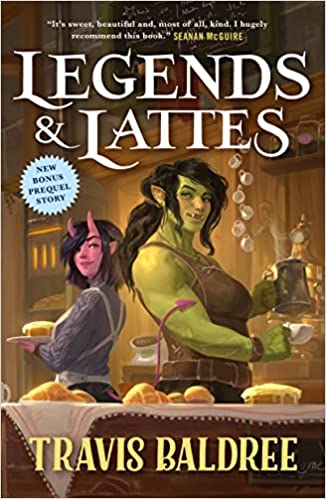 This book seems to just be getting more and more popular since it was first published in February (and has since been picked up by Tor). It's a cozy sapphic fantasy about an orc who retires from a life of adventuring to open her own coffee shop.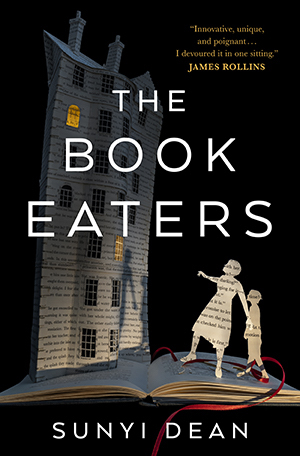 I've recommended this book before, but I'm here to do it again. Devon is on the run with her young son, Cai. She comes from a society of book eaters; people who survive off consuming books instead of food. But Cai is a mind eater, and instead of giving him up to be used as a weapon, she's willing to sacrifice everything to keep him safe. Even if it means feeding him human minds. This is a thought-provoking sapphic dark fantasy.
Other queer books in this category include When Women Were Dragons by Kelly Barnhill, The Atlas Six by Olivie Blake, Kaikeyi by Vaishnavi Patel, and The World We Make (Great Cities, #2) by N.K. Jemisin — not a bad showing!
As always, if there's a topic you'd like queer books recommendations for, let me know and it might be my next Riot Rec!
All the Links Fit to Click
Sapphic Literature Is on the Rise. Hopefully, It's More Than Just a Trend
Sisters In Crime announced the winner of the Pride Award for Emerging LGBTQIA+ Crime Writers
'My diabolical delight' – Sarah Waters on her rip-roaring, salacious classic Fingersmith (Which is turning 20!! This is one of my favourite books of all time.)