Sponsored by Amazon Publishing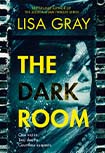 tk
Riley Sager's The Only One Left Cover Revealed
Dutton Books has revealed the cover of Riley Sager's upcoming Gothic horror novel The Only One Left, which will be out in June 2023. The novel follows Kit, a young caregiver who is haunted by her own dark past. Kit has been assigned to work for the infamous Lenora Hope, a woman accused of massacring her family decades earlier. Now Lenora is in a wheelchair and can only communicate through writing. One night, she writes to Kit, "I want to tell you everything. Things I've never told anyone else." But is Lenora telling Kit the whole truth? And what will her story reveal? You can preorder this book now.
Here's the New Trailer for Netflix Animated Feature A Christmas Carol
Netflix's animated adaptation of Charles Dickens's A Christmas Carol has a new trailer and a release date. The animated feature is set to debut on Netflix on December 2nd. A Christmas Carol stars Luke Evans as Scrooge. The film also stars Olivia Colman, Jessie Buckley, and Jonathan Pryce. According to the synopsis, the animated film is a "supernatural, time-traveling, musical adaptation of the definitive Christmas story." The songs for the movie are produced, arranged, and scored by Jeremy Holland-Smith with music and lyrics from Leslie Bricusse. The film is directed by Stephen Donnelly.
HarperCollins Union Workers Go On Strike Over Pay "For As Long As It Takes"
HarperCollins union workers have gone on indefinite strike over low wages and diversity. The publishing industry is infamous for its low pay and overwhelmingly white staff. Now workers at HarperCollins, the only member of the "big four" publishing houses to have a union, have authorized an indefinite strike. Work stopped at the downtown Manhattan offices on the morning of November 10th. "We're willing to stay out as long as it takes," said Stephanie Guerdan, who has worked in the children's book department of HarperCollins Publishers for six years. "After about a week, the company is really going to feel the loss of all our essential labor. I've talked to friends who are not in the union, and their assessment of it has been, 'I don't think the company knows what's going to hit them.'"
This is the Best Book of the Year, According to Barnes & Noble Booksellers
In addition to their top book of the year, Barnes & Noble booksellers also selected a winner for a new award for speculative fiction.