Welcome to Check Your Shelf, where we have entered the dark days of winter. I'm going to grouse about the lack of sunlight in the afternoons until next March, but at least we only have about a month and a half left of the days officially getting shorter…once December 21st rolls around, I try to keep my spirits up by reminding myself that I'm getting a couple extra minutes of sunlight each day. (Honestly, it kind of works.)
Collection Development Corner
Publishing News
A federal court has blocked the merger of Penguin Random House and Simon & Schuster.
Kwame Mbalia is heading up a new imprint for Disney.
New & Upcoming Titles
Here are the Top 50 Children's and YA books of 2022, as chosen by Publisher's Weekly.
For your reference collections: Emily Post's descendants are publishing an updated etiquette book.
Iceland's prime minister releases her first crime novel, co-written with Ragnar Jónasson!
Anna-Marie McLemore is publishing their first adult novel.
10 upcoming YA books by Latinx authors you can preorder.
22 books to immerse yourself in this fall.
Weekly book picks from Bustle, Crime Reads, The Millions, New York Times, USA Today.
November picks from Amazon, Barnes & Noble, Bustle, Crime Reads, Good Morning America, LitHub (general, SFF), Shondaland, Town & Country.
What Your Patrons Are Hearing About
Surrender: 40 Songs, One Story — Bono (LA Times, New York Times, USA Today, Vulture, Washington Post)
The Philosophy of Modern Song — Bob Dylan (USA Today, Washington Post)
Foster — Claire Keegan (LA Times, New York Times, NPR)
The World We Make — N.K. Jemisin (USA Today, Washington Post)
White Horse — Erika T. Wurth (New York Times)
RA/Genre Resources
The rise of Black YA horror, and the thrill of queer YA horror.
On the Riot
New YA books perfect for winter holiday reading.
20 new must-read short story collections.
The best new weekly releases to TBR.
November picks for mystery/thriller/true crime, horror, romance, nonfiction, YA, children.
Summer Scares is back for 2023!
How to celebrate Nonfiction November.
Why are so many M/M romances written by cis women?
What's hopepunk, and where should you get started?
Should most self-help books be pamphlets?
Remembering the "forgotbusters:" the blockbuster books that time forgot.
A YA lover's journey into adult literature.
"Good rep," "bad rep," and other phrases this reader could do without.
All Things Comics
William Jackson Harper has been added to the cast of Ant Man 3, although his role is being kept secret for now.
Aubrey Plaza joins the cast of the WandaVision spinoff, Agatha: Coven of Chaos.
Chris Farley's early life will be chronicled in a new graphic novel co-written by his brother, Kevin.
On the Riot
11 new comics to devour in November.
Horror comics to carry you through the end of the year.
The best graphic novels you've never heard of.
Audiophilia
Is listening to audiobooks really considered reading? (Yes, you knuckleheads.)
Book Lists, Book Lists, Book Lists
Adults
6 books to keep that Halloween spirit going.
The best books to read for Indigenous Peoples Month.
7 memoirs about unearthing ancestral magic.
8 books to read about the decline of democracy.
7 books about Agatha Christie and her characters.
A list of mysteries that feature animal rescue.
4 books to try and understand why children kill.
10 books about women's plight in Iran.
15 "smutty" holiday romances to keep you warm. (Their words, not mine!)
8 seriously steamy Regency romance novels.
20 werewolf romance books to sink your teeth into.
Adult M/F romances starring trans women.
Want to read books from this newsletter? You can, for free! Get three free audiobooks with a trial to Audiobooks.com. Claim your 3 free audiobooks now!
On the Riot
More children's books by Native American authors.
10 marvelous books about mushrooms.
30 great books about astronauts.
Cookbooks from Great British Bake Off alums.
8 fantastic debut novels by Indigenous authors.
Books about quitting your job.
Level Up (Library Reads)
Do you take part in Library Reads, the monthly list of best books selected by librarians only? We've made it easy for you to find eligible diverse titles to nominate. Kelly Jensen has a guide to discovering upcoming diverse books, and Nora Rawlins of Early Word has created a database of upcoming diverse titles to nominate, as well as including information about series, vendors, and publisher buzz.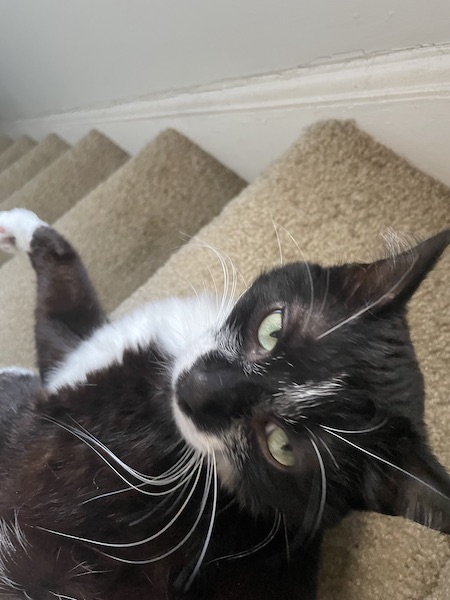 Dini would like everyone to marvel at his whiskers. Meanwhile, I was marveling at his uncanny ability to choose the most inconvenient spot in the apartment to take a nap.
Okay friends, that's all I've got for today. Let's trudge through this week and get to Friday, kay?
—Katie McLain Horner, @kt_librarylady on Twitter.