Welcome to Check Your Shelf. There's such an overwhelming number of negative, angry, hateful news items in regards to libraries that I need to hear something more positive. If your library is doing something great and exciting, hit me up on Twitter. It's easy to forget about the positive things in times like this, and quite frankly, my last several months at work have been tarnished by all sorts of conflicts.
So, let's dive in.
Libraries & Librarians
News Updates
Not exactly library news, but it's important and I couldn't think of a better section to put this in: Elon Musk officially owns Twitter. Stephen King has also indicated that he won't pay to keep his official Twitter-verified status, compelling Musk to bargain with him via tweet replies. What a world.
Cool Library Updates
Bike libraries are boosting cycling access across the country.
Worth Reading
Libraries can unite a lonely, divided nation.
How to use the holidays to build library brand awareness and affinity.
19 of the best social media management tools.
Book Adaptations in the News
From Scratch, based on Tembi Locke's memoir, was Netflix's most-viewed title for the last week of October!
Amazon orders a new Alex Cross series, based on the James Patterson books.
Casting update for Interior Chinatown.
Here's a first look at The Pale Blue Eye, featuring Christian Bale, Harry Melling, and Gillian Anderson.
First trailer for Fleishman is in Trouble.
9 highly anticipated book adaptations coming to big and small screens.
Banned & Challenged Books
Book banners are weaponizing legitimate resources.
From the New Yorker: The right-wing mothers fueling school board wars.
When book challenges happen at YOUR school or library.
A new panel explores the surge in book bans and policies targeting the LGBTQ community.
How should educators respond to parents who criticize what's being taught?
These PACs are funding "parents rights advocates" running for local school board positions.
The Christian Nationalist group Mama Bears Rising have taken their book-banning frenzy to Tomball, Texas.
Battles over race and gender inflame the Texas school board vote.
Keri Blakinger's memoir, Corrections in Ink, which is about her time spent in prison and her subsequent rehabilitation, has ironically been banned from Florida prisons.
Orlando LGBTQ Center cancels its own Drag Queen Story Hour after receiving threats from neo Nazis.
Seminole County (FL) school board Chairwoman Amy Pennock has filed to pull eight books for review.
Thomas County Public Library System (GA) is reviewing four challenged books. What's particularly concerning is the complaints issued by members of the community towards the director: "I personally don't have time to come to the library to read every new book you shelve and fill out your form. As I am a taxpayer, paying your salary, I say that the responsibility is yours to keep unacceptable materials off the shelves."
Slidell (LA) residents are pushing for the St. Tammany Parish Library System to remove "explicit" books.
A conservative PAC has announced a $600,000 TV ad campaign that connects the controversy surrounding Gender Queer directly to the policies of Maine governor Janet Mills.
A Maine parent is appealing the Woolwich Central School board's decision to retain the book Beyond Magenta.
Old Rochester Regional (MA) superintendent's statement on controversial books: "Leave those decisions to the school librarians."
(Paywalled) Elizabethtown Area School Board (PA) votes to keep Me and Earl and the Dying Girl on library shelves.
Ephrata Area School District (PA) has established a new policy and content-tagging system that allows parents to opt their children out of access to specific topics.
In Westmoreland, PA, a school board member is complaining that the book All Are Welcome was read to a group of second graders, saying "the book is about inclusivity, including immigrants, but it neglects to differentiate between legal immigration and foreign invaders." The school is not investigating the claims.
Hempfield Area School District's (PA) book challenge policy could mirror one already used to identify and filter out inappropriate websites.
Parents call for the removal of sexually explicit books from Frederick County Public Schools (MD), vowing to fight for this in upcoming board meetings until the books are removed.
Advocates launch the Freedom to Read SC coalition to fight book bans across South Carolina.
Greenville City Council (SC) voted to reject a recent proposal to remove books "promoting sexuality" from all children's sections of the public library.
Nearly 100 books have been pulled from Beaufort County (SC) school libraries for review of allegedly "adult content."
Black is a Rainbow Color has been removed from school libraries and classrooms in Lexington County, South Carolina, pending a review.
Batesburg-Leesville Middle and High schools (SC) have temporarily pulled Stamped: Racism, Anti-Racism, and You from libraries, and the National Coalition Against Censorship has sent a letter urging the schools to return the book.
The debate over children's books continues at Spartanburg County Public Libraries (SC), although several books have already been relocated from the children's section to the adult section.
A resident of Sumner County (TN) is pushing for the removal of Lawn Boy, saying that its presence in school libraries violates state law.
Maury County (TN) library director resigns from public pressure in response to a Pride display from earlier in the year.
16 books are being challenged at the Salem-South Lyon District Library (MI), most of which deal with LGBTQ themes in some capacity.
Three Portage (MI) school board candidates are running to stop critical race theory and the "sexualization of children."
The Spring Lake School Board (MI) voted to significantly restrict student access to Gender Queer after a parent appealed the initial decision to keep the book, and the meeting ended up being abruptly adjourned after the public comments got out of control.
In Kiel, Wisconsin, the attack on "critical race theory" ignores the bullying of a Black student.
Following a common pattern, a group of parents asked the Lincolnwood Library (IL) to cancel its Drag Queen Story Time, except the library had never scheduled one.
The national battle over LGBTQ and sex ed books reaches Bartholomew County (IN).
Homer-Center school district (IN) announced that All American Boys would remain a part of the 10th grade English curriculum.
An Indiana school board candidate says "Haters gonna hate" in response to people upset over his comments that not all Nazis were bad.
Ankeny Kirkendall Public Library (IA) votes to retain Let's Talk About It after a resident asked the library to place restrictions on the book.
A Willard (MO) parent has called for a full audit of the school library for sexually explicit materials.
The Nixa (MO) school board stands firm on policy changes as parents and students debate ongoing book bans.
USD 231 (KS) school board votes to keep The Absolutely True Diary of a Part Time Indian on 10th grade reading lists.
All Souls Unitarian Church (OK) holds a sermon opposing book bans and encouraging the freedom to read. (This is an uplifting read.)
The Valley City Public Library board (ND) refuses public comment over their decision to retain several challenged books.
Wyoming nominee for state superintendent of public instruction Megan Degenfelder says that there are a number of unsuitable books currently in school libraries, but that the decision should remain with school boards.
The battle over library books reaches Natrona's school board election.
Eugene, Oregon pub staff and drag queen performers received death threats from AROUND THE WORLD in response to a planned Drag Queen Story Time. Gun-carrying protestors also made an appearance.
In British Columbia, most of the anti-sexual orientation & gender identity school board candidates lost their races.
Want to read books from this newsletter? You can, for free! Get three free audiobooks with a trial to Audiobooks.com. Claim your 3 free audiobooks now!
Books & Authors in the News
Julia Powell, food writer and author of Julie and Julia, has died at 49.
Anna Pasternak, descendant of Doctor Zhivago author Boris Pasternak, has lost her copyright infringement claim against author Lara Prescott, who Pasternak claims copied elements from her own memoir.
PEN America and the National Coalition Against Censorship have both issued statements rejecting the recent call to cancel Amy Coney Barrett's upcoming memoir.
A lost John Steinbeck essay about American democracy has been found and published.
Toni Morrison will be featured on U.S. postage stamps in 2023.
Numbers & Trends
The best-selling books of the week.
The most popular in-demand books in U.S. libraries from July – September.
Award News
The 2022 Kirkus Prize winners have been announced.
The 2021 Shirley Jackson Award winners have been announced.
Harry Josephine Giles wins the Arthur C. Clarke Award for Deep Wheel Orcadia.
The Waterstones Book of the Year shortlist has been announced.
On the Riot
How to increase your information literacy.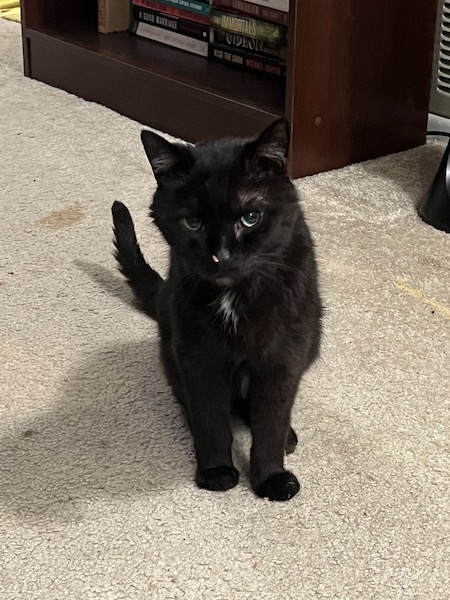 I don't know how well you can see this photo now that it's been trimmed down to newsletter size, but that's a spot of Fancy Feast on Gilbert's nose, and that is the sassiest expression I've ever seen on his face! "Yeah, I've got food on my nose. SO WHAT?"
Okay, friends, that's all I've got for today. I'll catch you on the flip side.
—Katie McLain Horner, @kt_librarylady on Twitter.