Sponsored by the Boston Antiquarian Book Fair, November 11 through 13 at Boston's Hynes Convention Center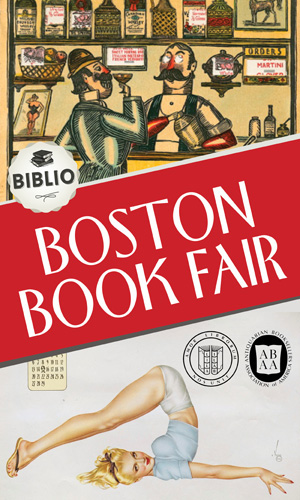 tk
Ronny Chieng and Chloe Bennet Join Hulu's Interior Chinatown
Two weeks after being picked up to series, the drama Interior Chinatown, based on the novel by Charles Yu, has added Ronny Chieng and Chloe Bennet to its cast. Chieng and Bennet join previously cast Jimmy O. Yang in the series that counts Taika Waititi as an executive producer and the director of the pilot. Interior Chinatown is the story of background character Willis Wu (Yang). Willis is trapped in a police procedural and trying to find his way into the larger story. Along the way, he discovers secrets about the strange world he inhabits and his family's buried history. Chieng will play Willis's best friend Fatty Choi. Bennet will play Detective Lana Lee, a new lead making her debut appearance in the procedural cop show Black & White.
Wiip Options Rights to Adam Sternbergh's The Eden Test
Independent Studio Wiip has optioned the rights to The Eden Test, a forthcoming novel from Adam Sternbergh. The studio intends to turn the novel into a television series. The Eden Test, which is set to be published in April 2023, is the story of a New York couple who goes on a secretive retreat upstate that offers a unique program to save their marriage. But after a series of unsettling encounters, the couple "uncover more about the ties that bond — and threaten to break — them than they ever thought they could." Paul Lee, Josh Stern, and Gabe Fisher will executive produce on behalf of Wiip, and Jonah Hill and Matt Dines will serve as executive producers for Hill's Strong Baby Productions. Sternbergh will also executive produce.
George R.R. Martin Says He's Three-Quarters of the Way Done with The Winds of Winter
While promoting the new illustrated book The Rise of the Dragon on The Late Show With Stephen Colbert earlier this week, author George R.R. Martin gave fans an update on the A Song of Ice and Fire series. "I am making progress with The Winds of Winter, but it's still not done yet. I think it's going to be a very big book," Martin said. "I think I'm about three-quarters of the way done. The characters all interweave. I've actually finished with some of the characters, I've got their whole story, but not others. So I have to finish all that weaving. Still gonna take me awhile." Fans have been eagerly awaiting The Winds of Winter since the last book in the series, A Dance with Dragons, was published back in 2011. The Winds of Winter is set to be the sixth novel in a seven-book series.
The Top 25 TikTok Book Recommendations
Load up your TBR with these top 25 TikTok book recommendations, including everything from historical fiction to thriller, YA, and more.