Happy Monday y'all! Welcome back to the Kissing Books newsletter. It's beginning to feel a lot more like fall where I'm at. For me, this means the day doesn't start hot as all get out and climbs to a warm temperature before the sunsets. It's still hotter than other places for sure, but not as hot as it has been in the past few months.
Nothing really has changed in what I'm reading due to busyness of the day job and writing. But I am planning on really making a concentrated effort to work through the books I have bought this year since I want to read a least half of what I have brought in over the last calendar year. So far the count is at 20/48, but I'm sure there are books I've forgotten to add to the purchase list and it's not the end of the year yet. So, I'll be sure to keep you posted on that.
On to the rest of the newsletter!
Bookish Goods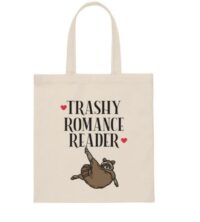 While I personally go back and forth on using the word "trashy" to describe romance, I know others who embrace it fully. And I firmly believe when it comes to stuff like that, to each their own. Honestly, I just adore this little raccoon since it is just adorable. So that makes this handy dandy tote functional and fun. Starts at $13.
New Releases
Clover Hill seems to be the perfect spot for Fisch to start a new lease on life. After a while, she begins to feel restless and wonders if she just placed herself in a new setting for the same situation. When photojournalist, Jaeeun, comes through town, it's like a breath of fresh air as both butch women feel an instant attraction. When the wanderlust touches Fisch just as Jaeeun is thinking of settling down, does this spell the end of their love story or has Fisch found a place and a woman worth settling down permanently for?
When Mira and Naveen first met, it was due to a matchup that didn't work out. The second time happens when Mira walks into Naveen's office in a professional capacity, as he is the lawyer that is tasked with helping to settle her late aunt's affairs. It seems like it will be a "no muss, no fuss" situation…and then they get kidnapped. What follows is a wild chase through Las Vegas as Mira and Naveen uncover more and more of her family secrets and find themselves becoming drawn closer together.
For even more new releases, check out our New Books newsletter.
Riot Recommendations
October 18th is Chocolate Cupcake Day and in honor of that, I'm recommending even more romances that take place at a bakery or involve a baker. Even if it's not a chocolate cupcake, hopefully you'll have something sugary on hand to satiate any sweet tooth cravings you may get after picking these books up.
When pastry chef, Isobel, and retired football player, Travis, team up to compete in a reality show, to an outside observer it seems like a win-win situation for them both. However, people on the inside know that their past is fraught with friction, and the promise of bringing her family's bakery to the spotlight and a large donation to one of his charities may not be enough to overcome that. There's also that pesky spark of attraction between the two of them.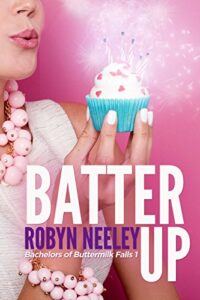 Small town baker, Emma, has earned a reputation for being able to predict the name of a bachelor's soulmate in her cake batter. Investigative reporter, Jason, hears about this straight from a soon-to-be-ex-bachelor's mouth and decides to expose her as a fraud. When they meet, the sparks fly between them, leading him to wonder if he should believe in magic and love?
You can also pick up Queerly Beloved by Book Riot's own Susie Dumond. I read this earlier this year and adored it!
Congratulations to Alisha Rai on her nuptials! She hasn't shared the full details yet, but oh how my heart warmed watching this countdown video that was shared.
More Harlequin romances to fall in love with.
If you're an audiophile, check out this list of romances by Black authors.
More romance cover art, this time on tins and seashells!
Pick random things and get the first initial of your soulmate.
And that's all for today. I'll be back in our inboxes on Thursday with more updates from the world of romance. In the meantime, you can always give me a follow over on Twitter under @PScribe801. Until then, happy reading and stay hydrated.
— PN Hinton