Welcome to Check Your Shelf. As much as I love spooky stuff for spooky season, I also have to make time for the funny spooky stuff, which is why I'm watching Young Frankenstein while I type this newsletter, and my co-workers are probably going to get really irritated with me going "SEDA-GIVE?!?!" all week. Oh well!
Collection Development Corner
Publishing News
Publishing wants to cash in on BookTok, but creators say no.
New & Upcoming Titles
Publisher's Weekly releases its annual holiday gift guide.
Fall Out Boy guitarist Joe Trohman has a memoir coming out.
So do Pamela Anderson, Jada Pinkett Smith, and Al Pacino.
Oprah Daily has the cover reveal for Brandon Taylor's next novel, The Late Americans.
Here's the cover reveal for Cassandra Khaw's novella, The Salt Grows Heavy.
21 recent horror novels to read before Halloween.
The best horror novels of 2022 (so far).
New dark and twisty YA reads for fall.
Weekly picks from Bustle, Crime Reads, New York Times, and USA Today.
October picks from Crime Reads (general picks, debuts, psychological thrillers), Good Morning America, Goodreads, The Guardian (thrillers), The Millions, Riveted Lit, and Shondaland.
What Your Patrons Are Hearing About
Our Missing Hearts — Celeste Ng (LA Times, NPR, USA Today, Vox)
Confidence Man: The Making of Donald Trump and the Breaking of America — Maggie Haberman (LA Times, Slate, Washington Post)
The Hero of This Book — Elizabeth McCracken (New York Times, NPR, Shondaland)
On the Riot
The best weekly new releases to TBR.
October picks for mystery/thriller/true crime, romance, SFF, horror, nonfiction, YA, and children.
Why you should read horror all year 'round.
Reading pathway for Alisha Rai.
A guide to U.S. Poet Laureate Ada Limón's poems.
All Things Comics
Keanu Reeves may be directing the film adaptation of his BRZRKR comic.
Here's the first look at the new Black Panther.
Every Marvel Studios movie and Disney+ project in 2022 and beyond.
On the Riot
New comic releases for October 2022.
8 perfectly cool graphic novels for fall.
10 fascinating graphic nonfiction books for curious minds.
Audiophilia
The October 2022 Earphones Award winners have been announced.
The best thriller audiobooks to listen to for thrills and chills.
On the Riot
20 must-listen audio mysteries.
Book Lists, Book Lists, Book Lists
Children/Teens
16 YA books that deal with domestic violence.
14 LGBTQ+ historical fiction YA novels.
16 YA books if you loved Squid Game.
7 horror novels perfect for teens.
Adults
7 novels that blend romance and body horror.
5 LGBTQ novels set in the '90s.
These books are so fetch — books to celebrate Mean Girls Day.
12 books by Latinas on mental health for all ages.
A reading list for Domestic Violence Awareness Month.
The best vampire books to read beyond Twilight.
9 novels of art and seduction.
Books in honor of Indigenous Peoples' Day.
8 novels about humans eating humans.
A multi-perspective novel reading list.
8 best-selling trans romance books you don't want to miss.
8 cozy books that will make you think.
10 spooky modern horror books to read this fall.
Want to read books from this newsletter? You can, for free! Get three free audiobooks with a trial to Audiobooks.com. Claim your 3 free audiobooks now!
On the Riot
8 exhilarating novels about real people.
8 mysteries and thrillers by Asian authors.
11 of the best horror short story collections.
Best space opera books of all time.
Level Up (Library Reads)
Do you take part in Library Reads, the monthly list of best books selected by librarians only? We've made it easy for you to find eligible diverse titles to nominate. Kelly Jensen has a guide to discovering upcoming diverse books, and Nora Rawlins of Early Word has created a database of upcoming diverse titles to nominate, as well as including information about series, vendors, and publisher buzz.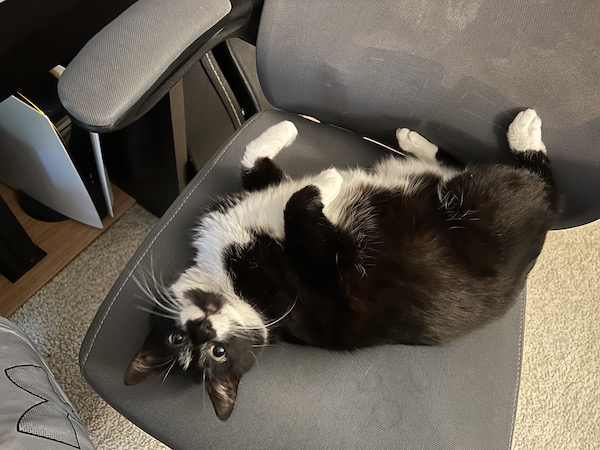 Dini took over Blaine's computer chair, and when Blaine called him on it, Dini rolled over and did this. Is he being cute? Is he taunting us? Is he asking for extra snacks?
Have a spooky week, everyone! I'll check in again on Friday.
—Katie McLain Horner, @kt_librarylady on Twitter.