Welcome to Check Your Shelf. As usual, this newsletter has way too much banned books news for anyone's liking, but there's also been a lot of news about libraries being targeted with violent threats in the last week, and I am just so angry and sad. We're watching these threats escalate like clockwork, and I'm afraid of how far it will go. I know I'm preaching to the choir, but it's like watching the worst bullies from middle school become exponentially more dangerous. Be safe, and be strong, everyone. I can't believe library employees are being put in this position.
Libraries & Librarians
News Updates
All branches of the Denver Public Library closed due to an "unspecified threat." Law enforcement officials believe that the threat came from out of state, and may be part of a nationwide surge in false threats being made towards schools and libraries.
Hawaii public libraries reopened this week after receiving "unspecified threats."
Same at the Fort Worth Public Library.
The American Library Association even sent a letter of concern to the FBI regarding threats of violence in libraries.
The Mid-Continent Public Library (MO) faces $1.3 million in budget cuts.
Cool Library Updates
Cataloging a bicycle gear library.
Worth Reading
How libraries became refuges for people with mental illness.
Fighting misinformation in the school library.
How to run a successful book club.
Book Adaptations in the News
Oprah and Apple TV+ end their multi-year agreement, although Apple will still collaborate with Oprah's Book Club.
Malala Yousafazi is producing a film adaptation of Elaine Hsieh Cho's novel Disorientation.
Disney+ greenlights a series adaptation of Melissa de la Cruz's YA novel, The Ring and the Crown.
Here's the first look at Season 3 of His Dark Materials.
Banned & Challenged Books
Who are the groups banning books near you?
House and Senate Democrats prepare resolutions to oppose local book bans.
We've moved backwards: US librarians face unprecedented attacks amid right wing book bans.
Banned Book Week ideas for rural libraries.
Katy ISD (TX) reverses course and allows access to LGBTQ+ internet resources that were previously restricted.
The removal of an LGBTQ+ book display at the Huntsville Public Library (TX) draws a crowd to a recent city council meeting.
Belton ISD (TX) board revises an old policy, and now requires parental involvement as part of the process.
City of Keller (TX) asks the public library to remove its banned books social media post out of fear of controversy. Apparently no one working for the city of Keller has any sense of irony.
Miami-Dade School Board (FL) capitulates to right-wing groups in a debate over a sex-ed textbook.
Collier County Schools (FL) now require parental permission to check out three books from the school library: Sloppy Firsts, Nineteen Minutes, and The Bluest Eye.
After filing a lawsuit against the Sarasota County School Board (FL) and the judge who eventually dismissed said lawsuit, the complainant has decided to drop all suits.
The Livingston Parish Library Board of Council (LA) will maintain its current policies for challenging books, despite a letter from the parish president asking them to move certain materials from the children's section.
Knox County school district (ME) re-evaluates whether or not to remove Gender Queer from libraries.
Politico looks at Brooklyn Public Library's free banned book eBook service for teens, but I absolutely have to call out their framing on Twitter: "New York libraries have waded into America's culture wars by directly lending 25,000 books to non-residents since spring." This type of "both sides-ing" coverage is NOT how you report responsibly on book banning.
Disturbing threats made against a NYC teen drag star prompted NYPL to cancel two of their planned events.
A New Jersey school district has rejected the state-mandated sexual education program after pushback from parents.
The Elizabethtown Area school board (PA) will vote on whether or not to remove Me and Earl and the Dying Girl from school libraries.
A rally was held at the Harrisburg, PA capitol building in favor of a newly-introduced bill "to protect our children from gender ideology and sexual orientation being taught in our schools."
Founder of the Neo Nazi group NSC-131 has appeared in court to face charges of violence while protesting a Drag Queen Story Event in Massachusetts.
A Connecticut library director said that they received numerous ugly complaints on Banned Books Week.
A Crystal Lake (IL) resident is using FOIA requests to request information that they could easily obtain for themselves by using the school's online library catalog.
Chicago Public Libraries have declared themselves "book sanctuaries" to battle book banning.
Members of a local church have made complaints about inappropriate materials in the teen section at the Bartholomew County Public Library (IN).
Three parents protest All American Boys being used in 10th grade English classes at Homer-Center School District (IN).
Hundreds of people rallied in Dearborn, Michigan over the school district's decision to remove seven LGBTQ books from libraries. Supporters of LGBTQ books rallied in the morning, and counter protestors gathered in the afternoon. Of particular note is the fact that a) the counter protestors drew a bigger crowd, and b) protestors lashed out at a transgender person, who sat on the steps of the library with a trans pride flag. Also worth noting is that the article devotes way more space to the counter protestors who are trying to ban LGBTQ books.
GOP Michigan governor candidate Tudor Dixon says she would support a statewide ban on "pornographic books" in schools.
Bowling Green City Schools (OH) received a FOIA request for a list of all of the books in the district libraries. Again, another ridiculous request designed to waste school officials' time.
Lorain County (OH) libraries brace for book-banning battles.
The Gardner Edgerton School District (KS) is receiving complaints against The Absolutely True Diary of a Part-Time Indian. Here's a recurring theme with these stories: "Though he hasn't read the full novel, he didn't approve of the excerpts he had read."
An in-depth look at the arguments to keep, or remove, the book Let's Talk About It from the Valley City Barnes County Public Library (ND).
Loudoun County (VA) is drafting a policy to identify sexually explicit materials in schools, in order to comply with a new law that requires schools to notify parents any time materials with sexually explicit content will be used in schools.
Moms for Liberty pauses all 17 challenges in Fauquier County (VA) schools while the district updates its policies.
Cabarrus County (NC) school officials are considering a new policy that would give the school board the sole authority in removing objectionable books. The current policy requires the formation of a committee that reviews the material and makes a recommendation to the board, but the proposed policy removes the committee from the process.
The Greenville (SC) GOP wants LGBTQ library books blocked from kids' sections.
Williamson County (TN) Public Library backs Banned Books Week, where less than a mile away, Williamson County school officials voted to remove the book Walk Two Moons from the elementary school curriculum.
The Memphis Museum of Science & History cancels a planned drag event as armed protesters showed up.
The Nixa (MO) School Board reportedly made multiple changes to their library policies over the summer, and many residents are upset over a lack of transparency.
A Missouri school librarian recalls two separate occasions when book banners contacted the police to have them investigate the school libraries for distributing child pornography.
The Park City School Board (UT) has challenged the constitutionality of the new state book ban policy.
Utah libraries standing against censorship and book banning.
Hart High School (CA) votes to remove This Book is Gay from schools.
A look at the vicious school board election at Monte Vista Elementary School (CA), where opposition against Gender Queer is being used to drum up support for the right wing candidates.
A Kamloops (BC) school trustee candidate wants to ban books from school libraries and shared social media content saying that Satan created multiple genders.
Crusading for parental rights may cloak other motives. Gee, ya think?
Don't send a librarian to do a parent's job.
51 banned books to read now, plus the banned books you haven't heard about.
What happens if you don't teach social justice books.
Who do we trust to define whether or not books are considered "acceptable?"
Books & Authors in the News
Hilary Mantel, acclaimed author of Wolf Hall and Bring Up the Bodies, has died at 70.
James Patterson donates $5.3 million to Howard University and PEN America.
USA Today is starting a book club, with Stephen King's Fairy Tale as their first pick.
Want to read books from this newsletter? You can, for free! Get three free audiobooks with a trial to Audiobooks.com. Claim your 3 free audiobooks now!
Numbers & Trends
2021 was a stellar year for publishing.
How will the overturning of Roe v. Wade affect book trends?
A consolidated list of this week's bestselling books.
Award News
The Baillie Gifford Prize for Nonfiction longlist has been announced.
The Scotiabank Giller Prize shortlist has been announced.
The shortlist for Barnes & Noble's 2022 Discover Prize has been announced.
Pop Cultured
The Latinx culture guide for Hispanic Heritage Month.
8 true crime podcasts for fall.
More true crime news: Anna Kendrick makes her directorial debut with the true crime thriller The Dating Game, which looks at the crimes of serial killer Rodney Alcala, who appeared as a contestant on The Dating Game in the 70's before being arrested.
Another true crime update: The family of one of Jeffrey Dahmer's victims has spoken out against Netflix for retraumatizing them with the extremely disturbing new series, Monster.
Throwing this in for my SIL, who's a huge fan of the Nancy Drew PC games: Nancy Drew games by season.
On the Riot
How to help teens become great Dungeons & Dragons masters.
8 fun reading activities for middle school students.
30 days of streaming horror adaptations.
Authors who made the Time100 Next list this year.
A review of the new book discovery app Tertulia.
10 of the best Goodreads reviewers to follow.
Liberty Hardy talks about her experiences with rereading Donna Tartt's The Secret History every year, for the last 30 years.
An ode of gratitude to all of the books this reader doesn't want to read.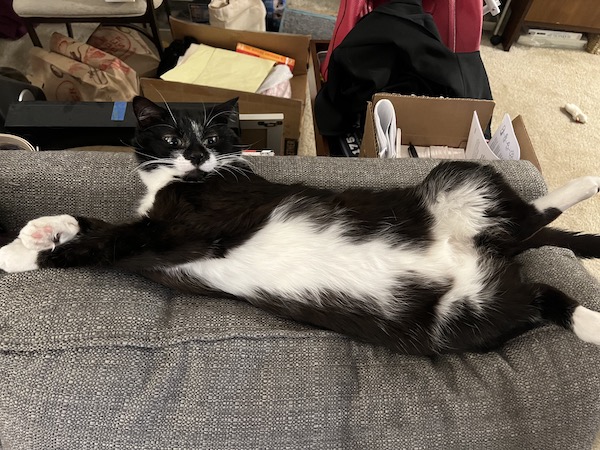 Dini's tummy is so soft and luxurious, he's hoping it'll distract you from the mess hiding behind the couch! (Or maybe that's just me…) At any rate, he is 100% a sassy ham and I love when he shows off that fluffy belly of his.
---
Do something fun this weekend, okay? Or eat something tasty, or read a good book, or sleep in later than you originally planned.
—Katie McLain Horner, @kt_librarylady on Twitter. Currently listening to What's Done in Darkness by Laura McHugh.