Welcome to Read This Book, a newsletter where I recommend one book that should absolutely be put at the top of your TBR pile. Recommended books will vary across genre and age category and include shiny new books, older books you may have missed, and some classics I suggest finally getting around to. Make space for another pile of books on your floor because here we go!
Today's pick is a book that makes Brené Brown's work more accessible for many of us.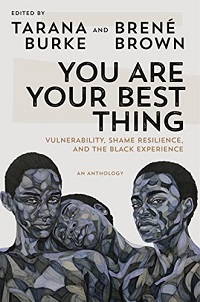 I have tried multiple times to connect with Brené Brown's work. I've watched her TEDTalk, I've read The Gifts of Imperfection, I've read Dare to Lead. But as a queer Black woman, I do not have the luxury to show my vulnerability. I rarely have the privilege of safe workplaces or a safe society that allows me to be anything less than perfect, strong, and inspirational.
Tarana Burke reached out to Brené Brown to collaborate on this book to try to bridge that gap and I found it to be so much more accessible. In the introduction, Burke talks about how she would have to try to contort herself and do some wild acrobatics to try to fit into the sphere of experience covered by Brené Brown's work. This book is an anthology of deeply personal essays by Black writers who stepped forward and laid bare their experiences with vulnerability and shame, something we are taught to never, ever do.
There are some really phenomenal voices included in this anthology: Jason Reynolds, Austin Channing Brown, Marc Lamont Hill, Luvvie Ajayi Jones, Sonya Renee Taylor, Laverne Cox, Imani Perry, and so many more. The content warnings are extensive. There are a lot of hard things talked about, from abuse and domestic violence, transphobia, drug use, houselessness, racism, and the list goes on. This is far from a light read. That being said, these are not stories of "I was vulnerable and it was the end of the world" or "my shame consumed me until I had nothing left." These are stories about how people, Black people, found strength in their shame and how they found their truth in their vulnerability. In order to get to these places of hope and these stories of triumph we first dive deep into how the trauma inflicted on Black people in this country is ongoing. We don't have post-traumatic stress disorder. The trauma is present and unending. The trauma is yesterday, today, and tomorrow. It is passed down intergenerationally and so is shame.
This book was so incredibly good. I'm really grateful that is out in the world so that you all can read it.
Want to read books from this newsletter? You can, for free! Get three free audiobooks with a trial to Audiobooks.com. Claim your 3 free audiobooks now!
---
That's it for now, book-lovers!
Patricia
Find me on Book Riot, the All the Books podcast, Twitter, and Instagram.
Find more books by subscribing to Book Riot Newsletters.