Welcome to Check Your Shelf. Remember last newsletter when I said I was playing a game of cold or COVID? Well…it wasn't a cold. I tested positive on Friday, and then spent 90% of the weekend camped out in a haze on the couch. I slept for 13 hours on Saturday to the point where I think I entered an alternate dimension, and then I still felt like I needed another nap. As of this newsletter writing (Sunday), I seem to be on the upswing, but I can tell it's going to be a while before my energy comes back. 0/10, do NOT recommend. (And here's your reminder to go get a booster if you're eligible!)
Collection Development Corner
Publishing News
In their post-trial briefs, the DoJ reiterated its belief that the PRH/S&S deal must be blocked.
Alex Aster used her TikTok platform to help find a publisher for her new book, Lightlark.
New & Upcoming Titles
St. Martins will publish Angela Merkel's memoirs in 2024.
Angela Flournoy signed a two-book deal with Mariner Books, which will include a fictional title and a memoir.
Samantha Irby has a new essay collection coming out, and I am very much vibing with that cover…
Anne Heche's memoir, Call Me Anne, has been scheduled for publication in January.
John Stamos has a memoir slated for a Fall 2023 release.
James Han Mattson has sold his second novel, The Grand Imposters, and it sounds REALLY interesting!
Christopher Pike's The Midnight Club gets a new tie-in release for the Netflix series.
Take a peek at the cover reveal for Momfluenced: Inside the Maddening, Picture-Perfect World of Mommy Influencer Culture by Sara Petersen. This is a topic that horrifies and fascinates me in equal measure.
15 nonfiction books to read this fall.
66 new books to celebrate Hispanic Heritage Month.
Weekly picks from Crime Reads, LitHub, The Millions, New York Times, and USA Today.
September picks from Buzzfeed, Crime Reads (psychological thrillers), Riveted Lit, and Tor.com (science fiction).
What Your Patrons Are Hearing About
Bliss Montage – Ling Ma (Electric Lit, LA Times, NPR, Tor.com, Washington Post)
The Divider: Trump in the White House, 2017-2021 – Peter Baker & Susan Glasser (New York Times, People, Washington Post)
Lessons – Ian McEwan (Atlantic, LA Times, USA Today)
Less is Lost – Andrew Sean Greer (New York Times, San Francisco Chronicle)
Dinners with Ruth: A Memoir on the Power of Friendships – Nina Totenberg (New York Times, NPR)
RA/Genre Resources
51 books for the four hottest new mystery & thriller trends: getaways gone wrong, Agatha Christie homages, senior sleuths and villains, and gothic thrillers.
On the Riot
3 queer historical YA novels hitting shelves this fall.
The best new weekly releases to TBR.
20 must-read sci-fi books for readers who don't like sci-fi.
10 authors like Colleen Hoover.
All Things Comics
On the Riot
8 stunning YA sci-fi comics and graphic novels.
10 of the best comics on Marvel Unlimited.
Why is boys love manga so popular with women?
Audiophilia
On the Riot
Back to school with audiobooks.
Book Lists, Book Lists, Book Lists
Children/Teens
6 YA love stories recommended by Nicola Yoon.
14 whodunnit YA books if you love Knives Out.
Get in your back-to-school feelings with these 10 queer YA books.
Adults
8 romance authors for fans of Lisa Kleypas.
30 erotic romances trending on TikTok.
8 books that investigate family history with imagination.
Books with insight into heartbreak.
12 books to read in honor of National Translation Month.
19 indie books worth discovering.
18 under-the-radar books that deserve more hype.
On the Riot
8 picture books about pirates.
The 25 best YA books of all time.
9 YA books for fans of Netflix's Sex Education.
8 Hispanic and Latine YA authors you should definitely read.
Let's talk about sex…or at least these 20 must-read books about sex.
Books to read for #ScienceSeptember.
10 fantasy book series for Final Fantasy fans.
6 of the best Japanese mythology books.
What to read when the world feels hopeless.
12 exciting books about women over 50.
8 horror novels about body possession.
Summertime sadness: 12 sad girl summer books for your ennui mood.
Books to read for the high holidays and other fall Jewish holidays.
10 epistolary novels for literary letter lovers.
8 great novels about gymnastics.
Level Up (Library Reads)
Do you take part in Library Reads, the monthly list of best books selected by librarians only? We've made it easy for you to find eligible diverse titles to nominate. Kelly Jensen has a guide to discovering upcoming diverse books, and Nora Rawlins of Early Word has created a database of upcoming diverse titles to nominate, as well as including information about series, vendors, and publisher buzz.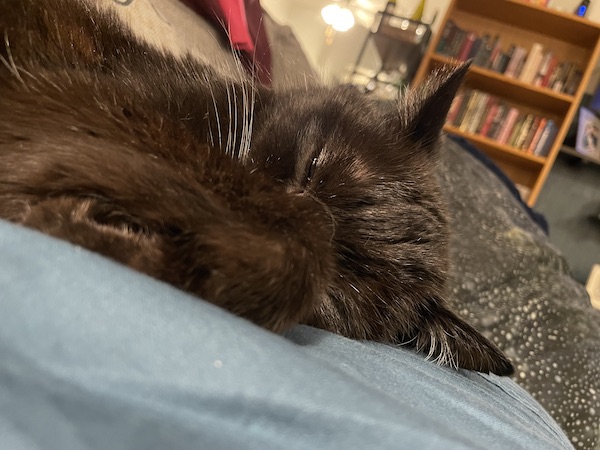 This was my view Friday night. I was trying to rest on the couch, but Gilbert had taken my pillow. I didn't want to breathe on him too much, as COVID can potentially spread to cats, but…I mean…how the heck was I supposed to move such a comfy boy?
That's all I've got for right now. Go get your boosters, people, and I'm going to try and slowly recharge.
—Katie McLain Horner, @kt_librarylady on Twitter. Currently reading Monday's Not Coming – Tiffany D. Jackson