Welcome to Read This Book, a newsletter where I recommend one book that I think you absolutely must read. The books will vary across genre and age category to include new releases, backlist titles, and classics. If you're ready to explode your TBR, buckle up!
This week is a YA pick that feels like a great YA/adult crossover title, and has a bit of a mystery to it without actually being a straight up mystery novel! It's not a super buzzy book but I picked it up last year and I am still thinking about this book, the characters, and the plot. And if that's not a recommendation, I don't know what is. But if you need a little more convincing, read on!
Don't forget you can get three free audiobooks at Audiobooks.com with a free trial!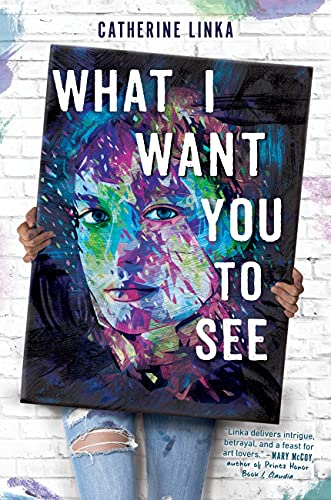 For Sabine, winning a full ride scholarship to a prestigious art school should be a dream, but it's quickly turning into a nightmare. Sabine lost her mom in a horrible car accident her senior year of high school, and she has no one else to turn to. Her day-to-day security rests on her ability to keep her scholarship and good student Sabine is suddenly struggling to keep up in Colin Krell's painting class. Krell is harder on her than any other student, and when he makes a comment about doubting her ability to keep her merit scholarship, desperation sets in. That's when she meets Adam while putting in long hours at the studio. He has access to Krell's personal studio, and shows her his latest masterpiece: a painting that's already sold for millions. Adam encourages Sabine to try to understand Krell better by replicating his painting in secret. Sabine knows it's wrong to copy another artist's work without their consent, but in her desperation to improve and to keep hold of her scholarship, she readily agrees…but it may soon become a decision she deeply regrets.
I really like it when books can take me into a very specific subset of life, especially if it's a sphere I'm not likely to ever inhabit or get close to, and I feel like this book did a great job of immersing me into what it must be like to go to a fine arts school for visual art. (I went to a fine arts grad school—the same one as the author, actually—but had very little overlap with the visual arts department!) Sabine is a character who has been dealt a bad hand, and you can't help but feel for her and her recent loss and what a destabilizing force it is in her life. However, she does make some rather questionable decisions and while those actions aren't exactly right, Linka does a great job of painting Sabine in such a way that even though you know it's wrong, you hope it'll all work out for her. The savvy reader will probably see where this plot is heading, but there's enough here that keep me guessing and I was so invested in Sabine's story and how she'd pull through that I never once thought of putting the book down at the inevitable moment when she realizes she's been duped.
This is a book about impressions—first, false, and skewed. It's also a book about education and growth, and how in order to grow, you have to do the work. What I appreciate about this story is that mistakes are made—very, very big mistakes that have lasting repercussions outside of the people who make them. And while there are consequences, at no point is the reader left with the idea that making a mistake makes you a terrible person. It's about learning to own up to your mistakes, address them head on, make things right the best you can, and move forward. I think it's a really valuable lesson a lot of young people need, but older readers do, too.
This was an excellent and fascinating book about a young person with ambition coming up against the realities of adult life and the cutthroat pressure of the art world, and learning to forge her own path and own up to her choices. And bonus: The audiobook narrated by Frankie Corzo is excellent!
Happy reading!
Tirzah
---
Find me on Book Riot, Hey YA, All the Books, and Twitter. If someone forwarded this newsletter to you, click here to subscribe.