Hello Epic folks! An announcement today that you'll see go out to everyone later this week, but as always y'all get first notice and crack at things.
In response to some requests, we've introduced a New Release Index-only level. If you love that feature and don't find yourself needing all the other perks of Insiders, it's now available (only for current supporters, while we finish testing). We love you no matter which level you're at ;).
-Jenn
What Are You Reading?
Can you believe it's already the last week of August? I'm back for one last round of talking books with you all. I finally reached a huge unpacking milestone this week: I successfully unpacked and found places for all of my books!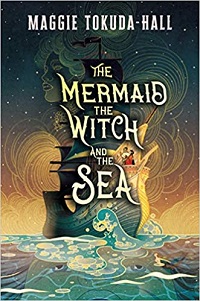 Reorganizing my books meant I rediscovered a few titles that had slipped off my mental to-be-read shelf. One of those was The Mermaid, The Witch, and the Sea by Maggie Tokuda-Hall. A magical piratey adventure with queer romance? Sign me right up. I've been a big fan of high-seas adventures since I devoured the Bloody Jack series by L.A. Meyer as a kid. The Mermaid, The Witch, and the Sea definitely did not disappoint! I enjoyed how each of the characters' voices came through so strongly and the world building was rad. The story follows the pirate Florian, formerly an orphan named Flora, and Evelyn Hasegawa, a young noblewoman who crosses paths with Florian on the way to marry the man her parents chose for her. As you might have guessed, the two begin to develop feelings for each other while sailing the seas. There's also forbidden magic, political intrigue, a nonbinary boss pirate, and of course, mermaids.
Another read I unearthed in the shuffle and started this week was The Farm by Joanne Ramos. So far it reminds me somewhat of The School for Good Mothers by Jessamine Chan with its emphasis on reproductive control and themes of motherhood. I love dystopia novels, but The Farm is feeling chillingly relevant right now. It's about a facility that houses and tightly controls women serving as surrogates to wealthy clients. I still have to finish it, but I'm invested in these characters and their reasons for coming to the farm. For my next read, I might just have to pick up something a little lighter and less realistic.
What are you reading this week?
-Amanda