Welcome to Check Your Shelf. Y'all, I am very much enjoying the tail end of this vacation, but I'm also dreading the state of my to-do list when I get back. Also, this is the second time I'm typing out this newsletter, since my computer decided it wanted to be tricksy and false, so let's jump in and get to the end in one piece.
Libraries & Librarians
News Updates
"I'll do what I can for damage control:" Abortion information misinformation within Oklahoma City's Metro Library.
How to help libraries affected by the Kentucky and Missouri floodings.
Our profession is under attack. What happens now?
Worth Reading
An interview with Hal Patnott, Rainbow Services Librarian at the Oak Park Public Library (IL).
Book Adaptations in the News
Kenya Barris is writing and directing a "reimagining" of The Wizard of Oz.
Jenna Bush's production company is adapting The Many Daughters of Afong Moy by Jamie Ford for TV.
Constance Wu's production company has snagged adaptation rights to concert violinist and debut author Ling Ling Huang's upcoming novel, Natural Beauty.
Stephen King's novel The Regulators will be adapted for film.
Viola Davis joins The Ballad of Songbirds and Snakes cast.
The cast list for Lessons in Chemistry is officially set.
Don't forget you can get three free audiobooks at Audiobooks.com with a free trial!
Banned & Challenged Books
How to find and develop a local anti-censorship group.
A Florida school district puts warnings on 100 books, including Everywhere Babies.
Books & Authors in the News
Salman Rushdie has been taken off a ventilator and is slowly recovering following last week's horrific attack.
The Horse Whisperer author Nicholas Evans has died at 72.
George R.R. Martin would like you to stop speculating about his death, please.
Numbers & Trends
Are literary festivals doomed?
Award News
The 2022 Splatterpunk Award winners have been announced.
Bookish Curiosities & Miscellaneous
Aardvark Book Club is a new subscription service, complete with its own social media app so readers can connect with each other and discuss that month's book.
In other book subscription news, The Bookish Box is threatening legal action against a BookTok creator for his critical review videos about the company.
On the Riot
Nonfiction BookTube accounts to follow.
Why this Rioter reads out loud to their dog.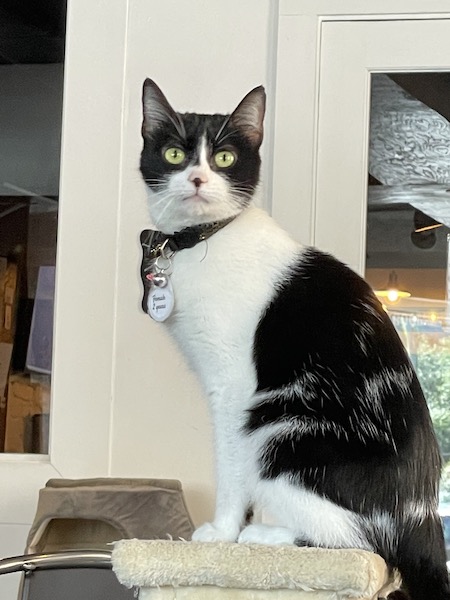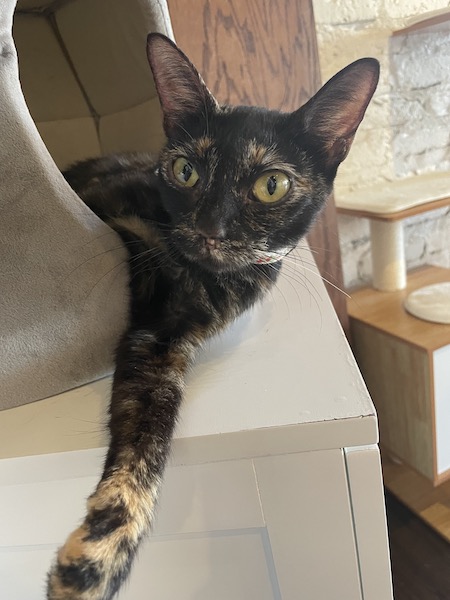 Okay, for this week's cat photo, I have a couple photos from the cat cafe that Blaine and I visited last weekend. (It's Pounce Cat Cafe and Wine Bar in Charleston if you're interested! They also have a location in Savannah.) Anyway, we spent an hour with some adorable kitties and walked away with a couple t-shirts and a wine glass, and it was very enjoyable. We didn't adopt any of them, because that would have been REALLY difficult to explain to the hotel staff, but we were very tempted. Cat cafes are a fantastic way to spend some time on a lazy weekend.
Okay, that's it for me. The next time you hear from me, I'll be back in Illinois and adjusting to the post-vacation life. But we'll also be back with our own kitties, and we're very much looking forward to some snuggles with our boys! Take care of yourselves, friends.
—Katie McLain Horner, @kt_librarylady on Twitter.