Dear Book Friends,
Welcome back to another fantastic Book Radar Monday. I'm your host, Emily, here will all the book news, hot gossip, and general book randomness you've come to expect from this here newsletter. As always, the cats are here too and they say hello. Yes, I am currently surrounded by cats. I'm nothing if not a complete parody of myself. Anyway! Let's do the book thing.
Book Deals and Reveals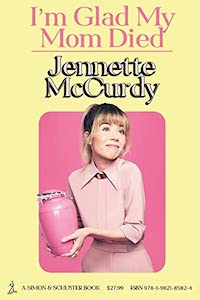 Jennette McCurdy's memoir I'm Glad My Mom Died came out last Tuesday and sold out on Amazon, Target, and Barnes & Noble in the same day. If you haven't gotten your copy yet, find it, friends! It was so good.
GMA revealed the cover of Emily Henry's forthcoming book Happy Place. If you're a fan of the fake relationship trope, this one's for you and it's out in April of next year.
BOOM! Studios is giving comic fans a first look at R.L. Stine's upcoming comic series Stuff Of Nightmares #1. This four-issue limited series will be a fresh take on iconic horror creatures and will feature art by A.L. Kaplan (Maw, Jim Henson's The Storyteller), colors by Roman Titov (Eat the Rich), and letters by Jim Campbell (Black Badge). The first volume will be available this fall.
And Penguin Teen as got a cover reveal for an exciting new YA romcom, Last Chance Dance by Lakita Wilson. Coming February, 2023!
More fake dating. More YA romance. Here's the cover reveal for Amanda Woody's debut novel They Hate Each Other, out May 9, 2023, from Penguin Teen.
Here's the cover reveal of Simon Curtis' debut graphic novel, The Witches of Silverlake, with artwork by Stephanie Son.
Kalena Miller's middle grade novel Shannon in the Spotlight is about OCD, messy friendships, and musical theatre. It's out on April 25, 2023, and here's the cover reveal!
Atlanta star Brian Tyree Henry will be starring in the Apple TV drama series Sinking Spring, an eight-episode drug ring drama based on Dennis Tafoya's book Dope Thief.
The family of the late Shirley Jackson has authorized a novel inspired by The Haunting of Hill House. This is the first time the estate has approved an original narrative based on Jackson's work. Elizabeth Hand's A Haunting on the Hill is scheduled for a fall 2023 release.
The adaptation of Zakiya Dalila Harris's The Other Black Girl has officially nabbed a series order at Hulu.
Ayesha Curry has signed a deal with upstart book publishing company Zando to publish books under the Sweet July Books imprint.
Book Riot Recommends
I'm a Contributing Editor at Book Riot, I write the Today in Books newsletter, and I'm a Bibliologist for Book Riot's Tailored Book Recommendations subscription service. I also have a PhD in English, so I'm basically a doctor of books. Books are my life, in other words, so in this section of the newsletter, let me share with you some upcoming books I'm super excited about. And I think you will be too!
Prepare Your Shelves!
Drunk on Love by Jasmine Guillory (Berkley, September 20)
Jasmine Guillory's work is well-known and well-loved at this point, so she probably needs no introduction. And she certainly doesn't need my help selling this book, because this is surely going to be a favorite when it comes out. Still, I can't help but tell you to get excited about it, just in case you missed the memo on Jasmine Guillory. Or in case you didn't know she had a new one coming out.
And just a little note on the cover. As much as I've been digging the cute cartoony romance novel covers that have been all the rage for the past several years, I do enjoy that this one is doing something a little different. Like, it's sexy, right?
Okay, but onto what's inside the book. Drunk on Love is set in Napa Valley wine country. Margot Noble and her brother run the family winery and, phew, it's a lot of pressure. Enter Luke Williams. Luke has recently quit his high-salary tech job in Silicon Valley and moved to Napa to help a friend out at his winery. When he first rolls into wine country, he has a hot one-night stand, only to find out the next day that the woman he thought he'd never see again is actually his new boss…Margot. Despite the chemistry between them, Margot is determined to keep things professional. But the attraction on both sides is hard to deny.
Don't forget you can get three free audiobooks at Audiobooks.com with a free trial!
What I'm Reading This Week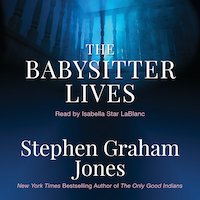 The Babysitter Lives by Stephen Graham Jones
We Spread by Ian Reid
You Made A Fool of Death with Your Beauty by Akwaeke Emezi
Patricia Wants to Cuddle by Samantha Allen
The Lesbiana's Guide to Catholic School by Sonora Reyes
Monday Memes
So I'm not in school anymore. And even when I was in school, I haaaated the summer and couldn't wait to get back into the routine of fall. I love the cool fall weather. I love the academia vibes. I love, love, love scary movies on TV and creepy books on our TBR. And yes, I also love football season. So I can't say I fully identify with this meme, but I couldn't NOT share a book-related Our Flag Means Death Meme. So here it is for those of you who are sad about going back to school.
And for us fall kings/queens/non-binary royalty, here's one for you. Y'all know what's up. Counting down the days!
And Here's a Cat Picture!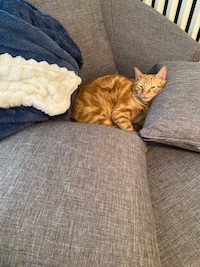 We bought some new furniture for the new apartment, and hands down my favorite piece of furniture is this reading chair. It seems like I'm not the only one who loves the chair. Murray was getting comfortable in it this morning, and other kitties have taken their turn on the beloved chair as well. Hopefully they'll make room for me tonight so I can read!
And with that, I hope you have a wonderful week, and we'll talk Thursday, besties.