Dear Book Friends,
How are things going? I'm about to go try a class at RowdyBox, so it's been nice knowing you. If next week's Book Radar is written by someone new, then you'll know I died. But I guess for now let's just focus on all the books. After all, books would never hurt us.
Book Deals and Reveals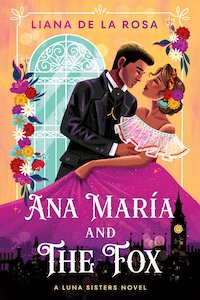 Let's start with some new and exciting cover reveals. Here's the cover for Liana De la Rosa's forthcoming romance novel Ana María and the Fox. This novel is the first in the author's new Latinx Victorian era Luna Sisters series, and it's out from Berkley Romance on April 4, 2023!
Next up: here's the cover for the YA thriller Lying in the Deep by Diana Urban, out from Penguin Teen on May 2, 2023. Available for preorder now!
We love a book cover that features a coffee cup front and center! Case in point, check out the cover fo Lynn Painter's Accidentally Amy. It's hitting shelves in September, so very, very soon.
Ann Napolitano, author of Dear Edward, has a new book coming out. Napolitano's newest novel Hello Beautiful is a modern-day homage to Little Women, and Today.com has the exclusive cover reveal. Check it out!
Outlander fans, listen up! Sam Heughan has a memoir coming out from Voracious, a new imprint of Little, Brown and Company. Check out the cover of Waypoints: My Scottish Journey at People.com.
Hogarth Books has revealed the cover for the latest book from Han Kang, author of the International Booker Prize winner The Vegetarian.
Author Morgan Jerkins has announced that she's starting her own newsletter entitled Lorain, in honor of Toni Morrison's birthplace.
RuPaul's Drag Race superstar Shea Couleé is joining the Marvel Cinematic Universe as a series regular in the Disney+ series Ironheart. Details about Couleé's role in the series are under wraps, but she'll be the first drag queen performer to join the MCU.
Nicole R. Fleetwood, a National Book Critics Circle Award winner, MacArthur fellow, and NYU professor, has sold her memoir Between the River and Railroad Tracks at auction to Ben George at Little, Brown.
This Goes Out to the Underground: A Mother, Her Daughter, and How We All Rise Together, the debut memoir from Pardis Mahdavi, has been quiety and abruptly canceled by its publisher Hachette Book Group.
New "magic bookmarks" can now supply the kind of background information, familiar with ebooks, for paper volumes.
Here are some of the weirdest quotes from the Penguin Random House trial.
Don't forget you can get three free audiobooks at Audiobooks.com with a free trial!
Book Riot Recommends
I'm a Contributing Editor at Book Riot, I write the Today in Books newsletter, and I'm a Bibliologist for Book Riot's Tailored Book Recommendations subscription service. I also have a PhD in English, so I'm basically a doctor of books. Books are my life, in other words, so in this section of the newsletter, let me share with you some upcoming books I'm super excited about. And I think you will be too!
Can't Wait for This One!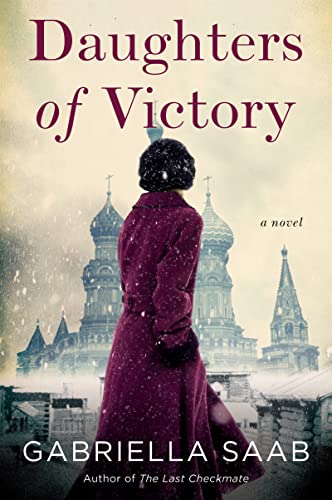 Daughters of Victory by Gabriella Saab (William Morrow, January 24, 2023)
Y'all! Gabriella Saab's new book Daughters of Victory just got a cover reveal last week, and I am so excited to read this one. If you've been a Book Radar-ite for a little while, you'll remember me singing the praises of Saab's debut novel The Last Checkmate. The novel was beautifully written, impeccably researched, and featured characters that were dynamic and felt real. So yeah, I trust that her sophomore effort will be just as good. No pressure or anything, but expectations are high.
In Daughters of Victory, Saab takes readers on a journey that spans from the Russian revolution to the USSR in 1941 during Nazi occupation. Svetlana Petrova is a revolutionary who was imprisoned for years. When she is released from prison in 1917, she discovers that her beloved uncle was murdered by a mysterious assassin who blinds her victims before she kills them. And Svetlana resolves to avenge his death.
Decades later, in 1941, Svetlana is living in a remote village and meets her eighteen-year-old granddaughter Mila Rozovskaya for the first time. In Mila, Svetlana recognizes that same passionate idealism that she displayed in her youth. As Mila joins the resistance against the Nazis, dangerous secrets and old enemies resurface.
This one comes out from William Morrow in January 2023, and I'm counting down the months!
Words of Literary Wisdom
"The tragedy of life isn't that the end comes. That's the gift. Without an end, there's nothing. There's no meaning."
— We Spread by Iain Reid
What I'm Watching This Weekend
Since I'm far away from a bunch of my friends, I've been watching TV with them from afar. My friend Bonnie and I just started this season of FBoy Island, and y'all… if you're not watching this, what are you doing? Yes, I am classy, thanks for asking.
And Here's A Cat Picture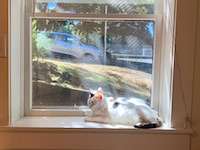 It's been preeeeetty sun-shiney this week, and Cersei is loving it. This is the cat's favorite window and they all take their turns, but I love this picture of my beautiful girl basking in the sun.
And that is all for today, friends! I hope you enjoy your weekend and we'll catch up on Monday!