Hey y'all! We're almost at the end of the work week, which means the weekend is nigh. I'm hoping to get a lot of reading done this weekend along with some writing and relaxing, as per the norm.
I am still working on West Side Love Story and started an eARC copy of Love on the Brain. Speaking of eARCS, I recently went through my email to clear it out and found I had a lot of those waiting for me. So, I did as any other book dragon would do and downloaded them all because I mean…why not?
That said, when you take that stack and add the two BOTM books that just came in, my TBR has pretty much exploded in less than a week. Not that I'm not panicking at the possibility of being overwhelmed with choices of what to pick up next. Not even a little bitty bit…
On that somewhat ominous note, let's get to the rest of the newsletter.
Bookish Goods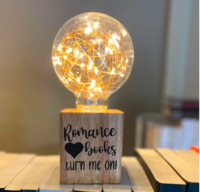 I'll be honest in that I'm not sure how effective this would be as a reading lamp, but I still love it. It's adorable and would make a perfect addition to any bookshelf out there. Plus, as we've gone over, I love a good snarky pun. $22 without lightbulb or $34 with lightbulb.
New Releases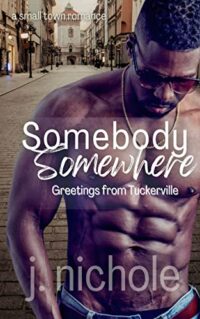 Lexi and Ivan find themselves making the move to the small town of Tuckerville for their own reasons. For her, it's to get a change of scenery after a heartbreak. For him, it is at his mother's request to help rejuvenate the small town. What neither one expects when they embark on their journeys is to fall in love.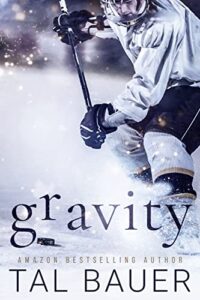 Hunter and Bryce are hockey players who get invited to participate in an All-Stars Weekend. Even though the men are on opposing teams, they find themselves spending more time with one another until one night when an unexpected, but not exactly unpleasant kiss happens between them. This leaves both of them to wonder what the future holds for them, in both hockey and romance.
For a more comprehensive list of new releases, check out our New Books newsletter!
Riot Recommendations
Between the announcement of the Clover Hill novellas (see more below) and Somebody Somewhere being released this week, small town romances were on my mind this week. While I am all for the city life, there is something to be said about the draw of a small town and the simplicity of it. Don't get me wrong; it's not without its drawbacks but then again, that's life in general, no matter where you live. It's all about what you need in that season of your life.
And in this season I need some small town romances!!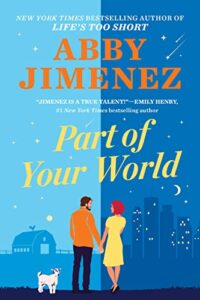 When Alexis winds up stranded in a ditch, Daniel is the handsome young man who helps her out of her predicament which results in her first one-night stand. However, both of them feel the draw back to each other which results in a sweet affair starting up, which all may end up crashing when their two worlds collide. Typically, I try to focus on backlists for the recommendations but I couldn't pass on a chance to recommend this delightful read since it was one of my favorites this year.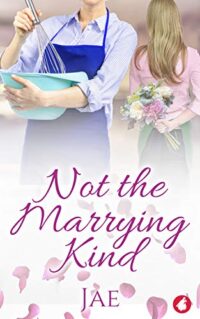 When the small town of Fair Oaks is set to host its first lesbian wedding, florist Ashely and baker Sasha are hired to help make sure it runs smoothly. As the women work closely together, the attraction between them brews until they're forced to admit that they have more than just a business relationship. Even though I wasn't the little girl who had her whole wedding planned out from a young age, and actually find them to be stressful and overpriced as all get out, I am a sucker for romance novels that center around the planning of a wedding. I have no clue why, I just roll with it at this point.
Speaking of weddings, I was moved by this story of a couple who managed a wedding without blowing their bank account. No shame if you want a super expensive wedding but also don't hate on those that want to be more frugal.
It was pretty much over once it began, but you may have heard of some controversy surrounding a call for submissions for a Gothic Romance anthology which seemed to boil down people being mad that some of the requirements were naturally an HEA and no incest, which is an interesting hill to die on for sure.
And in case you're curious about the difference between a Gothic novel and a Gothic Romance novel, there's a good introduction to the subgenre here as well more on why this blow up was confusing.
Also, there's much excitement to be had for this new series of inclusive romance novellas.
I love this interview that NPR did with Beverly Jenkins and Courtney Milan.
This TikTok from The Ripped Bodice speaks to my soul, especially considering what I shared in my intro.
And that's it for this week my friends. I hope y'all have an awesome weekend. If you need a little more of me in the meantime, then you can give me a follow over on Twitter under @PScribe801. Until Monday, happy reading and stay hydrated.