Welcome to Check Your Shelf, with this issue brought to you from Asheville, North Carolina! We've been here less than 24 hours, and I'm already sunburned from sitting outside waiting to be called into the restaurant for brunch. (That being said, I had biscuit French toast and it was totally #WorthIt.)
Okay, let's talk about books.
Collection Development Corner
Publishing News
A federal judge has backed the dismissal of the Amazon/Big 5 price-fixing lawsuit.
There's been a ton of updates on the PRH/S&S trial, but here's a recap of Day 2, when Stephen King took the stand.
Will the biggest publisher in the United States get even bigger?
Penguin Random House released an updated diversity report on the makeup of their staff and contributors.
New & Upcoming Titles
Britney Spears' memoir is complete, but supply chain shortages are causing issues.
Pardis Mahdavi's debut memoir, This Goes Out to the Underground, has been canceled for publication.
Thomas Nelson, a HarperCollins Christian Publishing imprint, has taken responsibility for an error in U.S. Senator Tim Scott's forthcoming political memoir, which claims that the senator is making a 2024 presidential bid.
BTS is getting into the cookbook business.
Here's the cover reveal for Nic Stone's upcoming YA novel, Chaos Theory.
The best books of 2022 so far.
Weekly book picks from Bustle, Crime Reads, LitHub, The Millions, New York Times, and USA Today.
August picks from Barnes & Noble, Brightly (kids/teens), CBC, Crime Reads, Gizmodo (SFF/horror), LitHub (SFF), Town & Country.
What Your Patrons Are Hearing About
Mercury Pictures Presents – Anthony Marra (LA Times, New York Times)
I'm Glad My Mom Died – Jennette McCurdy (Entertainment Weekly, New York Times)
Acceptance: A Memoir – Emi Nietfield (New York Times, NPR)
Properties of Thirst – Marianne Wiggins (LitHub, USA Today)
The Last White Man – Mohsin Hamid (Washington Post)
The Devil Takes You Home – Gabino Iglesias (New York Times)
Delphi – Clare Pollard (New York Times)
RA/Genre Resources
The Atlantic looks at the subversive power of romance novels.
How to read all of Kristin Hannah's books in order.
On the Riot
New and forthcoming YA anthologies to TBR.
The best new weekly releases to TBR.
August picks for mysteries/thrillers/true crime, romance, SFF, and kids books.
An introduction to Irish crime fiction that isn't just Tana French. (But seriously, go read Tana French. Or reread. Or whatever. Just do it.)
Why do we love portal fantasies?
The rise of the speculative novella.
The weird optimism of novels about doomsday cults.
5 fun and unusual backlists to dive into.
What road trips represent in American literature.
Literary fiction needs more dragons.
All Things Comics
Warner Brothers' $90 million Batgirl movie has been canceled.
The Flash will end with an abbreviated 9th season on the CW.
Oscar Isaac implies on TikTok that Moon Knight will be returning for a second season.
Drag Race superstar Shea Couleé has reportedly been cast in the Ironheart series.
Frank Miller's new comics imprint will make a surprise debut in comic shops on August 17th.
On the Riot
12 essential YA historical comics and graphic novels.
9 graphic novels and memoirs that meet this moment.
Using nonfiction comics for learning.
Audiophilia
Lucy Liu will be narrating the audio version of Celeste Ng's upcoming novel, Our Missing Hearts.
Here are the August 2022 Earphone Award winners.
6 audiobooks to listen to now.
18 popular science audiobooks.
Book Lists, Book Lists, Book Lists
Children/Teens
9 children's picture books that spark conversations about homelessness.
Adults
8 zombie stories without the zombies.
Top 10 books about cybercrime.
Books with the best uses of first person plural.
50 books about (and inspired by) Greek mythology.
The best books about unforgettable friendships.
On the Riot
10 magical witch books for middle grader readers.
11 books every edgy millennial read as a teen.
8 delightful return to hometown romances.
What to read if you loved It Ends With Us.
8 modern retellings of Jewish stories and folk tales.
8 of the best books about ethics to expand your mind. (Chidi would approve.)
8 touching novels about ailing parents.
11 books about time travel.
Reading recommendations if you loved Beyoncé's Renaissance.
9 must-read books translated from Indian regional languages.
8 must-read fantasy duologies.
20 of the best book series of all time.
25 of the best Kindle Unlimited romances of 2022.
Level Up (Library Reads)
Do you take part in Library Reads, the monthly list of best books selected by librarians only? We've made it easy for you to find eligible diverse titles to nominate. Kelly Jensen has a guide to discovering upcoming diverse books, and Nora Rawlins of Early Word has created a database of upcoming diverse titles to nominate, as well as including information about series, vendors, and publisher buzz.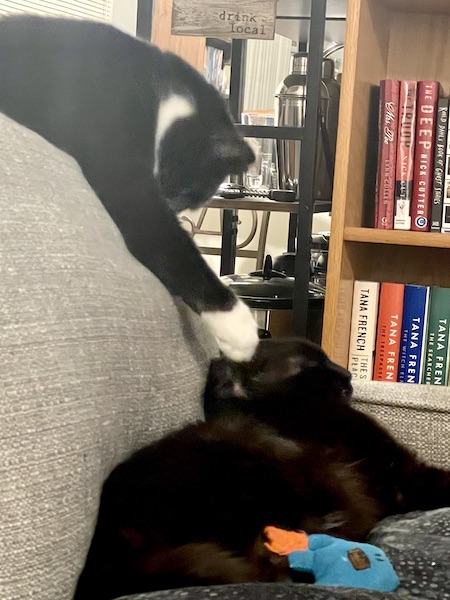 This is a photo from before we left, obviously, but if you ever wanted proof that Dini is just the annoying little brother that Gilbert never asked for, well, here it is. Dini started doing this a couple minutes before I got to my phone, but then thoughtfully started bopping Gilbert on the head again so that I could snap a series of photos. Poor Gilbert never jumped down from the couch; he just accepted his fate with grim resignation.
Okie dokie, that's all I've got for today, folks. I'll check in again on Friday. Be nice to yourselves and others.
—Katie McLain Horner, @kt_librarylady on Twitter.