Welcome to Check Your Shelf. I know this newsletter is supposed to be about books and stuff, but I'm just SO EXCITED about the new Lego Star Wars game finally being released this week! I'm a sucker for kid-friendly video games, especially the Lego series, so I made sure that game was preordered and downloaded by the time I came home from work on Tuesday! I also saw this shared on the Twitters today, and I'm wondering how it came to be that the main menu of a video game gave us better Finn/Poe relationship content than Disney.
Anyway, back to library stuff!
---
Libraries & Librarians
News Updates
Mixed results for libraries in Biden's 2023 budget proposal.
Here's a recap of PLA 2022 coverage.
Library workers seek to form Missouri's first librarians' union.
Twenty years ago, Cambridge University reported that two of Darwin's notebooks had been stolen. The notebooks were recently returned with a note that said, "Happy Easter." Look, I'm glad the notebooks have been returned, but I HAVE QUESTIONS.
Cool Library Updates
NYC libraries reported seeing a dramatic increase in returned books after they eliminated late fees.
The city of Cambridge, MA will launch five mini free libraries in partnership with My Brother's Keeper Cambridge to advance literacy and community.
The Ann Arbor Library (MI) is offering a free vending machine that provides naloxone kits to prevent opioid overdoses.
Stephen and Ayesha Curry unveil the first of 150 Little Town Libraries in Oakland.
The New York Public Library for the Performing Arts has recently acquired a machine that can digitize wax cylinders, meaning that in a couple years we will be able to hear sound recordings that haven't been played or heard in over a century!
Don't forget you can get three free audiobooks at Audiobooks.com with a free trial!
Book Adaptations in the News
HBO Max is planning a Sherlock Holmes TV universe, with Robert Downey Jr. set to executive produce.
Kathryn Bigelow will direct the adaptation of David Koepp's upcoming thriller, Aurora, for Netflix.
Get a first look at the TV adaptation of Jenny Han's The Summer I Turned Pretty.
You Season 4 has started filming.
Not exactly an adaptation, but Hocus Pocus 2 has cast three former contestants from RuPaul's Drag Race to appear as drag versions of the original three witches, and I am SO excited to see Ginger Minj listed!
Here's the latest trailer for The Shining Girls, and have I mentioned I'm SO EXCITED for this show??
Here's the cast for the Bridgerton prequel about Queen Charlotte.
Casting update for City on Fire.
Banned & Challenged Books
Congress will be holding a hearing on book bans in schools and libraries on Thursday, April 7th. (Unfortunately, not in time for me to update this newsletter by the time you read it.)
The history of Nazi book burning.
Book challenges quadrupled in 2021, which still likely only represents 10% of the actual number of challenges. And here are the Top 10 books challenged in 2021.
An open letter to library trustees: your job is not to review challenged books yourselves, and you need to support and trust your staff, who have the appropriate knowledge, context, and perspective of what's happening in their community and their profession.
Follett changes course on its proposed changes to their Destiny software, after getting very strong (and very necessary) pushback from librarians.
Texas Lt. Governor Dan Patrick wants to replicate Florida's "Don't Say Gay" bill in 2023.
Angry Keller ISD (TX) parents have challenged 33 books, including the Bible, since October.
The Prosper ISD (TX) has removed 30 books from school libraries in violation of the district's established procedure.
Dallas ISD superintendent Michael Hinojosa has gone on record saying that the furor over book banning and critical race theory is a "manufactured crisis." HEAR HEAR!
The National Coalition Against Censorship has sent a letter to Texas State Representative Jared Patterson, criticizing his attempts to bully Texas educators into censoring school materials.
Flagler County Schools (FL) roll out a new circulation policy that allows parents to restrict books for their own kids on a broad scale. Level 1 represents open access (although not really, because middle school students still need a parent's permission to request a high school book), Level 2 access allows 5 titles to be blocked from a student's account, and Level 3 access only allows students to check out books on a parent's pre-approved list. I can't begin to tell you how much I hate this policy. It is NOT the library's place to implement or enforce such a policy, and it tramples all over students' rights.
The Georgia House has approved a bill that would pave the way for the state to ban certain books from public schools if certain boards deemed these books "inappropriate." Here's an opinion piece on exactly why this bill is a bad idea that undermines the expertise of teachers and librarians.
High school students in Antioch (IL) have started a petition to put Gender Queer back on library shelves. A particularly noteworthy quote: "You came up with a 'compromise' that pleased only one group. … That is caving, and all of your LGBTQ students can feel it."
After a Cadott (WI) parent appealed a school committee's decision to keep six titles on library shelves, the school board made a different decision. Three titles will remain on library shelves: Melissa, The Deepest Breath, and Hurricane Child. A fourth book will only be available to students in fourth grade or older: Pride: The Story of Harvey Milk and the Rainbow Flag. A fifth book, The Baby Tree, will be removed from libraries, but will be available in the guidance counselor's office. A sixth book, Protest Movements: Then and Now, will be removed completely.
A Littlestown Area School District (PA) parent claims she has "legitimate concern" to ban books.
West Chester school district (PA) elects to keep Gender Queer on high school shelves.
The Sharpsburg Community Library (PA) has reported that multiple books have been hidden or removed from displays over the last couple months, which they believe is related to ongoing censorship efforts.
Controversial books continue to be a topic of public comment at Rockingham County (VA) school board meetings.
Virginia is about to enact a Florida-style law censoring LGBTQ education in elementary schools.
Nottingham (MD) citizens are concerned that Gender Queer is available in two high school libraries.
Montgomery County Public Schools (MD) have removed Redeployment by Phil Klay from school libraries for "many instances of violence, drugs, and language."
Ridgeland (MS) leaders are withholding library funds until the library signs a memorandum saying that the library will be required to appear before the board of aldermen before they adopt a budget, and that they will develop a system in writing for addressing complaints by the public. Which, okay, fine, but then the last line of the article says, "City leaders said it is not their intentions to ban or remove any content but they do want the library to use more discretion about what types of books that are openly displayed." Yep, that's still censorship.
A Lafayette (LA) resident has been removed from a library construction committee for an opinion column she wrote about the board's move towards censorship.
Onekama (CA) parents have voiced concerns about the book Copper Sun by Sharon Draper being available to 8th graders.
Book bans move to center stage in the red-state education wars.
"Grooming:" The ubiquitous buzzword in the LGBTQ school debate.
Books & Authors in the News
Patricia MacLachlan, author of Sarah, Plain and Tall, has died at 84.
The Authors for Ukraine auction is raising money for the Ukraine Crisis Fund.
Brandon Sanderson's record-breaking Kickstarter campaign closes at $41.7 million.
Celebrate Gone Girl's 10th anniversary with this never-before-seen chapter! (Also, Gillian Flynn, PLEASE write another book!!)
Numbers & Trends
Tupak Shakur's unpublished childhood poetry is up for auction, and is estimated to sell for around $300,000.
A miniature book made by Charlotte Brontë when she was 13 resurfaces and is set to go on sale next month for $1.25 million.
Award News
Rabih Alameddine wins the 2022 PEN/Faulkner Award for Fiction for The Wrong End of the Telescope.
Waterstones launches a £5,000 debut fiction prize.
The 2022 Swansea University Dylan Thomas Prize shortlist has been released.
Pop Cultured
The 2022 GLAAD Media Awards have been announced.
Bookish Curiosities & Miscellaneous
Check out this gorgeous wearable book bracelet, featuring 1400 pages of Rembrandt's hand drawings!
On the Riot
Free library collections and archives to check out online.
Enough Sherlock Holmes! Adapt these detective novels already!
The history of the book of the month club.
How to use podcasts to help you become a better reader.
When does Lord of the Rings get interesting? (Oooh, I feel this from the bottom of my soul. Full disclosure: love the movies, can't get through the books.)
---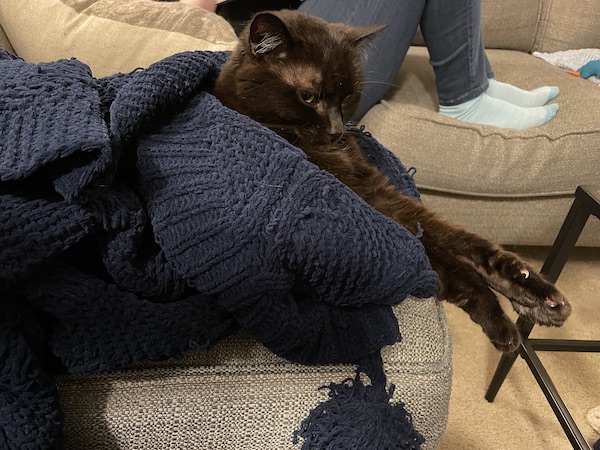 Here's your biweekly cat photo! I know I've shared pictures of Gilbert wrapped up in a blanket before, but I can't overstate how much he loves being burritoed. When you see him with those fancy paws outstretched, that's how you know he's fully relaxed. It must feel like a weighted blanket or a thunder shirt for him.
All right, Imma fire up the ol' PS5 and start doing Lego battles in a galaxy far far away. Do something fun for yourself this weekend, and I'll catch you on Tuesday!
—Katie McLain Horner, @kt_librarylady on Twitter.