Sponsored by Booked Up All Night.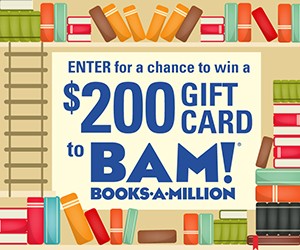 Book Riot is teaming up with Booked Up All Night to give away a $200 gift card to Books-A-Million. Just enter the form and sign-up for their newsletter for a chance to win!
Welcome to Check Your Shelf. I kinda want to hunker down under a solid table and wait until this latest COVID surge subsides. The number of people in my life who have tested positive continues to climb, and to give an idea of what the work situation is like, my coworker had to tell someone to put on a mask, while she was putting up additional signage that said "Keep your mask on." I just don't even know anymore, y'all.
---
Libraries & Librarians
News Updates
New York Governor Kathy Hochul vetoes the state's library eBook bill.
An armed man was arrested for trespassing while protesting a library program for LGBTQ kids at the Post Falls Library in Idaho.
The Fulton County Library in Pennsylvania was denied $3,000 in additional funding because it agreed to host a LGBTQ support group, which two commissioners considered a "hate group." So the community raised over $40,000 for the library.
Cool Library Updates
Modified remote learning lets Lakota students gather in makeshift libraries during COVID.
Libby is partnering with the accessibility platform Fable in order to become more accessible for people with disabilities.
Worth Reading
Texas bigots demand a safe space from reality in public libraries.
Libraries enlist states in a fight over eBook rules.
Libraries should be a place of acceptance.
Book Adaptations in the News
Bridgerton Season 2 is coming back to Netflix on March 25th!
Amazon is adapting the viral fantasy novel The Atlas Six as a TV series.
Sony has purchased the rights to Gabino Iglesias' The Devil Takes You Home.
AMC Studios snags the rights to Rebecca Roanhorse's Black Sun.
Jessica Chastain's production company is adapting Jessamine Chan's The School For Good Mothers as a series.
Erik Larson's audiobook No One Goes Alone is being adapted as a feature film.
Keanu Reeves is in talks to star in The Devil in the White City.
Was 2021 the end of "unfilmable" fiction?
Must-read books coming to a screen near you in 2022.
Banned & Challenged Books
As book challenges reach unprecedented levels across the country, the American Federation of Teachers is launching a campaign to put one million diverse books in students' hands.
Edha Gupta fought against her school's book ban and created a more equitable education system.
Author Kelly Yang looks to rally fellow authors, publishers, and the public in the battle against censorship.
Yanking books from school libraries: what the Supreme Court has said, and why it's murky.
These are the books most challenged in Texas school districts.
The Victoria Public Library Board (TX) has voted to keep all 21 contested titles on library shelves!
Round Rock and Leander ISDs (TX) faced the loss in millions of funding over the County's disapproval of how these school districts have handled recent book challenges, with one commissioner saying, "I think we send a clear message to school districts that we're not okay with sharing our tax dollars with people who put smut in the room." However, funding ended up being approved by the County, with a few stipulations around the completion of an ongoing book review process.
Meanwhile, Leander ISD has removed 11 books and a graphic novel from its optional book club curriculum, although the books are still available in school libraries. 8 additional books have been reinstated to the book club curriculum.
Katy ISD (TX) parents continue to demand that local officials take action to remove "obscene materials" from schools. Meanwhile, the school district has created an online portal for parents' concerns over library books.
Texas state officials are investigating Keller ISD over complaints of "sexually explicit" books in the school.
Eastlake High School in El Paso is under fire for assigning The Perks of Being a Wallflower to freshmen.
The Canutillo ISD (TX) released their report recommending that Gender Queer be kept in high school libraries.
The Llano County Library (TX) is temporarily closing in order to review the content of its children's collections.
All Boys Aren't Blue has been pulled from a Clay County (FL) school library after a parent complained.
Citrus County (FL) officials will discuss library display policies after receiving complaints about an LGBTQ-themed display at the public library.
The Central Kitsap District in Washington has returned Gender Queer to library shelves, thanks to their new board president.
The Walla Walla School District (WA) has formed a committee to review four challenged titles, including Gender Queer, The Bluest Eye, The Hate U Give, and All Boys Aren't Blue.
The Post Falls (ID) community speaks out against censorship of LGBTQ materials at a Post Falls library meeting.
The superintendent of Washington County schools (UT) cast the deciding vote in removing The Hate U Give and Out of Darkness from school libraries.
Natrona County (WY) parents challenge Gender Queer, Monday's Not Coming, and several books by Ellen Hopkins.
The Campbell County Public Library Board (WY) abruptly voted to adjourn a meeting after a resident challenged the library's decision to keep The Babysitters Coven by Kate Williams in the teen section.
"Everyone is welcome:" Wyoming communities respond to the statewide controversy over LGBTQ-themed books.
The Wake County (NC) ban of Gender Queer may be unconstitutional.
Ayden Middle School in North Carolina is facing challenges to several books in the curriculum, including Forged by Fire and Darkness Before Dawn by Sharon Draper, as well as All American Boys by Jason Reynolds.
South Carolina education leaders finish their review of school library book processes, and reiterated that material selection should stay at the local level, as opposed to the state.
Bedford County (VA) school officials address the local push to remove books from the county school libraries.
Loudoun County (VA) school panel votes to keep Lawn Boy on school shelves, causing at least one parent to complain that the district was "stacking the deck" in terms of who was selected to serve on the panel.
Fox News has jumped into the Fairfax County (VA) fight to have certain books removed from school libraries for supposedly containing pedophilia.
A Shelton (CT) Board of Education member expressed concern over The Glass Castle being a required title for high school freshmen.
Westerly High in Rhode Island is seeing a concentrated effort to have Gender Queer removed from the school library.
The Pennridge School District in Pennsylvania sent a district-wide email before Christmas break to elementary school administrators, ordering the removal of books discussing gender identity.
The Rockwood School District (MO) elects to keep six challenged titles on library shelves: All Boys Aren't Blue, Crank, Gender Queer, Looking For Alaska, The Haters, and Where I End and You Begin.
A newly introduced Oklahoma state bill would allow parents to seek up to $10,000 for each day a book is kept in their child's school library after it was nominated for removal.
Another newly introduced Oklahoma bill would allow parents to submit a written request for a book's removal, and if the book was not removed within 30 days, the employee tasked with the removal would be dismissed.
The Osseo School Board (MN) votes to keep Born a Crime on the shelves.
Two West Michigan school districts are facing pushes to remove books with transgender and same-sex content, specifically My Footprints by Bao Phi and Melissa by Alex Gino.
The Holmen School Board (WI) votes to keep It's Perfectly Normal on middle school shelves.
Why did Parkway Schools (OH) ban Between the World and Me?
After a committee voted to keep controversial books on the shelf, an Urbandale (IA) parent plans to sue the school district.
The Pella Public Library (IA) elects to keep Gender Queer on its shelves, so parents take to the city council to protest the decision and the library's book review process.
The Johnston Community School District (IA) elects to keep The Hate U Give and The Absolutely True Diary of a Part-Time Indian as part of the school curriculum. Meanwhile, a parent left a recent school board meeting after racist and homophobic slurs were used.
An Iowa librarian appeals to her colleagues to defend books on LGBTQ people and racism.
Iowa governor Kim Reynolds supports legislation that addresses "controversial books" in schools.
Lindbergh High School (MO) officials have elected to keep The Handmaid's Tale and Gender Queer in school libraries. The Handmaid's Tale will also be kept as an Honors English II reading choice.
A concerned parent in La Grange (IL) calls for the Lyons Township High School board to remove "pornographic" content from its libraries, but is astonished that anyone would refer to her as a "book banner."
Start banning controversial library books and soon you will be left with none.
Those who would ban books think certain students have no value.
As parents protest critical race theory in schools, students fight racist behavior in schools.
Book banning isn't about protecting children; it's about political posturing.
Books & Authors in the News
Literary powerhouse Joan Didion has died at 87.
Cultural icon, actress, and author Betty White has died at 99, just a few weeks shy of her 100th birthday.
Michael Cohen sues the US government and Donald Trump for revoking his home confinement in alleged retaliation for publishing a book.
If you've been following the online discussion about the junior PRH staffer who allegedly derailed the publication of a new Norman Mailer collection, here's a contextual look at what actually happened (and no, Norman Mailer didn't actually get canceled).
And just to clear up any confusion, if you read about a Patricia Cornwall who was removed from a flight for refusing to wear a mask, it was not bestselling author Patricia Cornwell, who has had to clear up the confusion more than once.
Booker Prize-winning New Zealand author, Keri Hulme, dies at 74.
The mystery of the anonymous fantasy author taking over BookTok.
Numbers & Trends
Here are the most popular library books in US libraries in 2021. Or if you want more specific data, here is the New York Public Library's top checkouts of 2021. (AND, NYPL even has readalikes for their top checkouts!)
OverDrive reported more than half a billion digital library loans in 2021!
A rare first-edition of The Incredible Hulk sells for $490,000.
Award News
The 2021 Hugo Awards have been announced.
Caleb Azumah Nelson wins the Costa First Novel Award for his book Open Water.
New York Times readers pick the best book of the last 125 years.
A new survey says that the Booker is the most important literary prize in the world. Worth mentioning: the survey was sponsored by an "unnamed international book prize."
Pop Cultured
Reading Rainbow Live announces the theme and cast for its first episode.
Bookish Curiosities & Miscellaneous
The FBI have arrested a man accused of stealing unpublished manuscripts.
Over a thousand books from Ruth Bader Ginsburg's private collection are being auctioned.
The Romance Writers of America sees even more leadership turnover.
This New York City bookstore sells books AND pickles!!! (My husband would hate this store, but I think it's heaven.)
Don't forget you can get three free audiobooks at Audiobooks.com with a free trial!
On the Riot
How to run a book award in your school library.
8 of the most unique Little Free Libraries.
Searching for my ideal number of library books.
52 weekly challenges to up your reading life in 2022.
An English major's guide to relearning how to read for pleasure.
Why it's okay if you didn't read this year (and what to do about it).
BookTube vs. BookTok: which account should you start?
Scribd alternatives: 8 eBook/audiobook subscription services to try.
How to protect your books from bugs. (shudder)
What's the big deal with NFTs?
---
Let's hope for a better week next week, shall we? Mask up, and get your boosters. I'll see you on Tuesday.
—Katie McLain Horner, @kt_librarylady on Twitter.