Sponsored by Karma: A Yogi's Guide to Crafting Your Destiny.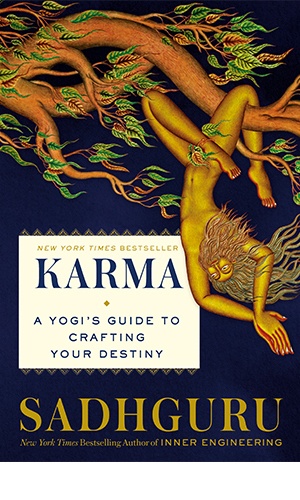 Who really understands the concept of karma? Half the time when people are referencing it, it sounds like some form of revenge. But karma is a much deeper and richer concept than that. As explained by Sadhguru, yogi & mystic, karma means action. Sadhguru turns the tables by showing us clearly that karma is an empowering possibility for taking charge of our lives by choosing how we respond to what is happening to us. With celebrity fans from Will Smith to Tom Brady, this enlightening book offers in depth insights on the concept of karma and shows how to achieve true happiness.
Welcome to Check Your Shelf. My excitement this week has come in the form of photos of Lady Gaga at the House of Gucci premiere…have you seen that dress?? I don't know why they had the cast pose like they're taking awkward prom photos, but Lady Gaga is KILLING. IT. The world is her runway, and we're all just bystanders.
Libraries & Librarians
News Updates
Librarians help students navigate an age of misinformation, but schools are cutting their numbers.
The Chicago Public Library's fine-free policy has been found effective after two years.
Cool Library Updates
Attorney Dwayne Betts started the Freedom Reads Project, which aims to put 500 book libraries in prisons across the country. (He also recently received a $600,000 MacArthur Genius Grant to help fund his endeavors!)
A liberal arts alumnus started a pro bono program offering legal assistance in libraries to Connecticut residents.
This is a really interesting look at some of the new initiatives the Brooklyn Public Library has put in place to encourage patrons to bring their books back now that late fees are a thing of the past.
These libraries turned a friendly rivalry into an e-gaming library tournament!
Libraries partner with social justice groups on meals and missions.
More library podcasts are exploring local history.
Worth Reading
Vacancies on the Lafayette Parish Library Board are an opportunity to add to a right-leaning trend.
Former McMaster University librarians bequeath $1.1 million to the library where they met and fell in love.
Book Adaptations in the News
Tracy Clark's Broken Places is being developed as a series for Sony Pictures Television.
Taika Waititi is directing an adaptation of Alejandro Jodorowsky's 1970 graphic novel The Incal.
Philip K. Dick's novel Vulcan's Hammer is being adapted for film.
Casting update for Daisy Jones and the Six and Wicked.
Banned & Challenged Books
In September 2021, ALA's Office for Intellectual Freedom recorded 60% more challenges than in September 2020.
The book This Is Your Time by Ruby Bridges has been pulled from Spring Branch ISD (TX) as the statewide book investigation gets underway.
Keller ISD (TX) removes Gender Queer from the library after a parent raises concerns about the graphic sexual imagery.
Texas schools have been asked to investigate their libraries. Will they? And do they have to?
Texas governor Greg Abbott tells state agencies to develop standards to block books with "overtly sexual" content in schools.
How parents and bookstore owners are fighting Texas lawmakers' attempts to ban books in schools.
An analysis of all 850 books that Texas lawmaker Matt Krause wants to ban.
A modern book burning: LGBTQ-themed books are removed from North Kanas City, Liberty schools. (The books in question are Fun Home by Alison Bechdel and All Boys Aren't Blue by George M. Johnson.)
Gender Queer has been pulled from Olympic High (WA) shelves, but a parent wants the school prosecuted over the book.
North Kingstown (RI) parents clash with the school board over Gender Queer.
Kenai Peninsula (AK) teachers protest against the alleged censorship of books with LGBTQ themes.
But in slightly better Kenai Peninsula news, a library fundraiser raised over $15K, which was launched in response to the City Council's decision to delay approval of a library grant in light of community concerns about "controversial" titles.
North Hunterdon and Voorhees (NJ) students speak out against the call to ban "obscene" books. Meanwhile, the school district neglected to appoint any librarians to the committee in charge of reviewing several challenged LGBTQ+ books.
Henrico County Public Schools (VA) removed the book Out of Darkness from high school libraries after a parent complained.
The Spotsylvania School Board (VA) orders libraries to remove "sexually explicit" books from the shelves.
Gender Queer has been removed from Orange (FL) libraries after parents complained.
Parents bring the "unacceptable" book The Hate U Give by Angie Thomas to the DuBois (PA) school board's attention.
Parents in Washington County, Utah, are trying to remove several books from school libraries, including The Hate U Give, Out of Darkness, This One Summer, and Melissa.
Everyone should read the books Virginia Beach might ban, and discuss censorship.
A Kansas school district has removed 29 books from circulation in school libraries for review.
The woman who wanted Beloved banned from schools is right about one thing.
If you couldn't tell already, it's time to start voting in your local school board elections.
How to support libraries in times of increased censorship. (And here's another article with ideas.)
What books are being targeted in school libraries?
"We are at the book-banning stage of authoritarianism:" Mehdi Hasan sheds light on new GOP censorship campaigns.
Queer kids need queer stories.
A new report showcases the wide damage of educational gag orders.
Books & Authors in the News
Nobel laureate Orhan Pamuk is being investigated again in Turkey over his books Nights of Plague.
Israeli bookstores pull Sally Rooney's books after she refused to allow an Israeli publisher to translate her new book into Hebrew.
Twitter man complains about winning the Bad Sex Award, claiming it was because he's a man and the world of fiction is stacked against men. (In actuality, it's because the passage in question is objectively bad.)
Numbers & Trends
A new report shows that the number of minority ethnic characters in UK children's books has nearly quadrupled in the last four years!
It's time to let these publishing trends die.
Award News
Damon Galgut's The Promise wins the 2021 Booker Prize.
Omar El Akkad wins the $100K Scotiabank Giller Prize for What Strange Paradise.
Senegal's Mohamed Mbougar Sarr wins the Prix Goncourt Prize.
The 2021 World Fantasy Awards have been announced.
The National Book Critics Circle is launching a new prize for translated literature.
Mercedes Lackey has been named the 38th SFWA Damon Knight Memorial Grand Master.
ALA announces the finalists for the 2022 Carnegie Medals.
Bookish Curiosities & Miscellaneous
Check out this underwater bookstore in Chengdu, China!
On the Riot
The most popular in-demand books in US libraries: August – October 2021.
An overview of poet laureates in the US.
A Scribd review: is this book service worth it?
Love You Forever: sweet or creepy?
15 hacks for organizing books and bookshelves.
Did you make it through? Gold star for you! I'll see you on Tuesday.
—Katie McLain Horner, @kt_librarylady on Twitter.
Don't forget you can get three free audiobooks at Audiobooks.com with a free trial!