Sponsored by Algonquin Young Readers.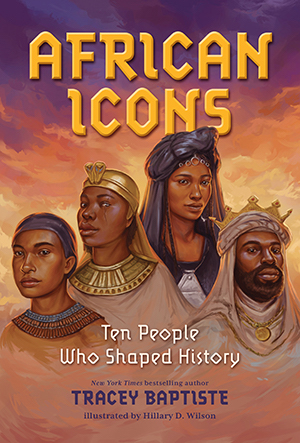 "This is a great beginner's guide to pre-colonial Africa."
—Ibram X. Kendi, author of Stamped from the Beginning and How to Be an Antiracist
Black history began long ago with the many cultures and people of the African continent. Through portraits of ten heroic figures, author Tracey Baptiste takes readers on a journey across Africa to meet some of the great leaders and thinkers whose vision built a continent and shaped the world. Illustrator Hillary D. Wilson's brilliant portraits accompany each profile, along with vivid, information-filled landscapes, maps, and graphics for middle-grade readers to return to again and again.
Welcome to Check Your Shelf. I feel like my face is slowly morphing into a Grumpy Cat-like expression behind my mask, and by the time the mask mandate finally ends, my face will just be stuck that way. I don't know if it helps or hurts to know that virtually every employed person is going through the same troubles (overworked, understaffed, and underpaid), but boy has it been a week. I feel like I say that every week, but it's true.
Be forewarned that the Banned & Challenged Books section is depressingly long this week. So, here we go…
---
Libraries & Librarians
News Updates
Penguin Random House has extended its temporary eBook and digital audio terms for libraries through March 31, 2022.
Campbell County commissioners are no longer allowing comments about the public library during their meetings.
A Drag Queen Story Time protester who has tried to shrink the mission of the Lafayette Parish Library System was elected to lead the library board for the next year.
Cool Library Updates
This library offers monthly spice kits for patrons to check out!
The Kent District Library (MI) is launching its own local music streaming platform.
Worth Reading
Librarians to the defense: Groups form to fight a conservative-led attack on libraries' efforts to promote social justice.
Book Adaptations in the News
Tessa Thompson's production company is adapting Raven Leilani's Luster for HBO.
Casting update for Uglies and The House of the Spirits.
What to know about Dune before seeing the movie. (I like to say that I know just enough about Dune to send the most irritating memes to my husband!)
Also, mark your calendars for 2023 when the Dune sequel hits theaters!
The rise and fall of YA dystopian adaptation franchises.
13 book-to-screen adaptation changes that authors loved, and 14 that they absolutely loathed.
Banned & Challenged Books
Media refuses to give the title of a book pulled from the New Kent Middle School (VA) library "to ensure no other student could get to it." However, recent footage from a board meeting revealed that the book was The Poet X by Elizabeth Acevedo.
Floyd County Schools (KY) kill a $600,000 curriculum after a parent complained about the descriptions of "white faces" used in a book about Ruby Bridges, and said that the curriculum was teaching "critical race theory."
A Cass County (MO) public library said that they will not be taking the book It's Perfectly Normal off of the shelves.
Katy ISD schools have put New Kid by Jerry Craft back on library shelves after determining that the book does not contain any objectionable content. Meanwhile, a petition organizer says that the school district caved to pressure by returning the book to shelves.
North Kingstown High School (RI) elects to keep Gender Queer on the shelves despite pressure from parents.
The Bloomington Public Library (IL) says that they'll use more scrutiny in selecting the titles highlighted in a monthly display area, after a parent complained that their child selected a graphic novel from the display that was not age-appropriate.
Why some North Hunterdon (NJ) parents want certain LGBTQ books removed from the school library.
Tennessee librarians speak out against a Chattanooga school board member's attempt to ban books.
A GOP candidate for Virginia governor airs a new ad featuring a parent who wanted to remove Beloved by Toni Morrison from the schools because it gave her teenage son nightmares.
"Critical race theory" is the new Satanic panic in right-wing politics.
Saudi readers finally get to read banned books.
Books & Authors in the News
Award-winning children's illustrator Jerry Pinkney dies at 81.
The mental health charity This Is My Brave declines a donation from Jamie Lynn Spears's upcoming book, Things I Should Have Said.
The lawsuit against Jennifer Bickel Cook's recent book about Mary Kay could pose lasting problems for company whistleblowers.
Numbers & Trends
Books about trauma have been especially popular during the pandemic, but are they really what we need to be reading right now?
Pop Cultured
10 Latinx horror films that will give you chills.
On the Riot
You should be taking advantage of your library's website!
Book Riot has a new podcast about movie and TV adaptations!
A rare fragment from Shakespeare's first folio is on the auction block.
Goodreads and the curious case of the wrong genres.
Why this reader stopped rereading their problematic favorite books.
Mid-book crisis: what to do when you lose interest halfway through a book.
Last chance to get limited edition Book Riot merch! Once October ends, it disappears.
---
Let's all do something nice for ourselves this weekend, okay? Catch you next week!
—Katie McLain Horner, @kt_librarylady on Twitter.