Sponsored by Algonquin Books/Workman Publishing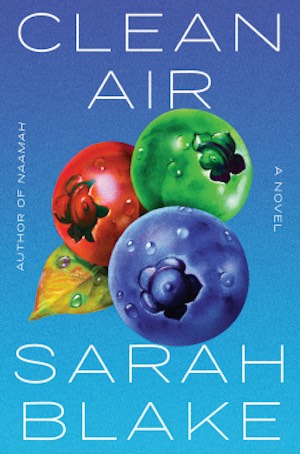 The climate apocalypse has come and gone, and in the end it was the trees that did us in. The world became overgrown, creating enough pollen to render the air unbreathable. In the decade since, humanity has rebuilt, and everyone lives under airtight domes, unable to go outside. Then the peace of a town is shattered when a serial killer starts slashing through the domes, exposing people to the deadly pollen. Suspenseful but with a wry sense of humor, Clean Air is a novel that will appeal to readers of The Need, The Leftovers, and Fever Dream. Click through to download an e-galley now!
Welcome to Check Your Shelf. After a very, very lengthy warm spell that lasted until late last week, I think the Chicago area has finally jumped into fall. And while I do enjoy fall weather, I'm not particularly enthused about the colder weather slowly heading our way. Ugh. Even this year, when it seemed like the warm temperatures hung around for way longer than usual, it never feels like it lasts long enough.
---
Collection Development Corner
Publishing News
Authors pull out of the Frankfurt Book Fair over the presence of far-right groups.
The Daily Wire has launched a conservative publishing imprint.
Translators fight for credit on their own book covers.
Will supply chain issues affect the books you want? Depends on what you're reading.
There could be a book shortage this holiday season, but it's not as bad as you think.
And if you're looking for a way to keep track of changing pub dates, PW has a list that they will be updating over the coming weeks.
New & Upcoming Titles
Tiffany Haddish lands a three-book deal with HarperCollins Children's Books.
Henry Louis Gates Jr. is coming out with a new book series that will feature "leading writers on the legacy of Black figures."
Daniel Abraham, one half of the James S.A. Corey writing duo, has a new epic fantasy series coming out in February.
Stephen Graham Jones is writing a sequel to My Heart is a Chainsaw.
Rainbow Rowell wrote a short story follow-up to Fangirl.
Publishers Weekly released their Best Books of the Year list.
22 deliciously dark new horror novels that you'll love.
36 recent and upcoming YA debuts to discover.
13 upcoming YA books by Latinx authors to preorder.
17 new historical fiction books you'll want to read this fall.
17 inspiring LGBTQ novels released in 2021.
Weekly book picks from Crime Reads and USA Today.
October's best psychological thrillers.
Barnes & Noble's most anticipated reads for November and December for adults and kids/teens.
What Your Patrons Are Hearing About
Orwell's Roses – Rebecca Solnit (The Guardian, LA Times, New York Times, NPR, Washington Post)
Unprotected – Billy Porter (Good Morning America, New York Times, USA Today, Washington Post)
Oh William! – Elizabeth Strout (LA Times, New York Times, NPR, Washington Post)
Colorization: One Hundred Years of Black Film in a White World – Wil Haygood (New York Times, Washington Post)
Music is History – Questlove (New York Times, Washington Post)
RA/Genre Resources
Tananarive Due talks about the modern Black horror landscape.
R.L. Stine talks about making horror work for younger readers.
Why body horror is such an evocative tool in storytelling. (TW for ableism and miscarriage)
Readalikes for your patrons who loved Squid Game.
On the Riot
Great new nonfiction in translation.
10 must-read new sci-fi books for the fall.
Let's talk folk horror and appropriation.
It's Black Speculative Fiction Month, so let's talk hoodoo.
Craving fictional horror to avoid real horror. (It me.)
Partition literature: what it is, and where to start.
All Things Comics
Comic book stores have had a lot of issues with recent deliveries from PRH where the comics are in unsellable condition.
DC is developing a Milestone animated movie based on classic Black superhero comics characters.
Here's the trailer for The Batman, if you haven't already seen it a half dozen times.
On the Riot
Graphic novels and graphic nonfiction about stuff you should care about.
11 biographies about comic book creators.
20 must-read queer webcomics.
Get your smooches and scares with these horror romance manga.
Audiophilia
Creepy mystery audiobooks to set the Halloween mood.
5 audiobooks to catch up on the 2021 Pulitzer winners and finalists.
The best audiobooks of October 2021.
On the Riot
8 audiobooks for fall-loving foodies.
Book Lists, Book Lists, Book Lists
Children/Teens
The best Hanukkah and Kwanzaa books for kids.
Middle grade books for fans of Jason Reynolds.
13 pulse-pounding YA survival stories.
11 YA books to read if you're obsessing over the new Dune adaptation.
26 YA horror novels guaranteed to keep you up at night.
Adults
The 30 most popular true crime books of the past five years.
21 spooky, page-turning mysteries that will keep you guessing until the very end.
15 more mystery series that will keep you guessing.
Mysteries that take place in bookstores.
Crime novels set on or around Halloween.
The best literary blood-suckers since Dracula.
8 books about living in Los Angeles.
10 horror novels for crime fiction fans.
Halloween-perfect story collections.
15 Christmas books for adults to get you in the holiday spirit.
On the Riot
15 of the best Indian mythology books for children.
Children's books about Africa.
15 enchanting books about witches for kids.
9 empowering middle grade feminist fantasy books.
The best YA cozy mysteries for fall.
20 of the best friends-to-lovers fantasy books.
15 atmospheric horror novels to get you in a spooky mood.
10 Tudor fiction titles to step up your historical fiction game.
Fantasy novels with little-to-no romance.
Workplace romances to make you swoon.
15 of the best royal romance novels.
17+ essential books for yoga teachers.
Last call for Book Riot's limited edition merch! It's only around for our 10 year birthday month, so once October is up, these cozy hoodies, shirts, and tote bags will disappear.
Level Up (Library Reads)
Do you take part in Library Reads, the monthly list of best books selected by librarians only? We've made it easy for you to find eligible diverse titles to nominate. Kelly Jensen created a database of upcoming diverse books that anyone can edit, and Nora Rawlins of Early Word is doing the same, as well as including information about series, vendors, and publisher buzz.
---
That's it for me. I'm off to bundle up in my coziest sweater and curse my library's HVAC system, which never seems to run at the proper temperature. See you all on Friday!
—Katie McLain Horner, @kt_librarylady on Twitter.