Sponsored by Nightfire.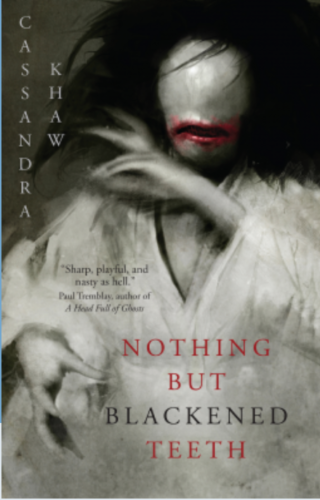 Nothing But Blackened Teeth is a gorgeously creepy tale, steeped in Japanese folklore and full of devastating twists. A Heian-era mansion stands abandoned, its foundation rests on the bones of a bride, its walls packed with the remains of the girls sacrificed to keep her company. It's perfect for a group of thrill-seeking friends reunited to celebrate a wedding. A night of celebration spirals into a nightmare as secrets are revealed and relationships are tested. The house holds secrets, too. Lurking in the shadows is the ghost bride with a black smile and a hungry heart. And she gets lonely down there in the dirt.
Hi Book Friends!
Quick correction to Monday's newsletter before we get this party started: You has been renewed for a FOURTH season, which I definitely know because I am one of those people who watched all of Season 3 over the weekend.
Anyway, with that business out of the way, hello! I hope you're doing well and that you had a good October 19th earlier this week. I spent mine working, reading, hanging out with cats, and watching the Bachelorette premiere, so yeah, it was pretty chill. Now with Halloween on the horizon, get ready for this newsletter to get a bit more Halloween-y for the next little bit. We'll call it Radar-ween. Are you ready?
❤️ Emily
Book Deals and Reveals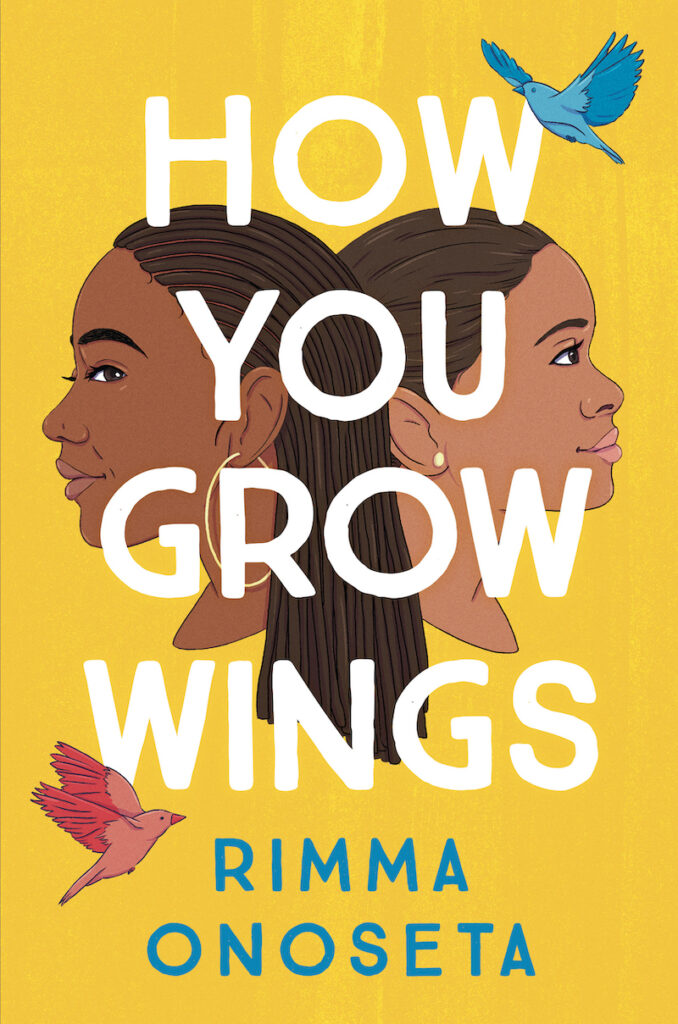 Here's the cover reveal for Rimma Onoseta's debut novel, How You Grow Wings, out from Algonquin Young Readers on August 9, 2022.
Eva Longoria will star in a new TV adaptation of Isabel Allende's bestselling novel The House of the Spirits.
Here's another stunning cover reveal: Megan Van Dyke's Second Star to the Left will be out on February 15, 2022!
DC is developing a Milestone animated film based on classic black superhero characters!
We've got a cover reveal for Faith Gardner's upcoming novel How We Ricochet, coming out from Harper Teen in May 2022.
The To All the Boys I Loved Before spinoff tv series, XO, Kitty, is moving forward on Netflix.
May Chen with William Morrow has preempted world English rights—jointly with Ann Bissell at HarperCollins UK imprint Borough Press—for Rebecca F. Kuang's Yellowface.
Melinda Gates has started a new nonfiction imprint with Flatiron Books, a division of Macmillan.
Here's the trailer for Robert Weide's upcoming documentary about Kurt Vonnegut, entitled Kurt Vonnegut: Unstuck in Time.
Nonprofit organization is declining donations from Jamie Lynn Spears' upcoming book.
Beloved author Gary Paulsen, winner of three Newberry Medals, has died at the age of 82.
Here are the 2021 Harvey Award Winners, the best comic books of the year.
Book Riot Recommends
I'm a Contributing Editor at Book Riot, I write the Today in Books newsletter, and I'm a Bibliologist for Book Riot's Tailored Book Recommendations subscription service. I also have a PhD in English, so I'm basically a doctor of books. Books are my life, in other words, so in this section of the newsletter, let me share with you some upcoming books I'm super excited about. And I think you will be too!
Can't Wait for This One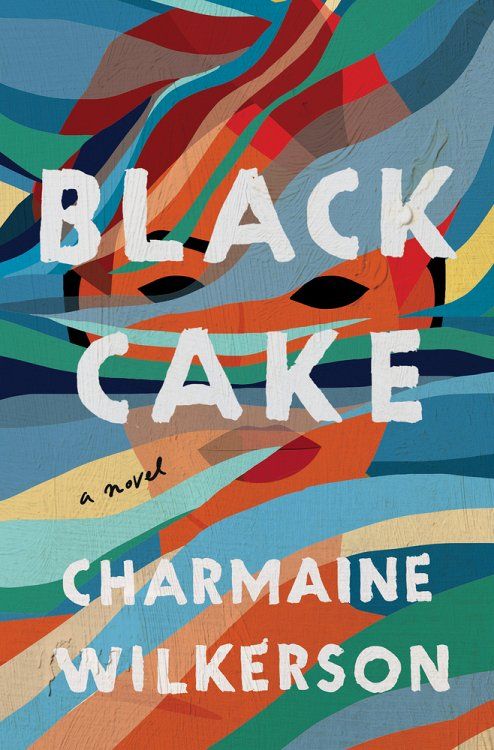 Black Cake by Charmaine Wilkerson (Ballantine Books, February 1, 2022)
Charmaine Wilkerson's debut novel Black Cake hasn't even hit shelves yet, and already it's being made into a Hulu TV series from Women of the Movement creator Marissa Jo Cerar, Oprah Winfrey's Harpo Films and Aaron Kaplan's Kapital Entertainment. With so much buzz around his book already, I can't help but send it straight to the top of my to-read pile as soon as I can get my hands on a copy of it.
Okay, so Oprah likes this book, but what is it about? Black Cake is described as a family drama wrapped up in a murder mystery. Or is it a murder mystery wrapped up in family drama? Only time will tell. When Byron and Benny's mother unexpectedly dies, she leaves behind something even more unexpected: a traditional Caribbean black cake, made from a family recipe with a long history. There's also a voice recording in which Eleanor shares a story with her children: the story of a young swimmer who escapes her home after she's suspected of murder. As the story unfolds, secrets about Eleanor—and her family—are revealed.
Are you intrigued? I certainly am, and I feel like this is going to be a book a lot of people are going to be talking about in 2022, so it's time get excited about it now.
Words of Literary Wisdom
"The best cure for anything [is] candles and a bath."
— The Ex Hex by Erin Sterling
What's Up in the Book Community?
My iPhone is constantly telling me I spend too much time staring at my screen, which is honestly so rude. But this means I spend a lot of time scrolling around the online book community: BookTube, Bookstagram, BookTok, BookLinkedIn (JK. That's not a thing… I don't think). You get the idea. Don't have the time, energy, or the will to do all of that yourself? No problem. I got you. In this weekly section of Book Radar, we'll take a look at something cool, interesting, and/or newsy that's going on in the book community.
Looking for an online bookclub with great nonbinary rep? Try Enby Book Club on Instagram. For October, they're reading Sorrowland by Rivers Solomon. November's book is We Are Not Broken by George M. Johnson. And in December, they're reading Iron Widow by Xiran Jay Zhao.
Your Weekend Reading Soundtrack
I said it's Radar-ween, so I've got to make good on that promise here. This week, I've got part 1 of your Halloween reading soundtrack. Next week, I'll be back for part 2. This one is great for reading or decorating pumpkins or bobbing for apples or whatever other scary Halloween stuff you've got planned for this weekend.
And Here's A Cat Picture!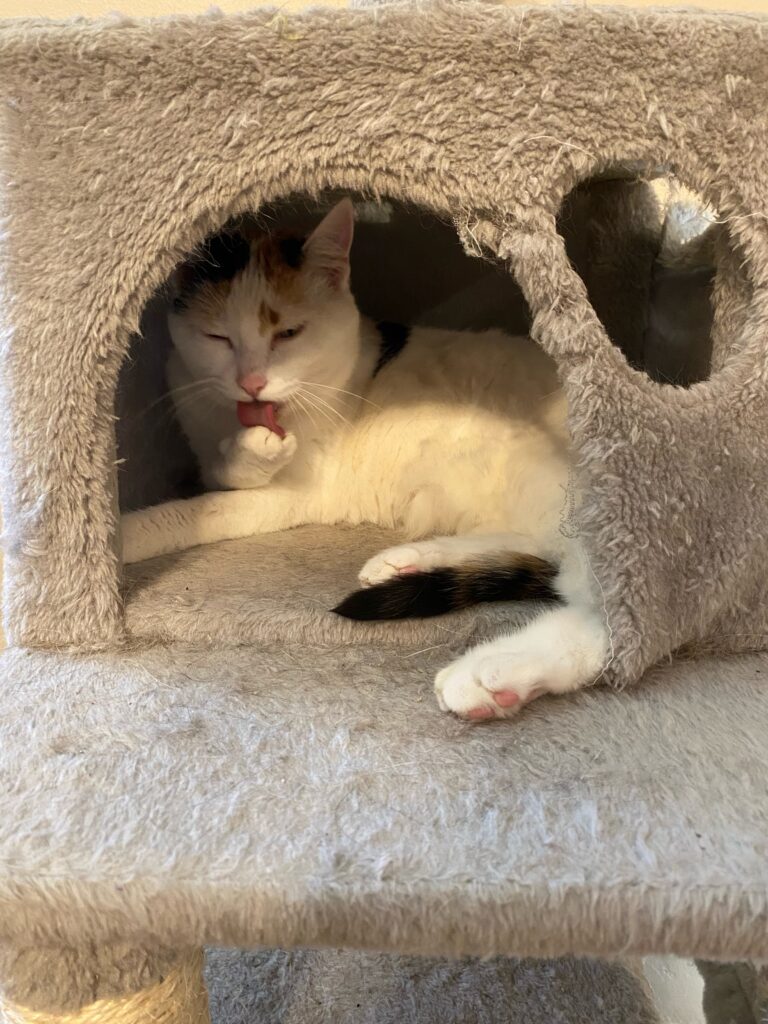 Today, we're back in the cat tree.
Cersei is chilling inside her house, bathing, living her best life. I know this is probably a private moment for her, but I had to share this excellent bathing action shot with all of you! I hope you enjoy.
---
And that's all for Book Radar-ween today! See you next week, my ghosts and ghouls! Ooooooooooo! (that was a ghost sound)
❤️ Emily