Sponsored by Algonquin Books/Workman Publishing.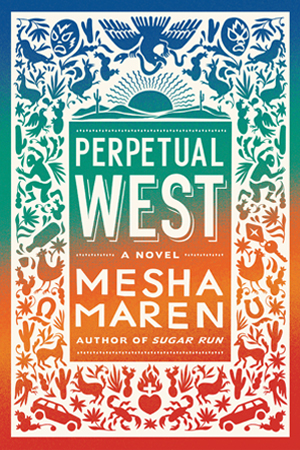 Spanning from Virginia to Texas to Mexico, Mesha Maren's thrilling follow-up to Sugar Run takes us from missionaries to wrestling matches to a luxurious cartel compound, and deep into the psychic choices that shape our identities. A sweeping novel that tells us as much about the United States and Mexico as it does our own natures and desires, Perpetual West is an utterly engaging look at the false divide between high and low culture, and a suspenseful story of how harrowing events can bring our true selves to the surface.
Welcome to Check Your Shelf. Last week at work, I put up my favorite display (horror picks for spooky season), and while I was gathering materials, I found myself on the verge of humming "It's the Most Wonderful Time of the Year." And honestly, Halloween season is like Christmas, in that it comes and goes way too quickly.
Book Riot is 10 years old this month! We're celebrating with limited edition merch, including a cozy Book Riot hoodie perfect for fall reading.
---
Collection Development Corner
Publishing News
What would it take to disrupt the publishing industry?
New & Upcoming Titles
FOX News Books and HarperCollins have signed a deal to publish six new titles.
London chef Elizabeth Haigh's cookbook has been withdrawn from publication after plagiarism concerns.
Keke Palmer and Jasmine Guillory collaborated on a short story collection for Amazon Original Stories.
Britney Spears says she's working on a novel (possibly a ghost mystery?)
Publishers Weekly has a few different articles about upcoming mystery/thriller and true crime titles: Mysteries & Thrillers 2021: Mission Accepted, Mysteries & Thrillers 2021: First Time Offenders, True Crime 2021: What Makes Them Tick?, and True Crime 2021: Once Upon a Crime.
10 new books by Native writers.
18 new books to get you excited about reading again.
Weekly book picks from Crime Reads, The Millions, New York Times, and USA Today.
5 books you may have missed in September.
Barnes & Noble has started sharing their favorite books of the year, as well as their favorite SFF books of the year.
What Your Patrons Are Hearing About
State of Terror – Louise Penny & Hillary Clinton (LA Times, New York Times, People, USA Today, Washington Post)
Silverview – John le Carré (The Guardian, New York Times, Time, Washington Post)
On Animals – Susan Orlean (LA Times, New York Times, NPR, USA Today)
Oscar Wilde: A Life – Matthew Sturgis (LA Times, New York Times, Washington Post)
Dear Memory: Letters on Writing, Silence, and Grief – Victoria Chang (New York Times, NPR)
RA/Genre Resources
How to read the Bridgerton books in order.
On the Riot
15 of the best nonfiction books in 2021.
4 new YA novels by Indigenous authors.
How contemporary fiction humanizes mothers.
Portrait of a likable female character.
The big picture: reading historical fiction during a global pandemic.
An introduction to police procedurals.
Exploring epistolary novels.
All Things Comics
Penguin Classics is teaming up with Marvel to publish special editions of certain Marvel comics.
Jon Kent, son of Clark Kent, comes out as bisexual in DC's upcoming Superman comic.
The best manga to read right now.
On the Riot
10 middle grade graphic novels to look forward to this fall.
The 2021 Harvey Awards winners have been announced.
An introduction to Latin American comics.
The history of the Peanuts comics.
Audiophilia
The October 2021 Earphones Winners have been announced.
23 celebrities who narrated these audiobooks brilliantly.
The best-loved audiobooks featuring full casts.
How are audiobooks keeping reading culture alive?
On the Riot
Book Lists, Book Lists, Book Lists
Children/Teens
15 of the best Thanksgiving books to read with kids.
23 adult books that make great reading suggestions for teens.
20 slow-burn romances for teens.
Adults
17 incredible books by Black LGBTQ+ authors.
The best historical mysteries of the last five years.
Horror recommendations for every mood.
6 haunted house thrillers to read for Halloween.
10 smart and scary books about ghosts.
The 14 best horror novels for reveling in the spooky season.
Masterpieces of 20th century gothic fiction.
5 dark historical gothics to savor this fall.
6 books about crime and colonialism at the US-Mexico border.
5 SFF books with BIPOC chosen ones.
5 great mystery novels set at carnivals or fairs.
On the Riot
21 children's Halloween books to enjoy this spooky season.
Truly terrifying middle grade books for fearless readers.
YA books dealing with addiction.
20 must-read stories for National Coming Out Day.
14 works of Mexican literature available in English translations.
8 books with love triangles that end in polyamory.
The most influential sci-fi books of all time.
Awesome books about first contact with aliens.
9 familiars/animal companions in literature.
Level Up (Library Reads)
Do you take part in Library Reads, the monthly list of best books selected by librarians only? We've made it easy for you to find eligible diverse titles to nominate. Kelly Jensen created a database of upcoming diverse books that anyone can edit, and Nora Rawlins of Early Word is doing the same, as well as including information about series, vendors, and publisher buzz.
---
Get spooky, y'all. I'll see you on Friday.
—Katie McLain Horner, @kt_librarylady on Twitter. Currently reading White Smoke by Tiffany D. Jackson.