Sponsored by Tor Teen.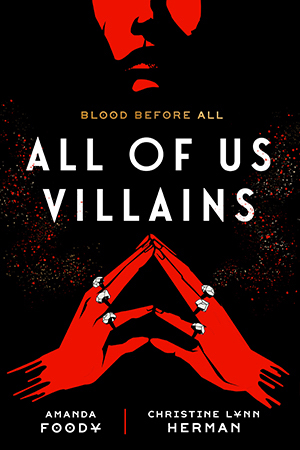 The blockbuster co-writing debut of Amanda Foody and Christine Lynn Herman, All of Us Villains begins a dark tale of ambition and magick… Every generation, seven families in the city of Ilvernath each name a champion to compete in a tournament to the death. The prize? Exclusive control over a secret wellspring of high magick, the most powerful resource in the world. This year, thanks to a salacious tell-all book, the seven champions are thrust into the spotlight, granting each of them new information, new means to win, and most importantly, a choice: accept their fate or rewrite their story.
Happy October, Book Nation!
If you thought I was being super obnoxious about the beginning of fall, you ain't seen nothing yet. October is my favorite month of the year, and it's officially here. What does October have that other months don't have, you ask? Well, my birthday, for one. As much as I'm not a fan of growing older, I love celebrating my birthday just chilling with friends, maybe playing a few games, buying some new books, and having cake. The cake is essential. My birthday is October 13th, which is also Treat Yo Self Day, if you didn't know. So yeah, it's the coolest birthday ever. No big deal.
Also there's that's whole HALLOWEEN thing. As a kid, I was always really scared of people in masks (cause I was a smart kid who knew what was up obviously). But I still loved Halloween. And I still love it to this day. I love scary movies, scary books, scary everything. I love skulls and bats and black cats all year round, but now it's festive. Which makes it even better.
Phew. I could write a whole newsletter just about how great October is, but no one is here for that. Just get ready for Book Radar to become an October/Halloween Appreciation Newsletter for the whole month. I apologize in advance.
❤️ Emily
Book Deals and Reveals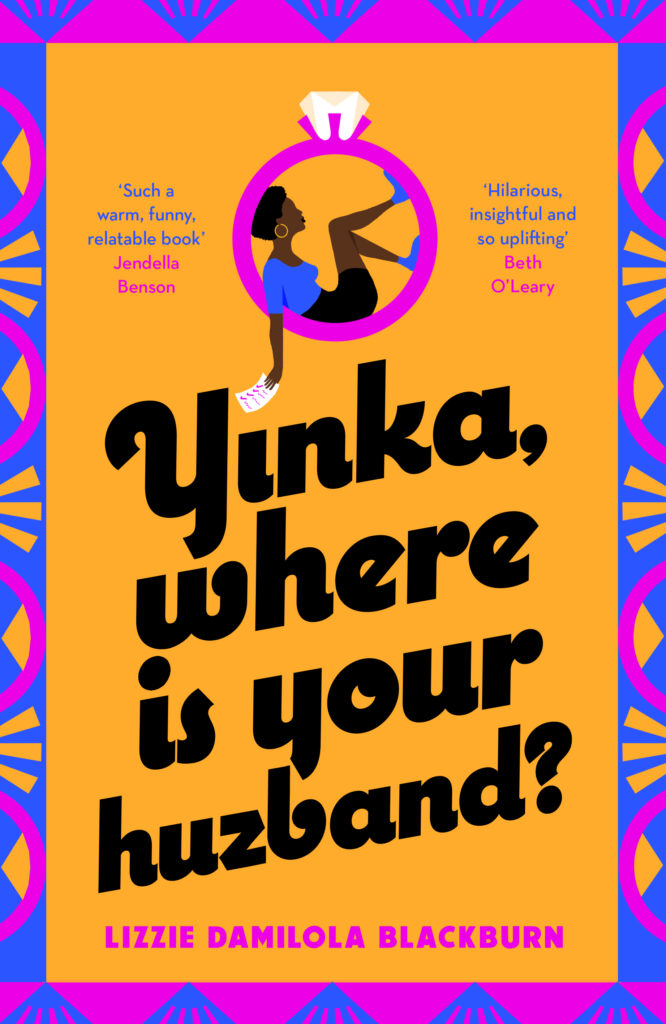 In her column for The Bookseller, author Lizzie Damilola Blackburn has been taking readers through the process of publishing her debut novel Yinka, Where's Your Huzband? The most recent column is a behind-the-scenes look at the creation of the US and UK covers of Blackburn's book, and she reveals her UK cover.
Damyanti Biswas has signed a two-book deal with Thomas & Mercer: a literary crime thriller entitled The Blue Bar, and its untitled sequel.
Indya Moore (Pose) has landed a major new role in the upcoming Aquaman and the Lost Kingdom. They are playing Karshon, a shark with superpowers.
Here's the cover reveal for House of Sky and Breath by Sarah J. Maas, the latest book in the Crescent City series.
Clarissa Goenawan's debut novel Rainbirds is being adapted into a feature film, directed by Anshul Chauhan.
Daniel Craig and Ruth Negga are starring in a production of Macbeth, coming to Broadway in March 2022.
Here's the first chapter of one of fall's buzziest thrillers, All Her Little Secrets by Wanda M. Morris.
John Benjamin Hickey, recent Tony nominee for The Inheritance, has joined the cast of New Line's feature adaptation of The Stand by Stephen King. Hickey will be playing Father Callahan.
Alice Waddington has signed on to direct the upcoming live-action Netflix adaptation of the comic book series Dept. H.
Michael B. Jordan's production company Outlier Society will be producing the Sony TriStar Pictures adaptation of N.K Jemisin's The Broken Earth.
Here's an exclusive cover reveal and excerpt from Game of Strength and Storm by Rachel Menard.
Micah Stock, Ryan Kwanten, Gayle Rankin, Austin Smith, Antoinette Crowe-Legacy, and David Alexander Kaplan are joining the cast of FX's Kindred pilot, based on the novel by Octavia Butler.
Book Riot Recommends
I'm a Contributing Editor at Book Riot, I write the Today in Books newsletter, and I'm a Bibliologist for Book Riot's Tailored Book Recommendations subscription service. I also have a PhD in English, so I'm basically a doctor of books. Books are my life, in other words, so in this section of the newsletter, let me share with you some upcoming books I'm super excited about. And I think you will be too!
Prepare Your Shelves!
Within These Wicked Walls by Lauren Blackwood (Wednesday Books, October 19 2021)
Another book I'm excited about that's coming out on October 19th. Further proof that October 19th is a magical day when all good things happen. Right? Anyway.
Let's talk about things that either really, really work or really, really don't. Jane Eyre adaptations. I'm a really big fan of Victorian literature. Especially the Brontës. Especially Emily Brontë. Wuthering Heights is my favorite novel of all time. On that note, I have yet to read a Wuthering Heights adaptation that has excited me, but I'm open to it. If you think I've missed a good one, hit me up. But let's back up. We're talking about Jane Eyre adaptations today.
Jane Eyre is a great novel. It's atmospheric and emotional, with strong characters and stunning plot turns. For a Jane Eyre retelling to work, it's got to get all of that stuff right and do something new and interesting that adds to the Jane Eyre conversation rather than detracting from it. That's a tall order, but Lauren Blackwood's eerie YA fantasy retelling Within These Wicked Walls does all of that.
In this Ethiopian-inspired debut fantasy novel, we follow Andromeda, a debtera. Debteras are members of the Ethiopian church who are able to perform exorcisms to cleanse households of the Evil Eye. But when Andromeda takes on a job for the handsome young heir Magnus Rochester, she quickly realizes this is a horrifying manifestation unlike anything she's ever encountered. And Magnus seems to be hiding something.
What I'm Reading This Week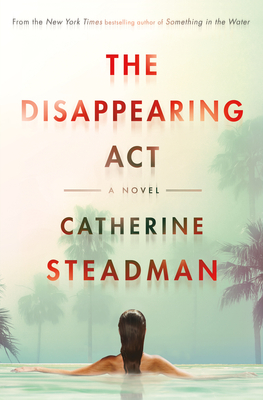 The Disappearing Act by Catherine Steadman
Goblin by Josh Malerman
We Were Never Here by Andrea Bartz
Black Leopard Red Wolf by Marlon James
White Smoke by Tiffany D. Jackson
Mercury Boys by Chandra Prasad
Monday Memes
We're doing it. We're calling it Monday Memes now. I know change is hard, but we're all going to have to learn how to adapt.
It's October now, so no one can judge us for diving into our witchy Halloween books. Get off our backs, people.
Other Things That Make Me Happy
Oh boy, we've got a brand new post from Book Riot with more Halloween costume ideas for kids and adults!
Since it's Halloween time officially and no one can stop me, it's time to watch Halloween movies and make Halloween snacks. In this quiz, you can pick your favorite Halloween characters and get a fun Halloween treat to make. I got Halloween Jalapeño Peppers, which tracks because I love spicy.
And then there's Purrli. It's your very own purring cat on your computer.
And Here's A Cat Picture!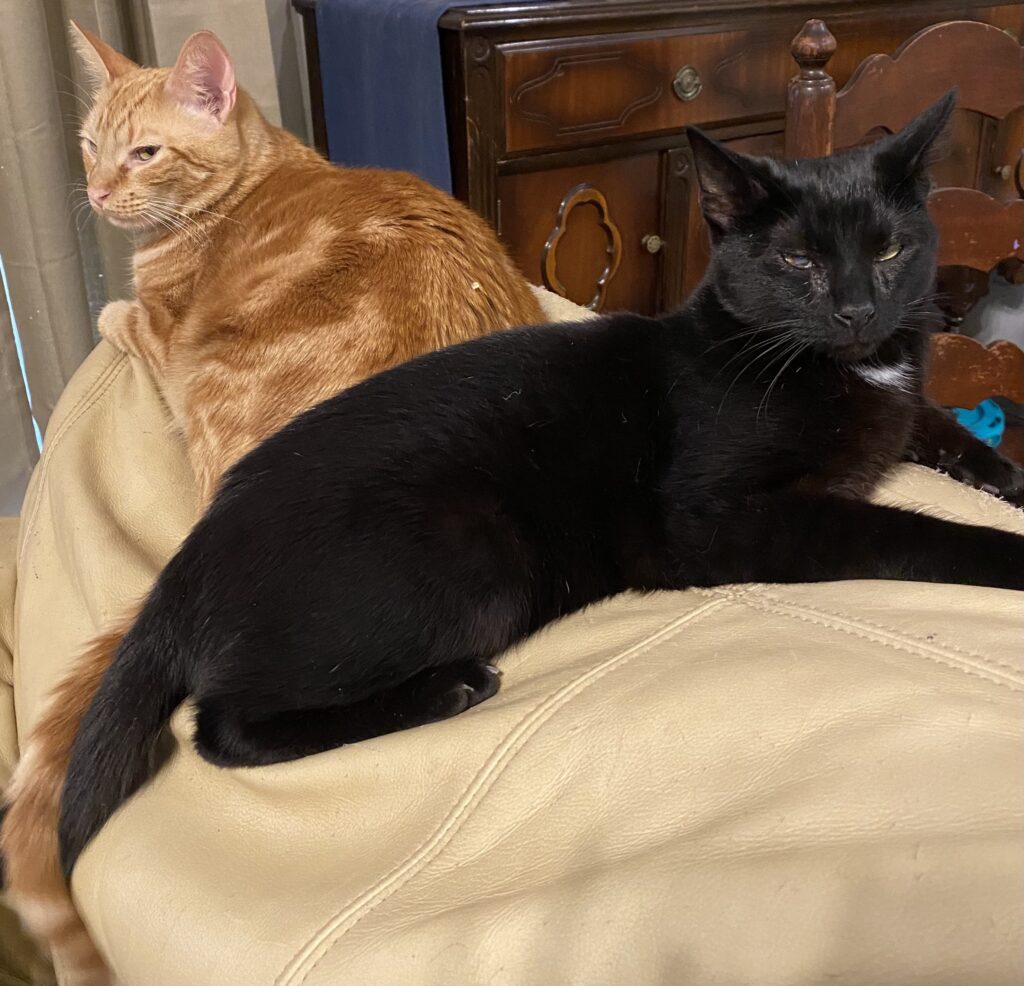 Since this is now a Halloween appreciation newsletter, we have to feature everyone's favorite black and orange duo, Murray and Phantom!
This will be Phantom's very first Halloween with us. We got him in November of 2020. I feel so much more prepared for Halloween season with a black cat by my side.
---
You've made it to the final sentences of the first Book Radar newsletter of October 2021. I hope your October is joyous, and we'll speak soon!
❤️ Emily