Sponsored by BookClubbish.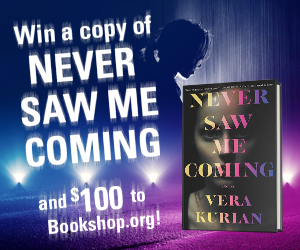 Book Riot is teaming up with BookClubbish to give away a copy of NEVER SAW ME COMING by Vera Kurian and a $100 gift card to Bookshop.org to one lucky winner. Simply fill out the form and subscribe to the BookClubbish newsletter for a chance to win!
Welcome to Check Your Shelf. We have some…erm…interesting news items in this issue, specifically in regards to a board member who claims she received something odd in the mail. I have my doubts, quite frankly, but you can read the article and judge for yourself.
---
Libraries & Librarians
News Updates
The Campbell County Public Library has received 22 challenges to materials over the last two weeks.
The Hawaii State Public Library is requiring proof of vaccination or negative COVID tests for all visitors.
A Craigshead County Jonesboro Public Library board member claimed that she had received a sack of…excrement in the mail after she argued that the library board should first approve titles with sensitive content, such as sexual or romantic attraction, gender theory, and family planning.
Cool Library Updates
How libraries are using Twitch to engage with teens and emerging adults.
A special education teacher created a handmade bookmobile to ride around his Chicago neighborhood.
Dolly Parton's Imagination Library receives a $150K grant from the Library of Congress.
Worth Reading
The legacy of 9/11 and how it affected the library world.
Why investing in libraries is a climate justice issue.
Calculating the hidden costs of collecting fines. Plus, why libraries have gone fine-free over the past few years.
When this new mom was struggling, libraries gave her a place to belong.
8 creative ways to use your library card.
Book Adaptations in the News
Stephen Curry is producing an adaptation of Black Brother, Black Brother by Jewell Parker Rhodes for Netflix.
Michael B. Jordan's production company is teaming with Amazon Studios to adapt Charlie Jane Anders's novel Victories Greater Than Death.
Mahershala Ali is starring in the adaptation of Leave the World Behind.
Netflix's adaptation of the Danish crime thriller The Chestnut Man is coming out on September 29th.
Netflix is also adapting Andrea Bartz's thriller We Were Never Here.
Netflix is also also adapting the Dark Horse comic series Grendel.
Mrs. Frisby and the Rats of Nimh will receive an updated TV adaptation.
The Gossip Girl reboot has been renewed for a second season at HBO.
Why turning books into movies is such a challenge.
Books & Authors in the News
Students protest book bans at the Central York High School, while the school board declines to reverse their ban.
A Glen Ellyn (IL) third grade teacher teacher has been removed from the classroom after she showcased her queer- and activist-themed classroom books on TikTok.
Stephen King and Humble Bundle have teamed up to release a new, unpublished short story, which will be used to raise funds for the ACLU.
Numbers & Trends
The first Spider-Man comic sells for a record $3.6 million at auction.
Award News
Karen Tei Yamashita has been awarded the 2021 Medal for Distinguished Contribution to American Letters.
Susanna Clarke's Piranesi has won the 2021 Women's Prize for Fiction. Here is the shortlist.
The 2021 Booker Prize shortlist is here.
The National Book Award longlists for translated books and young people's literature have been announced.
The 2021 Kirkus Prize finalists have been announced.
Bookish Curiosities & Miscellaneous
Do you think eBooks are an abomination?
On the Riot
8 TikTok book challenges and trends to join.
Book clubbing during a pandemic. Plus, how to keep the peace at book club.
Creative ways to pick your TBR.
On being a reader: before and after social media.
Raising my standards in books scared me off reading.
---
Another weekend coming up, folks. Be good to yourselves!
—Katie McLain Horner, @kt_librarylady on Twitter.