Sponsored by the new book STEM LIKE A GIRL published by BDL.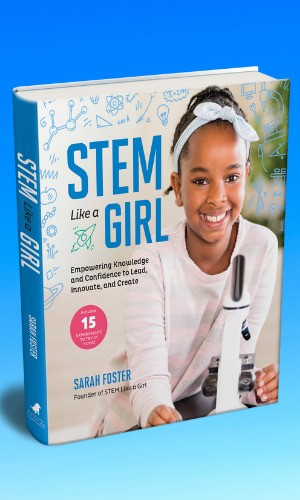 STEM Like a Girl gives girls, 8-12, the knowledge and confidence to become future problem solvers and leaders. This fully illustrated book provides 15 hands-on, STEM-based experiments that kids can do at home, and also profiles 35 inspiring girls who have actually done these experiments. Author, biotech engineer and mom, Sarah Foster, founded the STEM Like A Girl organization after noticing girls in her kid's classroom hanging back from science activities. In her first book, Sarah provides the step-by-step instructions for 15 fun STEM projects like extracting DNA from a strawberry or mastering chemistry to create homemade fizzy bath bombs.
Hello hello, nonfiction friends! If you haven't already, I urge you to pop into your podcast service of choice to listen to this week's episode of For Real. Alice and I got to do something we've never done for the podcast before – interview Mary Roach! That's right, Mary Roach!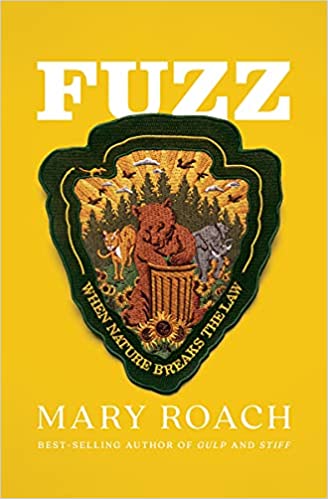 If you're still not convinced, I can tell you she is just as funny to talk with as she is to read. In the interview we covered everything from her use of footnotes to how she almost wrote a chapter about tiger penises, with several great detours along the way. Her latest book, Fuzz: When Nature Breaks the Law is out this week. It's a great read about what happens when nature and humans have conflict, and the people who are trying to find ways to improve those interactions. It's really fun.
This week I've got some great news from the world of nonfiction to share – an update on Elizabeth Holmes's trial, an exciting upcoming adaptation, and an early nonfiction prize list!
This week in the trial of Elizabeth Holmes, the jury has been selected and testimony has begun:
One early witness was Erika Cheung, a former worker in the Theranos lab, who testified she was concerned about the reliability of the lab's testing equipment.
The Daily Beast also shared some of the text messages exchanged between Holmes and her boyfriend/business partner, Sunny Balwani, that have been entered as evidence.
But my favorite story of the week is this one, about a "concerned citizen" who attended early parts of the trial, networked with reporters… and then turned out to be Holmes's father-in-law, hotelier Bill Evans. What kind of a person do you have to be to try and trick reporters at a trial where someone in your family is facing decades in prison for tricking investors? Bananas.
Paramount+ may be planning an adaptation of Yellow Bird by Sierra Crane Murdoch. The series is described as "a true crime show, a family drama and an immersive look at modern Native American life." The main character, Lissa Yellowbird, returns to her reservation after time in jail, then finds herself investigating the disappearance of a young oil worker. That description is giving me real Mare of Easttown vibes and I am here for it.
The finalists for the Kirkus Prize have been announced! The Kirkus Prize is awarded annually for fiction, nonfiction, and young readers literature and has a prize of $50,000 (yowza!). This year's nonfiction finalists are:
The winners will be announced at a virtual ceremony from the Austin Public Library on October 28.
Weekend Reading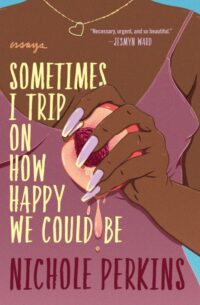 I've had a great few weeks of picking up unexpected read from my local library. My grab from the new releases shelf this week is Sometimes I Trip on How Happy We Could Be by Nichole Perkins. This book is a collection of essays on pop culture and how big issues like "racism, wealth, poverty, beauty, inclusion, exclusion, and hope" are part of the media we consume. I'm just 100 percent in for all of those topics, especially when they're being explored from a perspective that's different from my own. I've already LOL'd quite a bit at this one, I can't wait to finish it!
---
For more nonfiction reads, head over to the podcast service of your choice and download For Real, which I co-host with my dear friend Alice. If you have any questions/comments/book suggestions, you can find me on social media @kimthedork. Happy weekend!