Sponsored by Astra House, dedicated to publishing authors across genres and from around the world.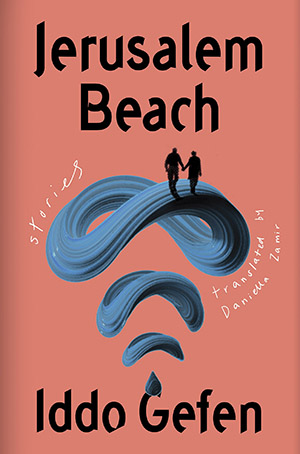 For fans of Etgar Keret, a debut collection of stories that fuses life in Israel with technology's challenges and the latest discoveries about the human brain. At once compassionate, philosophical, and humorous, Jerusalem Beach is a foray into the human condition in all its contradictions. Through a series of snapshots of contemporary life in Israel, Gefen reveals a world that's a step from the familiar. Entirely heartfelt and infused with pathos. Whether ruminating on the stakes of familial love or pitching the reader headlong into the absurdity of success and failure, Gefen leaves the reader intrigued throughout.
Where has the time gone, Lit Lovers? Somehow it's Thursday again.
Do you have any big book reading plans for this Friday, Saturday, and Sunday? I have a little road trip coming up (don't worry, I'm being COVID-safe), so I'm planning to get through a few audiobooks this weekend. Here's hoping you get through some good books too. After all, reading is one of the great joys in this world. To help prep you for another book-filled weekend, I've got lots of book news, recommendations, words of literary wisdom, cat pics, and more. Enjoy.
— Emily
Book Deals and Reveals
It's beautiful! Here's the cover reveal of Steven Salvatore's And They Lived, a book that will feature "an original fairytale, poetry, [and] sex positivity."
The police officer who murdered Breonna Taylor has pulled out of his book deal with a conservative press after Simon & Schuster refused to distribute his book.
Netflix has announced an adaptation of Fever Dream by Samanta Schweblin. The streaming service will release the film in October!
The Beijing International Book Fair will be postponed due to the spread of COVID-19 around Beijing. The organizers say they will release more information about the fair "as soon as possible."
Here's the teaser trailer for the upcoming film Spider-Man: No Way Home. The movie will be in theaters December 17th.
LGBTQReads has an exclusive cover reveal of K. Ancrum's upcoming novel Murder of Crows.
Candice Carty-Williams is creating a television series adaptation of her best-selling novel Queenie.
Here's the cover reveal of Hope Larson and Rebecca Monk's middle grade graphic novel Salt Magic, on sale October 12, 2021!
Ashley M. Jones of Birmingham, AL was just named the first Black poet laureate for Alabama, according to the Magic City Poetry Festival.
If Thelma and Louise and Heathers had a baby, it would be Wendy Heard's new novel Dead End Girls, and NOVL's got the cover reveal.
50 bookshops in the UK will be opening early on September 7th to mark the publication of Sally Rooney's new novel Beautiful World, Where Are You.
Oprah has chosen The Love Songs of W.E.B. Du Bois by Honorée Fanonne Jeffers as her latest book club selection.
Book Riot Recommends
I'm a Contributing Editor at Book Riot, I write the Today in Books newsletter, and I'm a Bibliologist for Book Riot's Tailored Book Recommendations subscription service. I also have a PhD in English, so I'm basically a doctor of books. Books are my life, in other words, so in this section of the newsletter, let me share with you some upcoming books I'm super excited about. And I think you will be too!
Can't Wait for This One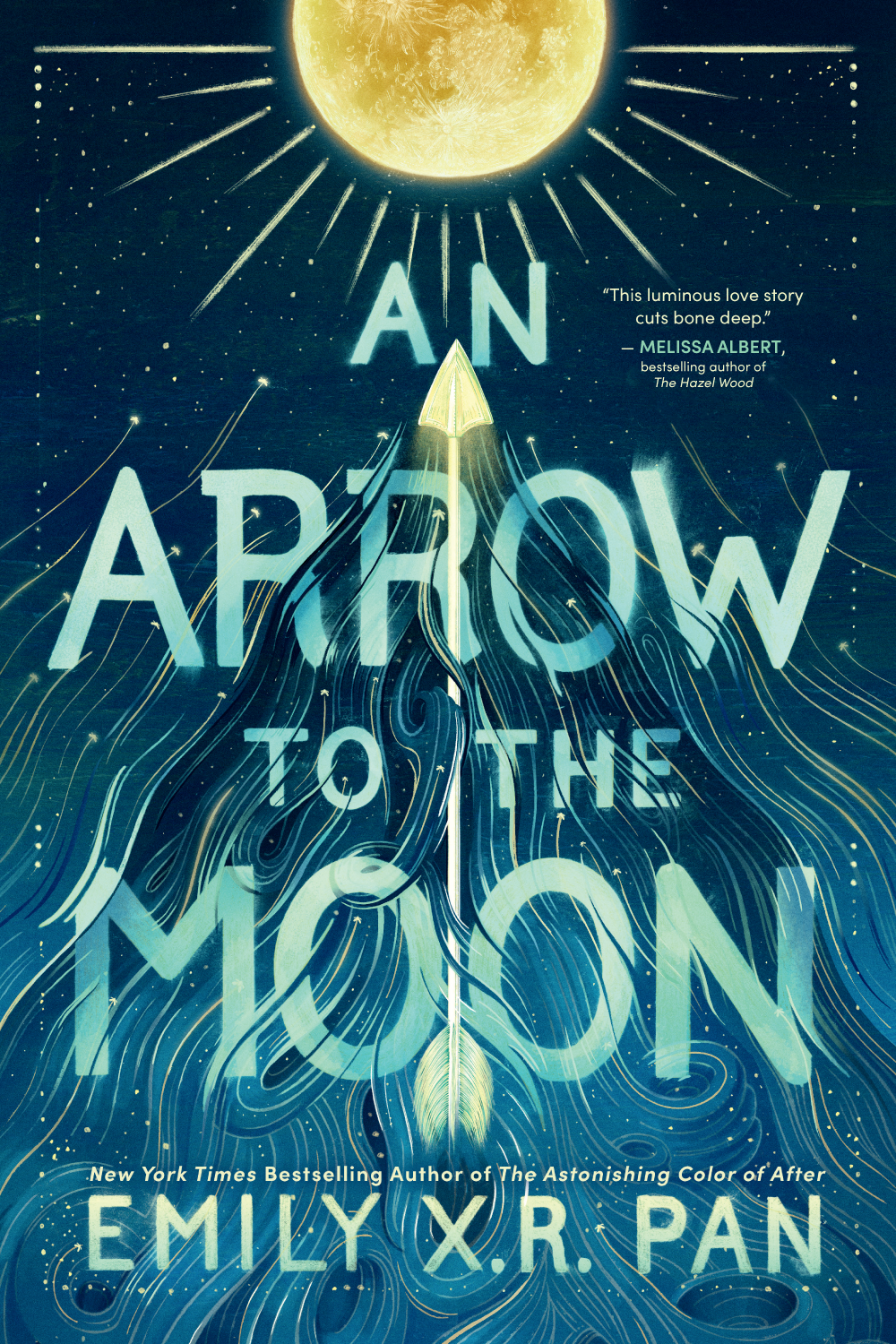 An Arrow to the Moon by Emily X.R. Pan (Little Brown Books, April 12, 2022)
They say you shouldn't judge a book by its cover, but the cover of Emily X.R. Pan's upcoming novel An Arrow to the Moon is absolutely stunning. And let's give credit where credit is due. This gorgeous book cover was art directed by Sasha Illingworth, and the art and design is by David Curtis, according to Pan's cover reveal tweet.
But beyond the cover, there's a lot to be excited about with this book. First of all, this is the follow up to Emily X.R. Pan's unforgettable debut The Astonishing Color of After. Secondly, the novel is being described as "Romeo and Juliet meets Chinese mythology." All I can say is give it to me now. I know in these weird pandemic times, the months are going by fast, but still, there is no way I can wait until April of 2022 to get my hands on this book.
This book tells the story of Hunter Yee, who has it all together when it comes to wielding a bow and arrow. As for everything else in his life? Well. It's sort of a mess. He's constantly haunted by his family's past mistakes, and the only things keeping him from running away from home and starting a new life somewhere else are his little brother, a supernatural wind, and this girl at his new high school. Her name is Luna Chang. Luna feels weighed down by her family's high expectations, and she dreads the future they have planned for her. But things begin to change when Luna starts breaking the rules and hanging out with Hunter. This book promises magic, romance, and family drama. Sign me up!
Words of Literary Wisdom
"Everyone loves to hate love triangles, but actually they're great. They exist so the main character can choose between different versions of themselves: who they used to be, and who they're still becoming. Side note: If you ever find yourself choosing between a vampire and a werewolf, choose the vampire."
— Instructions for Dancing by Nicola Yoon
What's Up in the Book Community?
My iPhone is constantly telling me I spend too much time staring at my screen, which is honestly so rude. But this means I spend a lot of time scrolling around the online book community: BookTube, Bookstagram, BookTok, BookLinkedIn (JK. That's not a thing… I don't think). You get the idea. Don't have the time, energy, or the will to do all of that yourself? No problem. I got you. In this weekly section of Book Radar, we'll take a look at something cool, interesting, and/or newsy that's going on in the book community.
This week, I've got some uplifting news from the bookish side of Twitter!
Emery Lee—author of Meet Cute Diary—is calling on everyone to tweet about their favorite trans books/authors on Monday, August 30th using the hashtag #TransBooks365. Lee explains the hashtag: "because trans books are worthwhile all year, not just as a bigotry response." Check out his twitter thread for more details, but the general rules are simple. Just be sure to tweet (and post across all social media platforms) about trans books/authors on Monday, August 30th. And then feel free to keep talking about trans authors throughout the year!
Your Weekend Reading Soundtrack
I'm feeling a little nostalgic this week, so I've put together a 90's themed playlist to help get you through your reading this weekend. Relax, grab a cup of tea and your favorite flannel, and enjoy! 🎶🎵🎶
And Here's A Cat Picture!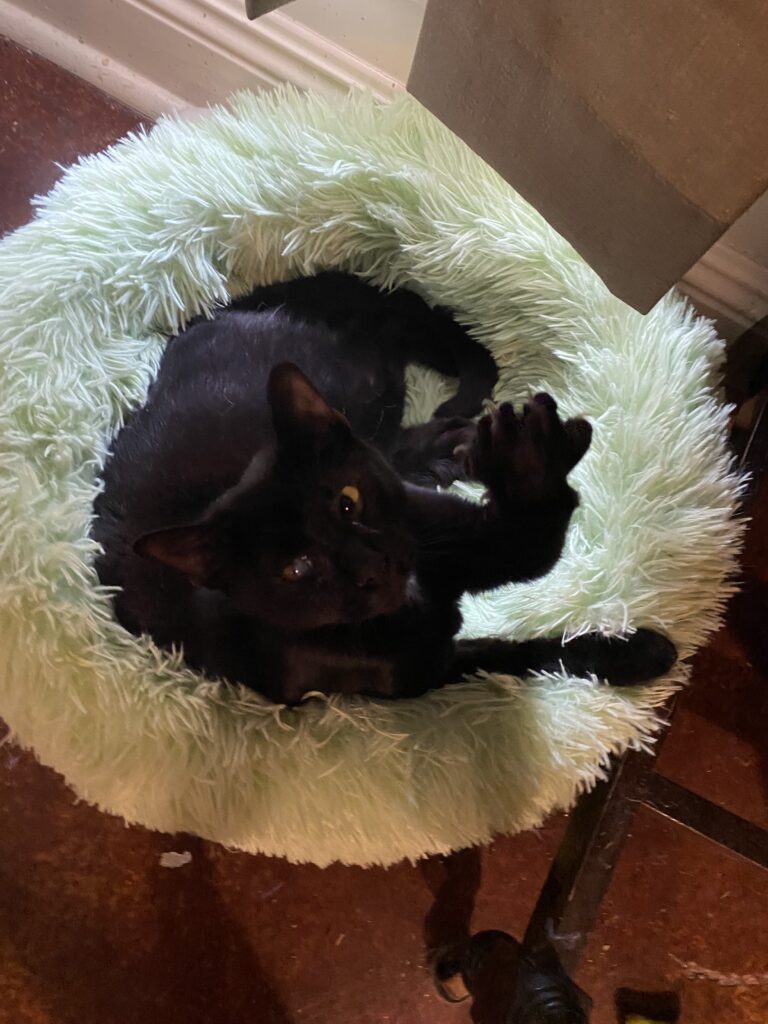 Phantom is the star of the show this Thursday. And I was able to catch him mid-stretch, which I was really excited about! An action shot! Or as action-y as a cat can be when napping.
If you look closely, you might notice that Phantom's right eye is a little cloudy because of scarring. We call this his magic eye. He seems to see perfectly fine out of it, and it's where he keeps all his magic, of course.
---
You've made it to the end of another Book Radar! And almost to the end of another week. I'm proud of you. You're doing amazing things. See you next week.
❤️ Emily