Sponsored by The Prince of Spies from historical romance author Elizabeth Camden.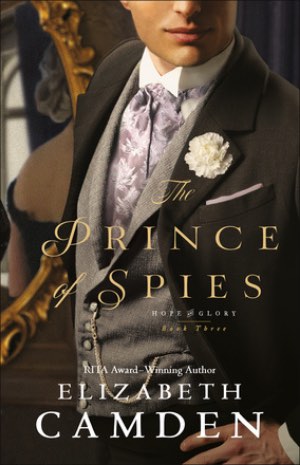 Luke Delacroix's hidden past as a spy has him carrying out an ambitious agenda—thwarting the reelection of his only real enemy. But trouble begins when he falls for Marianne Magruder, the congressman's daughter. Can their newfound love survive a political firestorm, or will three generations of family rivalry drive them apart forever?
Hello again fellow romance lovers! We are at the start of the last full week of February and I have to say that it has been a doozy of a month. At least for me. This arctic storm that the South faced last week was no joke. While I was blessed enough to not have suffered greatly during that time, I know a lot of my near and dears were not. And that was hard to hear about, especially considering that we were in no way prepared for this.
While there were a lot of jokes aimed at Texas, there was also quite a bit of loving support and advice from our Northern neighbors; so, thank you for that. If, come summer, the positions get reversed, and y'all are faced with heat you're not prepared for or used to (which is possibly given the climate situation), I will be ready with tips on how to stay safe.
There was not a lot of romance news in the second half of last week and that's not just due to me going through yet another historical event I get to tell my grandchildren about. But there were a few things that popped up.
Simone Ashley was announced to be taking on the role of Kate Sharma (Sheffield in the novel) in the second season of the acclaimed Bridgerton series. As with last season, there will be a few changes made to the plot of the story. First is that Kate and her family will be of Indian descent and she will be a recent transplant to London. What hasn't changed is she suffers no fools and has no time for Anthony's shite. The show and author has caused a bit of (fair) division in Romancelandia but I'm super excited for this on all the levels.
That said, I hope they keep Edwina, her sister, and Mary, her stepmother as part of the narrative. I've said it before and I'll say it many times again; The Viscount Who Loved Me is my favorite Bridgerton book. It could be because it was the first one I read. It could be because I have a thing for the eldest brother character. I'm not kidding. My first literary crush was Peter from the Chronicles of Narnia.
We can talk more on that later, and as for the preference of older brothers, I don't really wanna unpack that right now so we're moving on.
Cycling back, my love of this book isn't just tied to all that. I love the relationship between Kate, her sister and her stepmother. I love how Kate was so invested in who Edwina would marry. Yes, it would have been easy to write her off as the jealous, spinster older sister that Anthony thought she was; but, she genuinely wanted her sister to end with someone who would treat her with respect.
And her relationship with Mary was amazing. Again, it would have been easy to make Mary an evil stepmother, a trope that does get used in Benedict's book by the way, but Quinn didn't do that. For me, this was one of the best female familial relationships in historical romances at the time. So, yes I want the steam between Kate and Anthony, I want the banter, and I definitely want the mallet of death. But, I also want Kate's family relationship to make it to the screen as well. Preferably unchanged completely but we shall see.
Speaking of Bridgerton, take this quiz and find out which sibling you are. Apparently I'm Eloise, which makes a bit of sense since her book is my second favorite. Heads up…question six (if I counted right) is going to be a tough choice.
If you're a fan of the getting-married-in-Vegas trope, check out some of Jessica's recommendations.
If you're a subscriber to Kindle Unlimited but aren't sure what romance options are there, Tracy's got ya covered!
I'm already excited for all these upcoming releases.
New Releases
Here are some of the few new releases coming this week and I say a few because there were a lot. We seem to have a lot of ebbs and swells in the waves of romance releases and there is no middle ground. So, I tried to pick a wide variety from across the different tropes and subgenres in it.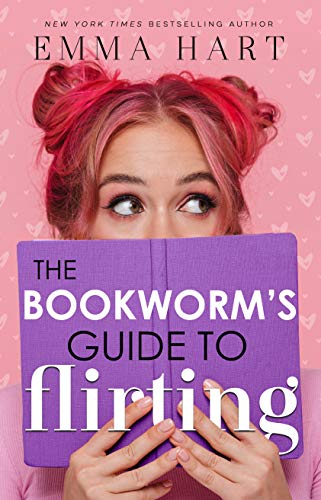 The Bookworm's Guide to Flirting by Emma Hart
Love At First by Kate Clayborn
Hold the Forevers by K.A. Linde
Beneath the Stars by A.L. Jackson 
Call Me Crazy by Melanie Harlowe
Lovebug by Erin Mallon
Deals
And here are some of the deals that I managed to dig up but remember that they are fickle and may no longer be available by the time this comes out.
A Cowboy to Remember by Rebekah Weatherspoon is $0.99 for the moment. Just look at that cover. 'Nuff said. 
Love With a Perfect Cowboy by Lori Wilde is available for $1.99. Also not a bad cover to look at. And both have cowboys. Something I know I've gone over before. 
What a Difference a Duke Makes by Lenora Bell is also $1.99.
The Way You Hold Me by Elle Wright is available for $0.99.
---
And that's all she wrote for now. As always, you can follow me over at Twitter under @Pscribe801. Stay safe, stay warm, mask up and see you next time.