Sponsored by This is Not the Jess Show by Anna Carey, published by Quirk Books.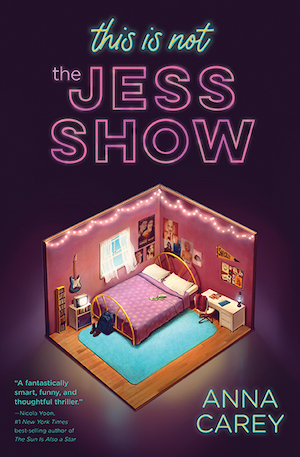 The year is 1998 and like any other teenager Jess Flynn is just trying to survive high school. Between a crush on her childhood best friend, overprotective parents, and her sister's worsening health, the only constant is her hometown of Swickley…until the day she discovers a mysterious device, causing her to question everything she's ever known. As more cracks appear in Jess's world, she faces a choice: can she live the rest of her life knowing it's a lie or should she risk everything for the truth?
It's Tuuuuuuuuuesday! That means there are oodles of great new books being released out into the world today. I am most eager to get my hands on The Velocity of Revolution by Marshall Ryan Maresca, A Tip for the Hangman by Allison Epstein, and Nuestra América by Claudio Lomnitz. Especially since I have nothing to read. 😉
Speaking of today's great books, for this week's episode of All the Books! Vanessa and I discussed some of the wonderful books that we've read, such as The Gilded Ones, Kink, The Witch's Heart, and more.
And now, it's time for everyone's favorite gameshow: AHHHHHH MY TBR! Here are today's contestants:
My goal this year (and every year, it seems) is to read more nonfiction. I have not been very successful, but I did get to read this story of the United States and Russia and their race to the moon. I learned a lot about the men behind the first rockets into space that we didn't learn in school—like how one of the engineers was a former Nazi officer—and their bitter rivalry. Outer space itself in general kind of weirds me out if I think about it for too long, but reading about the science and politics and dirty secrets surrounding mankind trying to visit it was just my speed.
Backlist bump: Hidden Figures: Young Readers' Edition by Margot Lee Shetterly
This is a cute debut young adult novel about two Vietnamese-American teens whose families own competing restaurants. Bao Nguyen and Linh Mai both work hard for their parents, even if their parents won't admit it. The two have always steered clear of one another, but after an accidental meeting, they are beginning to wonder what caused the rift between their families. And there's something else—they're totally into one another. How will their parents react to their children being involved with someone from a competing pho restaurant, when they aren't generous with their affection and understanding on a regular day? (Fun fact: Loan Le also works in publishing and is the editor of Good Neighbors by Sarah Langan, one of my favorite novels of the year.)
Backlist bump: When Dimple Met Rishi by Sandhya Menon
I just realized all my picks today are young adult books, but I can't help it because these are the ones I liked best! I loved the adult edition of Dreyer's English and I think it's genius to have one for budding writers. It makes so much sense to help young writers as they're starting out, and Dreyer is the King of Grammar, so he's the perfect person to teach them! He's also hella witty and funny. I am all for more Dreyer's English everything: Dreyer's English bath bombs, Dreyer's English air fresheners, Dreyer's English pet shampoo, Dreyer's English breakfast cereal—bring it on.
Backlist bump: STET! Dreyer's English: A Game for Language Lovers, Grammar Geeks, and Bibliophiles by Benjamin Dreyer
---
Thank you, as always, for joining me each week as I rave about books! I am wishing the best for all of you in whatever situation you find yourself in now. – XO, Liberty