Sponsored by Norton Young Readers.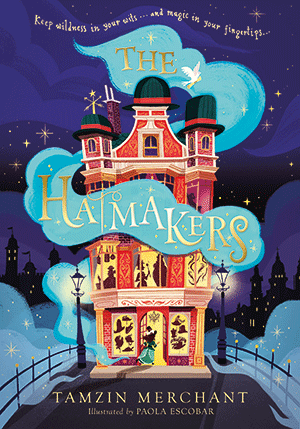 When Cordelia Hatmaker's father vanishes on an ingredient expedition, Cordelia refuses to accept that he's gone. Her grief-stricken aunt and uncle forge ahead to fulfill an order from the king for a magical Peace Hat. But then the Peace Hat is stolen—along with the Peace Boots, Cloak, Watch, and Gloves crafted by the other Maker families. Cordelia realizes that there is a menacing plot against the Makers, and that Prospero Hatmaker's disappearance may be connected. Cordelia must uncover who is behind the thefts if she is to save the Makers and find out what really happened to her father.
Hey readers! I'm back with this week's children's new releases!
We Wait for the Sun by Dovey Johnson Roundtree and Katie Mccabe; illustrated by Raissa Figueroa
Dovey Mae and her grandmother traverse the woods in the early hours of the morning to find the sweetest blackberries. This picture book takes a beautiful snapshot of a Roundtree's life with her grandmother and how they managed to find moments of happiness even in the Jim Crow south.
Anonymouse by Vikki Vansickle, illustrated by Anna Pirolli
This fun picture book takes an animal spin on artist Banksy. A mysterious mouse dots a city with art, inspiring the other animals to create art of their own.
Adapted for kids from the original, this is a smart, witty guide to writing and all that goes along with it: grammar, punctuation, spelling, all presented in a way as entertaining as it is instructive.
For kids looking for more anthologies is this one of stories and poems celebrating the voices of Indigenous writers from the U.S and Canada. The stories balance personal struggles with joy and humor and feature stories from varied nations.
In this fun graphic novel, ghost Simon and human child Chester decide to become detectives. Though they have trouble finding clients, they do discover a dog in their house and get to work unraveling the mystery of where it came from.
Until next week! – Chelsea