Sponsored by Norton Young Readers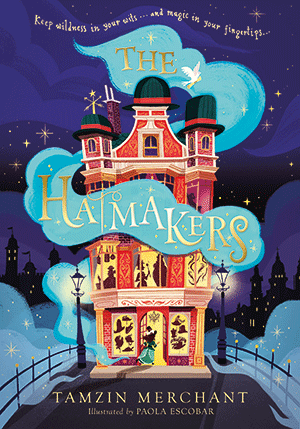 When Cordelia Hatmaker's father vanishes on an ingredient expedition, Cordelia refuses to accept that he's gone. Her grief-stricken aunt and uncle forge ahead to fulfill an order from the king for a magical Peace Hat. But then the Peace Hat is stolen—along with the Peace Boots, Cloak, Watch, and Gloves crafted by the other Maker families. Cordelia realizes that there is a menacing plot against the Makers, and that Prospero Hatmaker's disappearance may be connected. Cordelia must uncover who is behind the thefts if she is to save the Makers and find out what really happened to her father.
Welcome to Check Your Shelf, where we're about to get another 3-5 inches of snow in the Chicago area. But one of the few upsides of the pandemic is that I have very few opportunities to drive in the snow, so I guess I can't complain too much.
---
Libraries & Librarians
News Updates
ALA announced that the 2021 Annual Conference this summer will again be virtual.
A look at libraries that are serving as COVID-19 vaccination sites. It sounds like some libraries are making sure their staff gets higher vaccination priority, and I sincerely hope this is the case for every library acting as a vaccination site. (I'm sure it's not. But I can still sincerely hope.)
Related: Chicago Public Library workers wonder why they're not listed in a higher priority category for COVID-19 vaccines. Yeah, I'm wondering that too.
The Jackson County (IN) Public Library faces a lawsuit after they permanently banned a patron for sharing an anti-Trump poem.
The Lafayette Parish library director resigned suddenly after a conflict over voter rights programming, and a Louisiana state senator calls the library's decision to halt a voting rights discussion "incomprehensible." Plus, what's the "other side" here? A clash over voting rights history in a Louisiana library.
Worth Reading
Police in libraries: what the cop-free library movement wants.
Resources for serving diverse populations.
The deep impact of author visits.
Check out this Turkish library that looks like a bookshelf!
---
Book Adaptations in the News
Amy Adams is adapting Anna North's recent feminist western, Outlawed.
Netflix is turning Molly Ostertag's LGBTQ+ YA graphic novel The Witch Boy into an animated movie musical.
The forthcoming book The Daughters of Kobani: A Story of Rebellion, Courage, and Justice by Gayle Tzemach Lemmon has been optioned for a series by Hillary Clinton and Chelsea Clinton's new production company.
Robin Wasserman's recent novel Mother Daughter Widow Wife has been optioned for a limited series.
Min Jin Lee is adapting her book Free Food for Millionaires as a Netflix series.
A series adaptation of All Our Wrong Todays by Elan Mastai is coming to Peacock.
MGM picks up rights to The Antisocial Network by Ben Mezrich, which is only in the book proposal stage, and focuses on the GameStop/Wall Street fiasco from just a couple weeks ago.
After adapting Aravind Adiga's White Tiger, Ramin Bahrani will direct and produce an adaptation of Adiga's Amnesty for Netflix.
The Netflix adaptation of Shadow and Bone by Leigh Bardugo is scheduled for April 23rd.
Nora Roberts fans have criticized the casting of Alyssa Milano in the upcoming adaptation of Brazen Virtue, but Nora Roberts isn't having any of it.
There's going to be ANOTHER Game of Thrones prequel at HBO.
Casting update for Sandman.
New trailer for The Underground Railroad.
---
Books & Authors in the News
Actress Cicely Tyson dies at 96, just days after her memoir was released.
Visalia, California residents call out "ignorance" after a man petitions to remove the book A Different Mirror for Young People: A History of Multicultural America by Ronald Takaki from a high school reading list.
A Texas high school parent is attempting to remove the book Stamped: Racism, Antiracism, and You by Ibram X. Kendi from the school's reading list.
Amanda Gorman is going to be the first poet to ever perform at the Super Bowl.
Books are back in the White House, and one of them is by Angie Thomas.
---
Numbers & Trends
Titles focusing on women's empowerment are getting sales boosts.
---
Award News
Here are the finalists for the National Book Critics Circle Award.
The 2020 National Jewish Book Award winners have been announced.
The Mermaid of Black Conch by Monique Roffey wins the 2020 Costa Book of the Year award.
The longlist for the 2021 PEN/Faulkner Award for Fiction is out.
The Writers' Trust of Canada has renamed its annual fiction award in honor of Margaret Atwood and her late partner Graeme Gibson.
---
Bookish Curiosities & Miscellaneous
The Conscious Kid has partnered with Pottery Barn to curate book bundles for kids centered around BIPOC authors.
Merriam-Webster added 520 new words to the dictionary, including "silver fox," which now makes me want to make a display of all the titles we have at the library featuring my favorite silver foxes.
One of Dante's descendants is working to overturn the poet's corruption conviction from 1302.
---
On the Riot
10 tidbits about libraries for visually impaired and print disabled people.
Learn about The Free Black Women's Library.
Tips and tricks on building your library collection.
These are the top romance novels on Amazon.
How to cancel Kindle Unlimited.
An A-to-Z guide to the parts of a book.
How this parent uses books to teach their children about their other country.
How this writer scrapbooked their way through mental illness.
How to organize your bookshelves to fit your living space.
---
I'm going to stay out of the snow this weekend. Stay warm, wherever you are!
—Katie McLain Horner, @kt_librarylady on Twitter.