Sponsored by Happily Ever After Newsletter
Book Riot is teaming up with the Happily Ever After newsletter from St. Martin's Press Romance for a chance to win an advanced reader copy of One Last Stop by Casey McQuiston! Five winners will receive an ARC of this highly anticipated title.
Happy Friday, shipmates! And first Friday of February, at that–so happy Black History Month as well! It's Alex, with some romantic SFF and some links to look at. Oh, and if you have Netflix, Space Sweepers should be available as of today–it's a fun-looking Korean SFF movie. Stay safe out there, space pirates. I'll see you on Tuesday!
Today's happy thing: Bat World Sanctuary let us know they have 24/7 live bat cams! Bat World is the home of Statler the 33-year-old Indian flying fox who went viral on Twitter last week because he's freaking adorable.
Let's make 2021 better than 2020. A good place to start? The Okra Project and blacklivesmatter.carrd.co
---
News and Views
The 2020 Locus Recommend Reading List is out
Dust has put together a 49 minute showcase honoring Black filmmakers in sci-fi
Award-winning sci-fi/drama series Little Apple has premiered on YouTube
The Skiffy and Fantasy podcast did an episode on 3 African short SF films (full disclosure: I am an occasional co-host on this podcast, though I was not on this episode)
Nerds of a Feather has an interview with Everina Maxwell, author of Winter's Orbit
Clarkesworld has an interview with Karen Osborne, author of the upcoming Engines of Oblivion
Aiden Moher writes about the lost magic of parenthood in Miyazaki's work
The oldest known rock from Earth might have been brought back from the Moon
On Book Riot
8 great queer science ficton books
13 polar fantasy books to transport you this winter
This week's SFF Yeah! podcast is about darkly compelling books.
This month you can enter to win $100 at a bookstore of your choice, a bundle of YA books plus a $250 Visa gift card, and/or a Kindle Paperwhite. And only for Canadian Rioters, a $100 Indigo gift card.
Free Association Friday: Romantic SFF
As far as I'm concerned, two tastes that go great together are SFF and romance, which are two genres I love. Since it's that time of the year, let's highlight some romantic SFF–defined here as books that are primarily SFF but have a very strong romance plotline in them. Next week, expect SFF Romance, which are books written to romance genre specifications but take place in a SFF setting.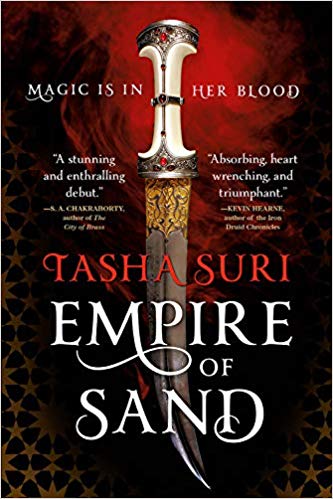 There is no way I could do a romantic SFF feature and not have this book as number one on my list. It is the book that caused my house to coin the term "disaster heteros" because we spent so much time clutching our faces and screaming about why can't these two dorks just KISS already. PLUS it's Mughal-inspired fantasy about the evils of empire! Its sequel, Realm of Ash is excellent and also hits the romance buttons, though not quite as strongly for me as this one.
Let me be clear–any book by C.L. Polk fits this bill, and I heartily recommend them all. The Kingston Cycle (Witchmark, Stormsong, Soulstar) offers an entire bi pride flag of romance options. But this book is the newest one that's currently out, and it's about a sorceress who wishes to not marry despite family pressure because she doesn't want to lose her magic… and then she falls in love.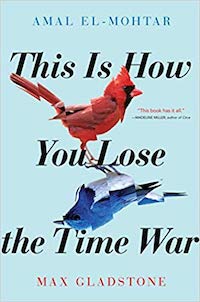 Yes, this book really is as good as everyone says. Two soldiers in an endless post-human war begin writing letters to each other, and love finds a way. It's gorgeous, it's lush, and it deserves every award it's gotten.
This is probably my second favorite of the Vorkosigan saga novels. It's extremely funny, it has Miles playing Space Nancy Drew, and it's about him absolutely flaming out because he's desperately in love with a widow named Ekaterin, which gets them both tangled up in some twisty politics. I cannot do this book justice.
A young trans man out to prove he can be a proper brujo accidentally summons the ghost of a missing classmate. So then he has a mystery to unravel and a ghost to send to rest… but what if he messes things up even more by falling in love? This book is a lot of fun in general, but the romance is absolutely adorable.
Come for the gender-bent Shakespearian history crossed with fantasy, stay for the romance between Hotspur and Hal, both of whom are victims of circumstance and politics and fate… but their love might just be strong enough to conquer all of those things and save their kingdoms besides.
Given by Nandi Taylor
A fierce warrior princess who wants to save her kingdom and the life of her father. A shape-shifting dragon who claims her as his "Given"–his fated partner. They have very different goals, but maybe they can manage both romance and saving the day–if the princess can find room in her perceived destiny for both.
A trans woman who was once a prince in an enemy kingdom falls in love with a prince of her own–and then sets about reclaiming everything she gave up from her old life by saving the kingdom and her prince from a war started by her father. Everything in this book is kicked off by Razia's romance with the prince, Arjun, and they make an epically cute couple.
---
See you, space pirates. If you'd like to know more about my secret plans to dominate the seas and skies, you can catch me over at my personal site.