Sponsored by Reading Group Gold.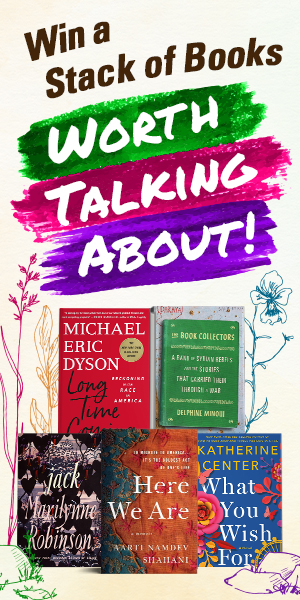 Book Riot is teaming up with Reading Group Gold for a chance to win a stack of books worth talking about! One winner will receive each of the following titles to add to their TBR pile: Here We Are: To Migrate To America… It's the Boldest Act of One's Life by Aarti Namdev Shahani, Long Time Coming: Reckoning with Race in America by Michael Eric Dyson, Jack: A Novel by Marilynne Robinson, The Book Collectors: A Band of Syrian Rebels and the Stories That Carried Them Through a War, Delphine Minoui, Lara Vergnaud (Translated by), and What You Wish For by Katherine Center.
Hey readers!
I'm back with another batch of new releases!
In this cute picture book about consent, Doug likes many things but not hugs. This is a nice twist on the golden rule of treating everyone as they'd like to be treated, instead asking that everyone simply ask everyone how they'd like to be treated and following accordingly.
This sweet picture book about friendship and empathy follows two friends, Coco and Marlo. The two spend most of their time together, alongside Marlo's dog. But one day Marlo doesn't want to play and appears to be especially unhappy, but won't tell Coco what's wrong.
This witty picture book features an adorable avocado having an identity crisis. Is an avocado a fruit or a vegetable or something else altogether? To find the answer, Avocado heads to the grocery store to see where they fit in best.
This fun graphic novel follows Yasmina, a vegetarian chef working to take care of her family. When a big potato company starts producing an addictive potato that makes the people who eat them aggressively into potatoes, it's up to Yasmina to save the day.
In this creepy supernatural mystery, siblings Cooper and Jess tackle a mystery involving an old English railroad and their neighbor Elena. Meanwhile, Cooper must make sense of his own feelings after their parents' divorce and his father leaves the family to start a new one.
This memoir from author Waka T. Brown revisits her childhood. When she was twelve years old, her parents, worried she was losing touch with her Japanese heritage, sent her to Japan to live with the grandmother she doesn't know very well. This is an emotional and inspiring journey of a girl learning more about herself and her culture.
Until next week! – Chelsea