Sponsored by You Have A Match by Emma Lord.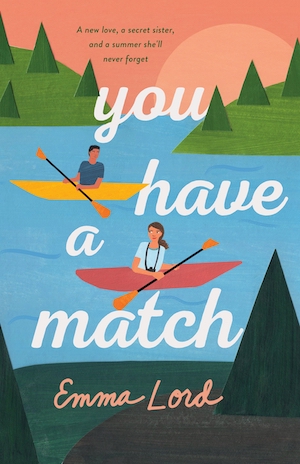 When Abby signs up for a DNA service, it's mainly to give her friend and secret love interest, Leo, a nudge. But she shockingly discovers she's a sister to shimmery-haired Instagram star Savannah Tully. It's hard to believe they're from the same planet, never mind the same parents. They make a plan to meet up at summer camp and figure out why Abby's parents gave Savvy up for adoption. But things never go as planned, do they?
Happy Tuesday, star bits! There are so many great books out today, your head will spin with excitement. This includes a number of great sequels, like A Vow So Bold and Deadly by Brigid Kemmerer, Written in Starlight by Isabel Ibañez, The Mask Falling by Samantha Shannon, and Every Waking Hour by Joanna Schaffhausen, all of which I am eager to get my hands on! And for you Joan Didion fans, her new collection of essays Let Me Tell You What I Mean is also out today.
Speaking of today's great books, for this week's episode of All the Books! Patricia and I discussed some of the wonderful books that we've read, such as My Brilliant Life, The Girls I've Been, The Swallowed Man, and more.
And now, it's time for everyone's favorite gameshow: AHHHHHH MY TBR! Here are today's contestants:
I often feel like everyone seems to know the stories of all the Greek gods and goddesses except for me. As if the day this information was taught, I must have been home sick from school. So I often have to have it pointed out to me when a book is a retelling of Ovid's Metamorphoses or a contemporary Iphis and Ianthe story.
That said, I so love reading books with Greek gods and goddesses, and while I wish I knew a bit more about the source material, it didn't stop me from loving this award-nominated novel about the women from the Trojan War, including the three goddesses who started the war, the Trojan citizens, Penelope, and the Amazon princess who fought Achilles. And it's told from the perspective of Calliope, the goddess of poetry. (Which is a fact I know because I looked it up. Seriously, how does everyone else already know this stuff?)
Even without knowing the source material, I found this a compelling and intense book. There was a lot to take in, and a lot of voices are heard from—not all of them without faults—but I found it utterly fascinating.
(Content warning for mentions of slavery, murder, death, sexual assault, violence, slavery.)
Backlist bump: Circe by Madeline Miller
Cicely Tyson is 96 years old now, which is a lot of living, and she lays it all bare here in this fascinating memoir of one of entertainment's most talented performers and one of humanity's most amazing people.
Here are just a few of Tyson's incredible accomplishments:
She has received four honorary degrees, a Screen Actor Guild Award, a Tony Award, multiple Emmy Awards, a Black Reel Awards, an honorary Academy Award, and the the Presidential Medal of Freedom, which given to her by President Barack Obama in 2016. These are only the tip of the accolade iceberg. And at 96 years old, she is still acting: she is presently making appearances on How To Get Away with Murder. (Which I really need to watch.)
But even though her honors and awards could probably fill a book on their own, this is also the story about a daughter of immigrants who started modeling at a young age and who became the first African American to star in a television drama. Tyson (with help from Michelle Burford) talks about her illustrious career, her faith, her struggles, and all the things in between, with candor and love. I learned so much, not just about Tyson, but also important industry history, and now I also want to watch so many of her performances.
(Content warning for discussions of violence, racism and racialized language, and chemical use.)
Backlist bump: Becoming by Michelle Obama
And this was a fun read! As someone who hosts a podcast but has no idea how to go about doing it myself, it was really interesting to see all the different aspects to brainstorming, performing, and producing your own. And it's a how-to guide written my favorite way: with delightful self-deprecating humor! The McElroys have hosted several podcasts, including The Adventure Zone, and they take turns breaking down the different things you're going to need if you want to a) start a podcast b) make that podcast a success and possibly c) make money off the podcast. (Which I am sad to report is very rare, considering there are almost one million podcasts out there now.)
I was thoroughly charmed the whole way through and now I feel like I have the tools if I ever decide to start my "Stephen Tobolowsky/Kurt Fuller/Xander Berkley Appreciation Show" podcast. Although I could have used more info on what to do if you are still terrified of recording and get the flop sweats, even after recording almost 300 episodes of your show. Er, asking for a friend.
Backlist bump: The Adventure Zone: Here There Be Gerblins by Clint McElroy, Griffin McElroy, Justin McElroy, Travis McElroy, and Carey Pietsch
---
Thank you, as always, for joining me each week as I rave about books! I am wishing the best for all of you in whatever situation you find yourself in now. – XO, Liberty