Sponsored by TooFar Media's Fiction & iPad giveaway contest!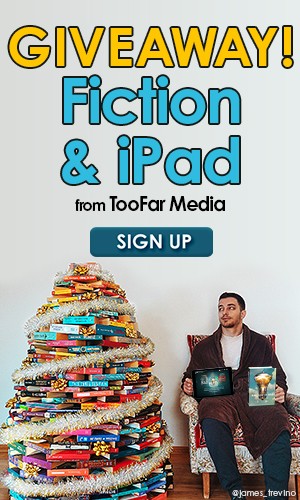 Sign Up for a Chance to WIN a FREE iPAD and WIN a FREE FICTION BOOK Just for Entering, from TooFar Media! TooFar Media publishes immersive story experiences and is hosting a GiveawayContest just for Book Riot. Winners of the iPAD can explore the TooFar Media app, which fuses fiction with music, art and video. Just for entering, you'll receive– FREE– the newest book, Balcony of Fog, which illuminates the tension between the power of love and the love of power, by author Rich Shapero. Sign Up Now!
Hey hey romance lovers! It's Monday. The King DOES have an HEA (if anyone was wondering), and after that and Crash Landing On You I am ready to begin the futile search for Ultimate LDR stories, either in print or on the screen. I guess the next level of extreme would be people who live in different time periods. Or something.
Books, let's talk books!
News and Useful Links
Sil and Beth hosted the #MyRomanceBook2021 chat on Twitter and collected ALL OF THE RESPONSES in a single google doc. Get ready. Your TBR won't be able to handle it.
Alyssa Cole and Rebekah Weatherspoon IG Chat!
Read an excerpt of Tasha L. Harrison's newest, If She Says Yes.
And have you seen the cover for Farrah Rochon's The Dating Playbook? Bonus interview content, too.
If you don't subscribe to Talia Hibbert's newsletter (and you do that kind of thing), I definitely recommend you do so. Her last one included some exciting information about her stable of 2021 releases and I'm sure we'll hear more in the future. She also shared this Goodreads column, which she put together herself!
Sonali Dev revealed the cover for Incense and Sensibility with a cute video.
There's a new romance merch shop in town and my body is ready. I might need that Hand Flex shirt.
There's still time to join the Romancelandia Holiday Fairies.
If you have access to Lifetime (or want to rent it on Amazon), I totally recommend watching Christmas Ever After. It's about a romance novelist who uses a wheelchair and a man who looks just like the one on her covers (which are painted). It's adorable and fun and Ali Stroker just looks so delighted to be there the whole time. I don't completely understand how Izzy's series works, but that's a minor thing.
Deals
If you're looking for a weird-ish winter book to enjoy, check out Weave the Dark, Weave The Light by Anna Zabo for 99c (or nothing if you subscribe to Kindle Unlimited). It's brief, but it's full of all that Zabo Goodness—a touch of angst, a touch of vulnerability, and a lot of good writing. If you've been missing their writing like I have since reading Reverb, this is a good balm to hold you over.
And speaking of holdovers for the next new book, if you haven't read Alexis Daria's holiday novella that takes place in the world of Dance Off (starting with Take The Lead ), Dance All Night is also 99 cents.
Recs!
So I realize this sort of qualifies as burying the lede, but I'm passing the Kissing Books baton for 2021 and onward. I have absolutely loved every word I've written, and every connection I've made with you all. Have no fear, though; there will still be KB in the coming year, and you, my wonderful readers, will be in good hands going forward! (And if you're looking for me, you can still find me on the When In Romance podcast and I'll try to write as much regular romance content for Book Riot proper as I can.)
With that said, I wanted to talk about some of my favorite books that you all have recommended to me when I've asked for your favorites, and I want to know what your favorite books that I've recommended have been over the past few years. I want to round those up next week (December 21, Winter Solstice, which will be my last Monday send) for everyone to see, and to keep for myself for fuzzies, of course.
Thanks for sending me your beloved books, either from one of my lingering questions or because there was something you thought I just needed to read. I've had a blast checking them out. A lot of my emails are from publicists (who are all awesome in their own right!) so it's nice to get something directly from one of you all (or a note on twitter or instagram!).
I cannot for the life of me find the original recommendations for this, but I remember mentioning that I was going down a Beauty and the Beast hole and multiple people told me I had to read this one. My favorite things in a good retelling of this story are a badass beauty character of any gender and a beast you can empathize with, and this had both. The worldbuilding was interesting, there was no "you must be my prisoner" deal, and I'm not gonna say I wasn't happy for the…sexual intimacy…between Louvaen and Ballard. I'm still on my Quest To Read Them All, but this one still sits very high on the list of my favorites.
I mentioned that I had found my happy place in Geek YA several months ago and one of you recommended I check this one out to get that same feeling with adults. I'd already had a copy (lol what else is new) so I sat down to read it very shortly after that recommendation. Two gamers who don't particularly like each other forced to travel cross country together for a convention and learn about each other and themselves along the way? Of course I was going to love it.
One of you recommended this series by Jacinta Howard when I was looking to build out my repertoire of Black romance authors who wrote Black Romance. I was totally excited to see a new adult series with black characters, about a group of people in a band of all things! Jacinta's characters are that blend of fascinating and flawed that make you root for them to find success in whatever they're going for, even if you kind of can't stand them, and the way she writes chemistry is :fire-emoji: I sadly haven't made it through the whole series, but I'm looking forward to more.
---
Shout out to everyone who has ever written back with a suggestion, recommendation, or to just say hi or thanks. I've appreciated each and every word of encouragement over the four years I've been doing this thing, and if you recommended a book, I definitely put it on my to-read list…I just might not have gotten to it yet. Story of my life, right?
I'm still around for a couple weeks yet. So. As usual, catch me on Twitter @jessisreading or Instagram @jess_is_reading, or send me an email at wheninromance@bookriot.com.