Sponsored by The Myrtle Hardcastle Series by Elizabeth C. Bunce, from Algonquin Young Readers.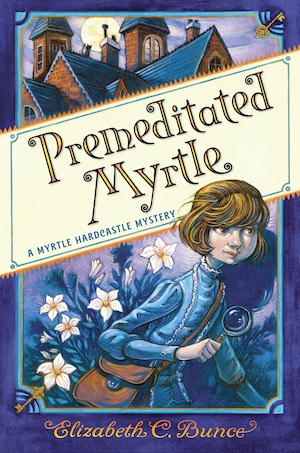 Twelve-year-old Myrtle Hardcastle has a passion for justice and an obsession with criminal science. Armed with her father's law books and her mum's microscope, Myrtle studies toxicology, keeps abreast of the latest developments in crime scene analysis, and observes her neighbors in the quiet village of Swinburne, England. When her neighbor dies under Mysterious Circumstances, Myrtle seizes her chance. With her unflappable governess, Miss Ada Judson, by her side, Myrtle takes it upon herself to prove Miss Wodehouse was murdered and find the killer, even if nobody else believes her — not even her father, the town prosecutor.
Hey readers! I'm back with another week of children's new releases!
This followup to the picture book Amy Wu and the Perfect Bao has Amy assigned to make a dragon in her craft class. But despite Amy's best efforts, none of her dragons feel right until she rallies her family to make the perfect dragon that is uniquely Amy's.
This empowering beginning reader is a companion to picture books Cool Cuts and Happy Hair. This is a colorful and exciting rhyming book about young girls' joy in being themselves and doing things they enjoy.
This fun introduction to Kwanzaa follows Li'l Rabbit as he looks for the perfect gift to help his sick grandma celebrate the holiday when their annual feast is canceled. Though Li'l struggles at first to find the perfect something for Granna Rabbit, once he gets the help of his family and friends, he finds something just right.
Now in paperback is this middle grade version of the memoir from Vice President-elect Kamala Harris, tracing her influences and inspirations in her career as a public servant.
This young reader's adaptation of Dovey Johnson Roundtree's memoir tells the story of the activist. She was one of the first Black women to join the U.S Army then an attorney in segregated court rooms (winning an important case that helped end Jim Crow laws in the South) and eventually a minister in a church that had never before ordained women.
Now out in paperback is this middle grade memoir from Sharon Robinson, daughter of baseball star Jackie Robinson, about the year of 1963. At thirteen, Sharon gets a front row seat to the Civil Rights Movement and works to find her own place and voice in the fight.
Until next week!
Chelsea (@ChelseaBigBang on Twitter)