Sponsored by Houghton Mifflin Harcourt.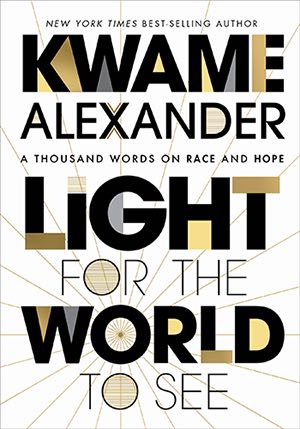 From NPR correspondent and New York Times bestselling author, Kwame Alexander, comes a powerful and provocative collection of poems that cut to the heart of the entrenched racism and oppression in America and eloquently explores ongoing events. A book in the tradition of James Baldwin's "A Report from Occupied Territory," Light for the World to See is a rap session on race. A lyrical response to the struggles of Black lives in our world . . . to America's crisis of conscience . . . to the centuries of loss, endless resilience, and unstoppable hope. Includes an introduction by the author and a bold, graphically designed interior.
Welcome to In The Club, a newsletter of resources to keep your book group well-met, well-read, and well-fed. Today's newsletter was either inspired by a deep appreciation for the ways in which my friends have added to the quality of my life this year, or by listening to a little too much 90s R&B over the weekend while I meal prepped. Either way, we're talking about friends this week: the good, the bad, the complex, the consistent. All of it!
To the club!!
---
Nibbles and Sips—and Gifts
So listen: I love Christmas. It's a whole big obsessive thing. And since 2020 has taken so much from us all, I feel justified in bypassing the whole disease-bearing-pilgrims-and-their-gobble-birds-day thing and going all in on the Christmas decor and gift planning NOW. For starters, I'm putting together some goodie bags and mailing those out to my book club friends next week. Cookies are definitely going in those packages thanks to this new toy. Hehe.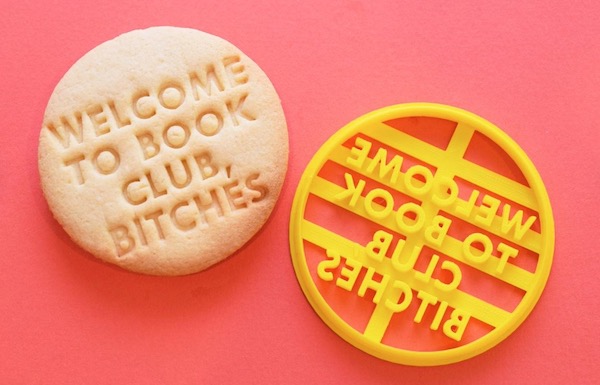 What About Your Frieeeeeeends
Who are our real friends? What does friendship even mean? What happens when we outgrow a friendship? Is friendship unconditional? These are some of the themes to unpack as you go through these reads with friendship at their core. Discuss!
Kathy is 31 and looking back on her time spent at Hailsham, an idyllic and secluded boarding school in the English countryside. It's here that she developed a close friendship with two other students, Ruth and Tommy. As she uncovers some startling realities about their shared pasts, she also realizes the full truth of what Hailsham was. (This one is from my TBR and seriously- why haven't I read this?! Suspense! Boarding school! English countryside! Complicated friendships! Let me pull up this Libby app…)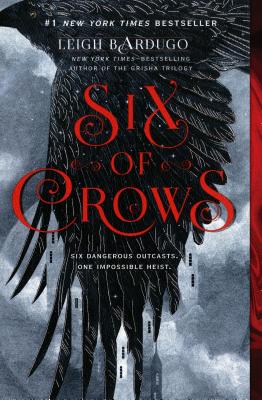 I love me a good heist, and this book is sort of like if the crew from The Italian Job were a little younger and lived in a dark, magical world called Ketterdam. Our six uniquely skilled and dangerous outcasts include a thief, a spy, a runaway, a sharpshooter, a Heartrender, and convict with a thirst for revenge. Together they'll work to pull off the mother of all heists—if they don't kill each other first.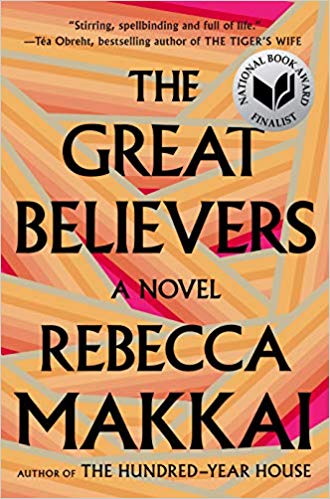 I briefly mentioned this book last week as an and told you all to keep the tissues at the ready. I meant it!! This absolutely heartbreaking story of love, tragedy, and the redemptive power of friendship is set both in Chicago amidst the AIDS crisis and in contemporary Paris. I wanted so badly to hop into those pages and hug the main character until he told me to stop!
Sneaking this one in one more time! There's a whole lot to love about this book: an exploration of the role of race and gender in workplace dynamics, a look at the Black woman's experience in STEM; a depiction of self-assured and empowered women who know their worth (and when to say no to catfishing f*ck boys). The romance is fun, sexy, and satisfying on several levels, but my favorite part is that it contains one of the best, healthiest, most fun depictions of female friendship I've read in awhile. These women are funny, supportive, kind, and honest with one another. More of this in 2021, por favor.
Suggestion Section
What I Learned About Maintaining a Book Club and Keeping It Positive
More gifting ideas! Here are 10 book club subscriptions to gift your bookish besties.
Manchester United forward Marcus Rashford has teamed up with Macmillan Children's Books to launch a book club for children!
Vote in the 2020 POPSUGAR Book Club awards!
---
Thanks for hanging with me today! Shoot me an email at vanessa@riotnewmedia.com with your burning book club questions or find me on Twitter and the gram @buenosdiazsd. Sign up for the Audiobooks newsletter and catch me once a month on the All the Books podcast.
Stay bad & bookish, my friends.
Vanessa