Sponsored by Algonquin/Workman Publishing.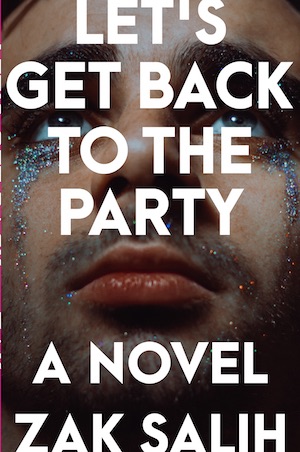 What does it mean to be a gay man? This debut novel explores that through the eyes of Oscar and Sebastian in alternating chapters from both their points of view. Let's Get Back to the Party recounts the men's struggles with generational envy, cultural identity, the traumas of history, and is an intimate and complex look at gay life. Provocative, and emotionally profound, this debut novel is sure to appeal to readers of Garth Greenwell, Alan Hollinghurst, Claire Messud, and Rebecca Makkai.
Welcome to Check Your Shelf. We've hit the time of year where I become a permanently lethargic couch slug. Of course, it doesn't help that I'm working from home 80% of the time, have very little to hold my interest at the moment, and it gets dark outside almost as soon as it gets light, but still…I could have done with a little energy boost this weekend.
I did, however, get a couple of adorable photos of my baby boys and their booplesnoots. (Don't argue with me, spellcheck. That's absolutely a word.)
---
Collection Development Corner
New & Upcoming Titles
Jonathan Franzen announces the first book in a new trilogy, which will be published in October 2021.
New York Times reporter Maggie Haberman will be writing a book about Donald Trump, to be published in early 2022.
A look at some of the forthcoming books related to the Trump administration.
Senator Tammy Duckworth's memoir, Every Day is a Gift, will be published at the end of March.
Andrew McCarthy will have a memoir about his Brat Pack years coming out May 2021.
14 of the year's best mysteries and thrillers.
10 new books from celebrities for your holiday reading list.
21 new books to buy from your local indie bookseller.
Books of the week from Booklist, BuzzFeed, Crime Reads, Locus (SFF), New York Times, Publisher's Weekly, and USA Today.
November picks from Amazon (bio/memoirs, mysteries), Bitch Media (feminist reads), BookPage (mysteries, SFF), Crime Reads, (psychological thrillers), and Tor.com (science fiction and fantasy).
28 YA books published this year to read before the year ends. Plus, 54 (!) YA SFF books that yes, actually, did come out this year.
Time's 100 must-read books of 2020.
42 most-anticipated books of 2021. (I've added a bunch of these to my TBR.)
What Your Patrons Are Hearing About
The Office of Historical Corrections: A Novella and Stories – Danielle Evans (LA Times, USA Today)
The Arrest – Jonathan Lethem (New York Times, Washington Post)
The Kingdom – Jo Nesbo (New York Times, Washington Post)
A Promised Land – Barack Obama (New York Times, NPR)
No One Ever Asked Me About the Girls: Women, Music and Fame – Lisa Robinson (USA Today, Washington Post)
We Keep the Dead Close: A Murder at Harvard and a Half Century of Silence – Becky Cooper (NPR)
RA/Genre Resources
A brief history of presidential memoirs.
On the Riot
Indie releases to keep an eye on in November.
2020 new releases in translation you may have missed.
---
All Things Comics
Emerald City Comic Con and Chicago Comic & Entertainment Expo have been rescheduled to December 2021.
New comics to check out in November.
5 graphic novels you don't want to miss.
On the Riot
Classic comics for a winter's night.
Winter-themed manga to curl up with.
10 manga like The Gamer to read after catching up with the series.
---
Audiophilia
Blue Ivy Carter (daughter of Beyoncé and Jay-Z) narrates the audio version of Hair Love.
November audiobooks to keep your eye on.
5 humorous audiobooks to keep you giggling.
On the Riot
Have you heard about Chirp? Does it change the audiobook game, and more importantly, is it right for you?
6 of the best audiobooks for Nonfiction November.
---
Book Lists, Book Lists, Book Lists
Children/Teens
26 beautiful children's books about the most impactful LGBTQ+ icons.
15 children's and YA books that celebrate Native American Heritage Month.
Adults
15 romantic novels that feature characters with disabilities.
Here's a new subgenre…tropical cozy crime novels.
8 books about feminist folklore.
5 SFF books about star-crossed lovers.
On the Riot
10 of the best books for 10th graders.
12 YA thrillers for any time of the year.
9 great books about teens with supernatural abilities.
10 books about foster care for adults and kids.
10 lesbian erotica titles for your bookshelf.
10 romance novels with infectious enthusiasm.
8 books about serial killers that will chill you to the bone.
5 winter mysteries cozier than a cup of tea.
9 magical winter fantasy books.
Winter hibernation cookbooks to make you drool.
10 chilling books to read this winter.
10 holiday romance novels to read this year.
9 excellent books set in very cold places.
9 must-read nonfiction books about wine and spirits.
5 books about online harassment.
5 powerful books about domestic abuse.
6 international horror novels you need to read ASAP.
---
Level Up (Library Reads)
Do you take part in Library Reads, the monthly list of best books selected by librarians only? We've made it easy for you to find eligible diverse titles to nominate. Kelly Jensen created a database of upcoming diverse books that anyone can edit, and Nora Rawlins of Early Word is doing the same, as well as including information about series, vendors, and publisher buzz.
Wash your hands, and get a flu shot. I'll see you all on Friday.
—Katie McLain Horner, @kt_librarylady on Twitter. Currently gushing about The Return by Rachel Harrison. (OMG SO CREEPY!!)